Next article
Considering the immense popularity or Laravel application among developers with the exemplary features it offers to the users. Every user is always looking for smarter...
Magento vs Shopify: Which eCommerce Platform to Choose?
Table of Content
1. Introduction to Magento and Shopify
Building strong customer relationships in the eCommerce business is a challenging task. And managing these relationships with new possibilities and potential consumers is also a difficult task to perform. Your customers can stay longer and build good connections only if they're happy. But if you find your customers unhappy, they might leave your eCommerce store and tell other people about your service. It is an absolutely important task to choose a reliable eCommerce platform solution for a great shopping experience for your customers so that they spread positive words about you.
Before writing this post, we listed down various types of eCommerce platforms to choose from but didn't find any great e-commerce platform more popular than Shopify and Magento. So here's the complete comparison between Magento and Shopify that will help you to choose the best according to your specific need. Take a look!
If you choose the right eCommerce platform for your online store, you can manage your store easily without worrying about the failure of your online business. As a startup, you should always focus on such factors because you may have a limited budget and resources to work with.
Shopify has a moderate millstone when it comes to offering hosted and one-stop solutions, whereas Magento can be a perfect choice if your business requirements are complex. Nowadays, more and more businesses are planning to build their own online stores and looking for more alternate options to switch from their existing platform and consider Shopify or Magento. Both these platforms are very different from each other, but still, we would like to have a sneak-peek into Shopify vs Magento to identify which one is a great choice for your business. So without any further ado, let's get started!
Features of Magento

If you have ever come across Magento commerce, you must be aware of the robust features offered by it. Here are a few of them:
Customer accounts: With Magento, you can easily manage user accounts with numerous functionalities. The abilities of a customer account include a complete account dashboard, multiple shipping addresses, order history, billing options, newsletter subscription, and much more.
Search engine optimization: SEO helps a website rank higher on Google and brings visibility to your eCommerce side by providing numerous SEO solutions. eCommerce SEO involves optimizing your metadata, user experience, sorting popular searches, customer sorting attributes, navigational structure, headlines, and much more. It also allows quicker loading by lowering the use of .css and .js files.
Payment and shipping: When we talk about any eCommerce site, the first thing that comes to our mind is payment and shipping. And Magento supports such features to run these operations easily and smoothly.
Mobile commerce: As we all know, more than 50% of eCommerce consumers choose mobile phones to buy online products. With Magento, you can bank on this extensive demographic of mobile users. Building mobile-friendly applications using Magento is no stretch as it provides mobile HTML5 technology and supports multi-touch, drag & drop, and zooming features for optimized mobile experiences.
On-the-spot checkout: Depending on your general shopping cart abilities, Magento provides an instant checkout feature to quickly checkout on one page.
Product browsing: Make sure to make your product browsing experience up to the mark, else your user might lose interest in buying. For creating better experiences, Magento offers various functionalities to enhance the shopping experience such as product wish list, multiple images of each product, zoom in or out the image, show stock availability, and much more.
Site management: Magento works perfectly when it comes to website management. The CMS of Magento is a renowned suit to create landing pages. To simplify the process of website management, Magento offers various functionalities such as user authentication, tax calculations, customizable designs, and multi-language support.
Features of Shopify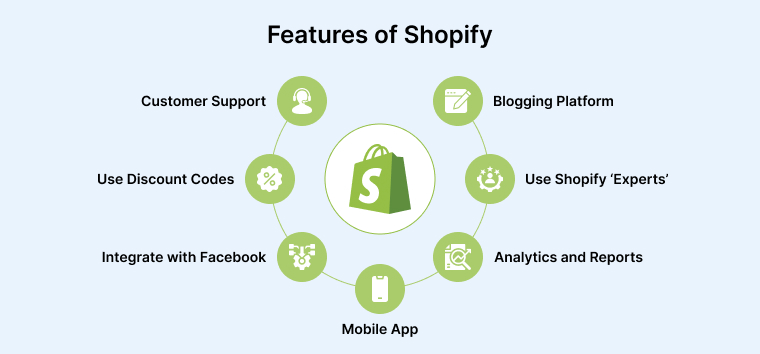 Shopify is gaining immense popularity as it offers excellent features for eCommerce solution that includes:
Customer support: Advanced Shopify offers 24/7 support to all its customers and access to its help center, analysis forums, and eCommerce business.
Use Shopify 'Experts': Shopify facilitates a handful of expert partners to get the most out of your online store. The list of experts is based on specialization, price, and location so that you can easily choose a suitable expert for your store. If you don't have enough skill to get your store right, then this is an expensive yet useful option available for you.
Blogging platform: You don't only have a shopping cart and eCommerce website, but also a blog to publish articles to engage customers.
Integrate Shopify with Facebook: If you have a massive social following, you can rebuild your entire shop within the Facebook page with a 'shop' tab. Combining Shopify and Facebook allows you to buy products without redirecting to your website without any hassle. Despite this, you can also manage everything from one place and ensure a smoother sales process.
Mobile app: Basic Shopify allows you to customize your app according to your requirements and manage all your staff members and customers while you're on the go.
Use discount codes: There is no mystery that offering discounts to customers can boost revenue, but the question is how do you do it in Shopify? To do this, use a Shopify app like 'Bulk Discounts' that allows you to generate discount codes for free shipping or dollar value.
Shopify analytics and reports: Shopify allows you to track everything using analytics and reports. Analytics are important to track the performance of your online store. How many visitors are interested in your store? How long have they been on your site? And where are they coming from? Redirect to the 'reports' section to download detailed charts to check traffic and sales.
2. Magento vs Shopify: Pricing
When choosing a reliable solution for your shopping cart, make sure to consider pricing as a very important factor. What is your budget and how much you can invest in your store? Here is the difference in setting the price process of Magento and Shopify.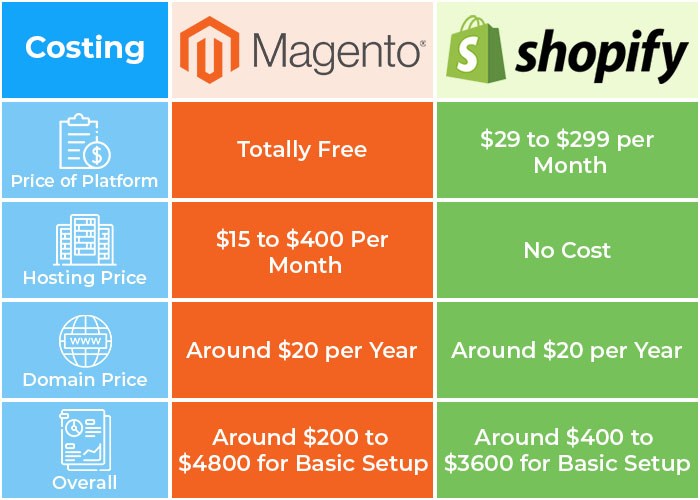 Magento
You're not required to take a monthly subscription for Magento. If you're planning to use Magento, you can install, download, and configure it without any cost. But if you want to launch your eCommerce website, you must pay for a domain and hosting depending on the service you choose. In the future, if you want more capabilities of your eCommerce store, you can also expand them according to your requirements and gain new potential customers.
Shopify

Shopify's price is subscription-based. You can choose your plan according to your requirements that range from $29 to nearly $299 per month for advanced Shopify.
3. Magento vs Shopify: Themes and Templates
After considering your budget, another important factor that you should not overlook is how the eCommerce platform will look like. Find out about Magento and Shopify themes:
Magento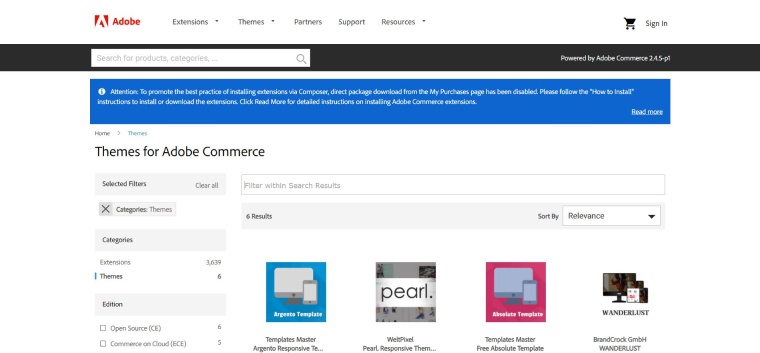 Magento offers 10+ fully mobile responsive themes that allow you to create your ecommerce website from scratch. It charges you up to $500 for 10 superior options. Magento themes allow you to be more flexible so that you can customize your store depending on your requirements and add animations to make your store attractive.
Shopify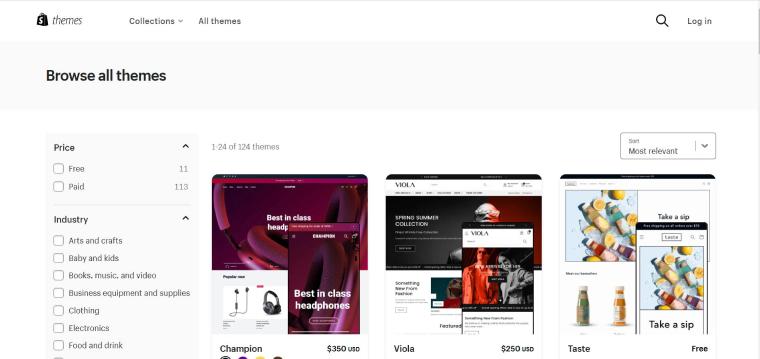 Shopify offers a variety of themes with 71 premium and 10 free themes that may charge around $100 – $180 for their mesmerizing storefronts.
Shopify has a cost-effective range of layouts and themes that can be used for your webstore. But Magento themes are expensive if you have a limited budget. The highest pricing for a Magento theme is around $400 whereas Shopify's top template costs nearly $300.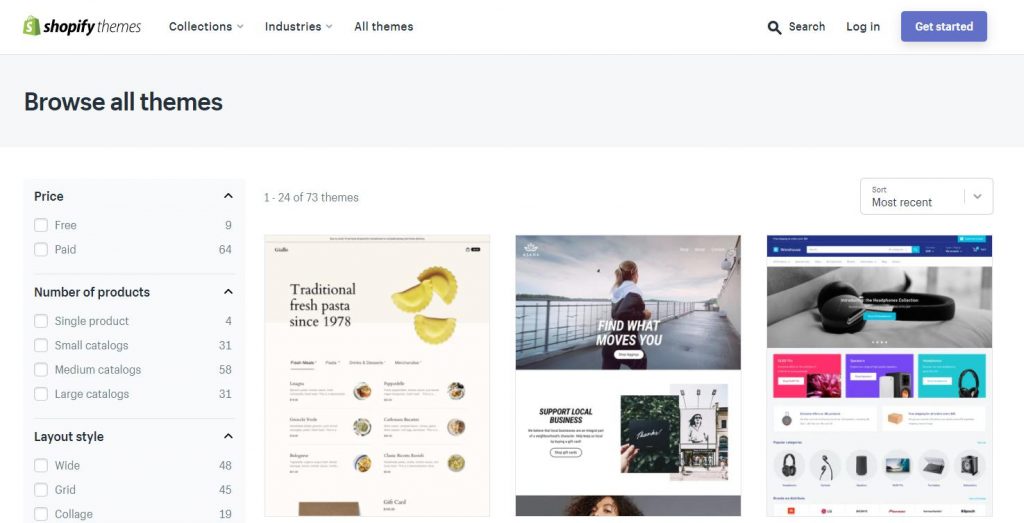 4. Magento vs Shopify: Ease of Use
It is a challenge for businesses to choose between Magento and Shopify to create a store you want as it reflects the brand. However, you must choose a platform that is easy to use and manage.
Magento
If you plan to work with Magento, the learning curve is steep compared to Shopify. Because Magento customization requires more technical abilities in order to build and manage ecommerce stores… Nevertheless, you can obviously hire Magento developers from India or across the world and they can do it for you.
Shopify
If we compare Shopify with Magento, then Shopify is way easier to use. Shopify is a one-stop solution for your eCommerce store that allows you to customize your store depending on your requirements. It is flexible to manage and use.
5. Magento vs Shopify: Apps and Extensions
Themes are used to make up the look and feel of your website whereas adding extensions allows you to add more functionalities to your website. Every CMS platform offers extensions on their extension store that are just a click away. It allows you to add various additional features and make it even more attractive. Here are some features of Magento and Shopify when it comes to extensions:
Magento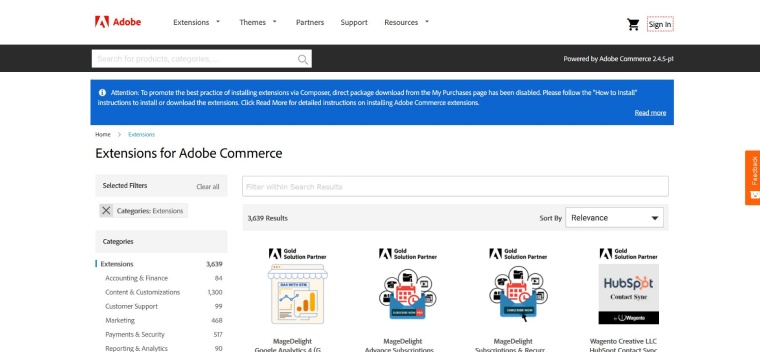 When you plan to use Magento for your eCommerce store development, you'll get more than 3000 extensions through its Magento marketplace. Having some basic coding knowledge is enough to install and configure extensions on your site. Various Magento extensions are used while creating an eCommerce website which may help you a lot. Like some extensions will let you promote your latest products by adding custom discounts. 
Shopify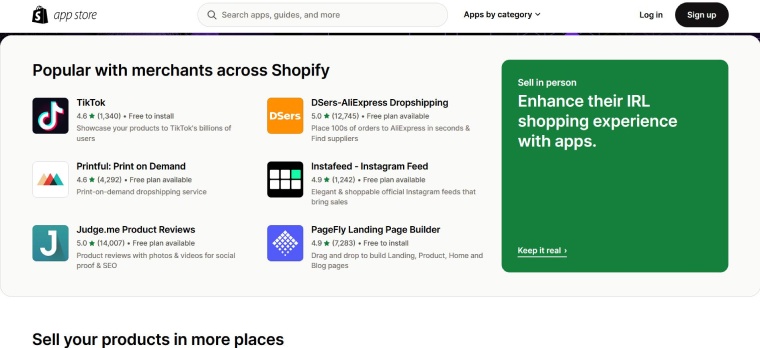 As we all know, every platform provides an extension store similarly, Shopify App Store offers more than 4000 free as well as paid apps. Some popular Apps have the ability to use trusted icons and show them to their potential customers as it offers numerous benefits of email marketing campaigns.
6. Magento vs Shopify: Security
Whether your business is small or large, Security is always an important factor for any online shopping platform. It allows you to store all the user's related data, customers' information, and many such essential transactions that need to be kept confidential. And both offer great security. Let's see in detail.
Magento
Magento has a variety of flexible features that allows you to improve the data security of your online store themselves. For additional security, you can also install the security Magento extension in the payment gateway so that all your business-related data and information are kept safe. 
Shopify
Here are a few security features offered by Shopify:
GDPR Compliant: GDPR stands for General Data Protection Regulation which is a legal framework that places policies for processing and collecting confidential details from people who live in the European Union. Shopify fulfills its own lawful responsibilities under the GDPR and provides a platform that can be configured to be GDPR compliant.
Fraud Detection: For fraud detection, Shopify offers various built-in machine learning technologies and is trained across transactions on all Shopify stores. 
PCI Compliant: The PCI Security Standards Council devised this norm to guard the information of a cardholder for online payments. And Shopify is certified Level 1 PCI compliant that helps you to keep a secure network and support a vulnerability management schedule.
7. Magento vs Shopify: Payment Processors
When you plan to choose Shopify, BigCommerce, Magento, or any other similar open-source and flexible platform to build your online store, you're not required to worry about the payment process as it offers a great way to make secure transactions.
Magento
Magento allows payments with a credit card and also supports other online payments from your customers with zero transaction fees. It supports almost all major payment methods with more than 100 payment integration options. However, if you choose Magento for eCommerce development, you can access a wide range of payment gateways in different languages. Below image shows payment process in Magento.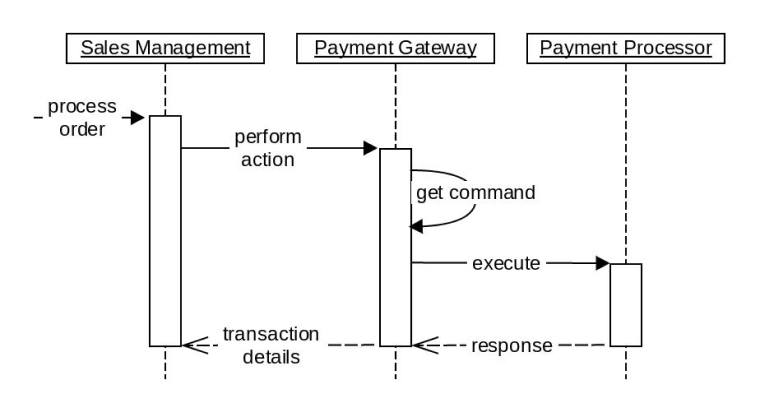 Shopify
If we talk about Shopify payments, it also allows you to make payments with credit cards. It also offers an integrated payment processor to avoid the transaction fees that are required to pay Shopify. Despite this, it supports around 100 external payment processors which is why it is one of the most preferable tools for your eCommerce store. 
8. Magento vs Shopify: Marketing Features
Implementing powerful marketing features using excellent tools can take your business to the next level and improve your bottom line. But what are the marketing features of Magento and Shopify? Let's discuss!
Magento
Magento is entirely dependent on its marketplace for offering various marketing tools. It offers a powerful set of marketing features that allows you to promote your online business and flexibly create coupons for various purposes or manage newsletters. These marketing features help Magento users to scale and enhance their business processes. 
Shopify
Like Magento, Shopify also provides a set of excellent marketing tools that has the ability to run email marketing campaigns with third-party integrations. You can also make an advertisement to sell directly on Pinterest, Facebook, or Instagram. Apart from this, Shopify supports multilingual sites to help businesses sell their products in different languages.
9. Magento vs Shopify: SEO (Search Engine Optimization)
SEO is a great marketing strategy that allows you to improve your website that might positively affect your ranking in search engines. It helps to increase the number of visitor traffic from search engines to your eCommerce website. Magento and Shopify offer some similar options when it comes to SEO capabilities.
Magento
Magento offers a variety of SEO features and functionalities that allows you to add modules and edit the page title. You can also store displays in the search results pages to rank your eCommerce store better on Google. Apart from this, you can also purchase more SEO apps from Magento's marketplace. Magento SEO is very much easy to implement.
Shopify
Shopify also allows you to define your store displays and help search engines understand what they are all about. To add more features to your store, you can buy more SEO tools from the Shopify App Store that will help you to overcome SEO problems in time.
10. Magento vs Shopify: Help and Community Support
If you're able to solve all your queries as quickly as possible, there are chances that you can increase sales and reach more customers. This is the main reason why ecommerce community support is important while choosing a reliable ecommerce service provider for your web store. Fortunately, both Magento and Shopify have these features.
Magento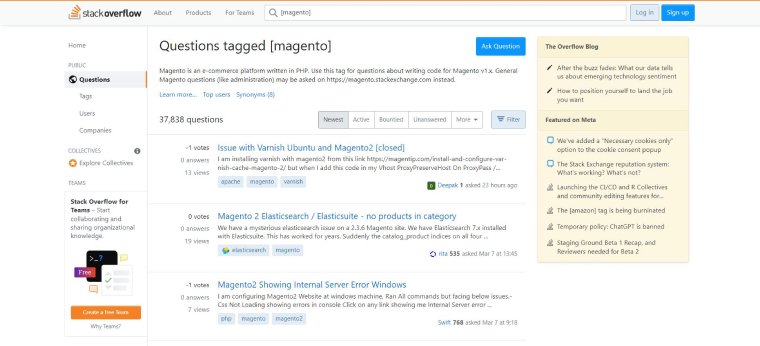 If we talk about the Magento community, it has a great user guide that makes the online store processes effective and successful. They assist you at each stage and give all the useful and required information provided by other Magento developers.  As shown in the above image, Magento has more than 37k QA for developer's help on stackoverflow.
Shopify
If we compare Shopify and Magento, According to a Website builder expert, Shopify gets 4.1 out of 5 for help and support as it offers email support, video tutorials, 24/7 phone and live chat support, a help center, and much more. So make sure to choose your platform after reviewing these details as well.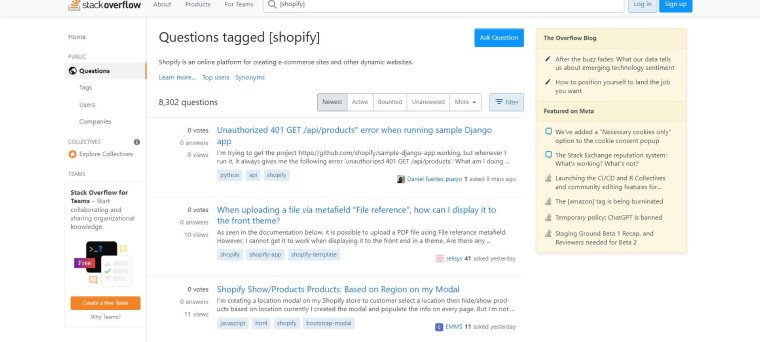 Shopify also has a huge community on stack overflow, if anyone faces any difficulties while learning Shopify then they can get easy support from its community.
11. Which Platform to Choose For an eCommerce Store?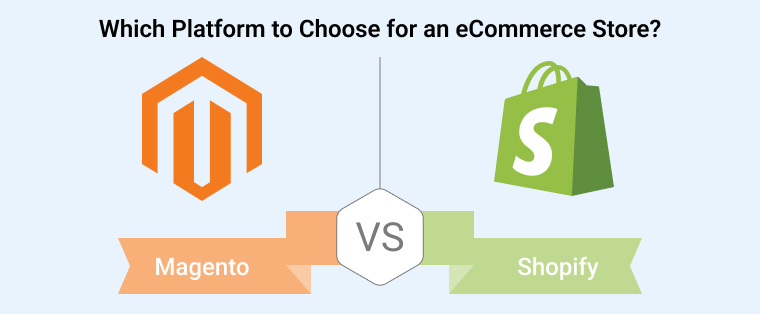 If we compare Magento and Shopify, both of them are fairly powerful and excellent platforms for eCommerce development. If you plan to use Magento then you're required to buy web hosting to carry out system installation that only people with some technical knowledge would be able to do. Whereas if you pick Shopify as your eCommerce partner, you'll gain great ease of use and fully managed service.
We discussed Magento and Shopify in detail, and we can say that there cannot be a comparison between the two winners.
Are you still confused about choosing a perfect ecommerce solution for your online store? If so, then take a look at our final ratings out of 5 that will clarify everything between Magento and Shopify:
| | | |
| --- | --- | --- |
| Criteria | Magento (Out of 5) | Shopify (Out of 5) |
| Price | 4 | 4 |
| Multi Site | 5 | 4 |
| Marketplace | 3 | 3 |
| Easy to use | 3 | 5 |
| Themes | 3 | 5 |
| App, Add-ons | 5 | 5 |
| SEO | 4 | 4 |
| Payment | 4 | 4 |
| Hosting (Rating based on ease to implement) | 3 | 5 |
| Security | 4 | 4 |
| Customisation (Ease to customise) | 5 | 4 |
12. Conclusion
We hope you find this post useful!
So are you now ready to build your online store using the best eCommerce platform? If yes, what are you waiting for? Go and start your ecommerce project development today!
13. Frequently Asked Questions
1. Why choose Magento for eCommerce?
If you choose Magento as an ecommerce platform, you can build and manage online shops easily from a single dashboard. Magento has a great and flexible content management system to make website development solutions more easily.
2. Why choose Shopify for eCommerce?
Shopify is an ideal platform that provides business owners with a reliable and flexible store builder that can boost sales and conversions and sales. It helps to reduce various administrative tasks and provides a great user experience. So choosing Shopify for eCommerce is worth it.
3. Is Magento better than Shopify?
As we discussed in this post, there cannot be a comparison between the winners. Both of them work best in their own way if implemented correctly. But the main difference between Magento and Shopify is, Magento offers advanced features organized within the system whereas Shopify has limited features but allows you to collect unlimited products in your store. It is a neck-to-neck competition between Magento and Shopify, so choose your service carefully and then start your business.