Top 9 Best Magento Payment Gateway to Consider
Table of Content
1. Introduction
In today's time where the acceptance of online stores has increased and more & more businesses have started coming on digital platforms to sell their products online to increase their business profit, the urge to have the right payment gateway has also increased. As Magento has been a very popular eCommerce development platform, the demand for payment gateways for Magento is also increasing.
Therefore, to make the Magento online store a success, Magento store owners need to choose the right payment gateway for their business.. The choice must meet the necessary requirements like security, functionalities, price, and convenience. Therefore, while choosing a Magento payment gateway, one shouldn't just pick any popular one but must go through its features, and see if it fits the business needs.
To make the choice simpler and clearer for both the business owners and India based Magento developers working on the ecommerce project, we will go through the top 7 Magento payment gateways in this blog and see what they have to offer and how much they cost.
2. How to Select a Magento Payment Gateway?
When it comes to selecting the online payment options from various payment gateways for Magento available in the market, some points should be considered. Besides, looking out for a solid eCommerce platform to host the website, here are the points that every Magento store owner must consider –
The first thing a Magento store owner can do is select a gateway that prevents system failures.
They look for a system that helps in addressing technical issues.
The chosen system must be able to assist in troubleshooting.
The selected Magento payment gateway must be cost-effective and must facilitate the purchase process in an ideal way.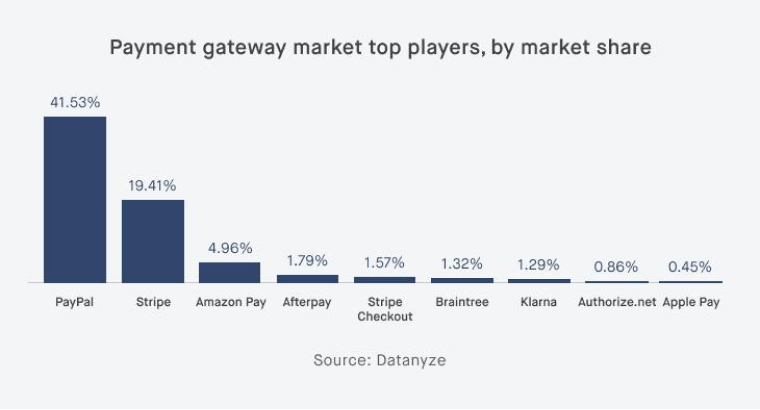 According to DATAnalyze Survey, approx 60%  of overall market share of payment gateways are occupied by PayPal and Stripe, which makes them the most popular payment gateways.
3. How Does a Magento Payment Gateway Work?

The e-commerce payment gateway functions as a mediator between a merchant and a bank, ensuring the protection of client privacy and reducing financial complications for the business.  Let's breakdown the steps and understand the procedure.
Despite the seeming complexity shown in the image, the procedure of payment gateway integration, particularly in the context of Magento payment processing, can be broken down into four distinct steps:
Step: 1 – The consumer engages in the process of product selection, followed by the initiation of a transaction by inputting their credit card information on the designated checkout page. The data pertaining to the transaction is encrypted and thereafter forwarded to the selected payment gateway.
Step: 2 – The payment gateway is responsible for receiving the order and verifying the authenticity of the store through the use of a Digital Certificate, which serves as a form of identification for the online shop. Upon reaching the payment selection page, the client is presented with the option to choose their preferred mode of payment. Subsequently, the payment gateway proceeds to transfer the appropriate information to either the seller's bank, in the event that the Magento credit card payment method is used, or to a merchant account, if an alternative method is chosen.
Step: 3 – The payment is then authorized or rejected, based on the funds accessible in the account of the buyer. This determination is made by the issuing bank or credit card company (such as Mastercard, VISA, Maestro, or American Express) when they verify the transaction.
Step: 4 – The amount is transmitted by the bank via the payment gateway, which then transfers the finished payment to the merchant account. The duration for money to be credited to a merchant account varies based on the payment gateway, ranging from just a few seconds to several business days.
One of the approaching reliability of this procedure is, it requires only a maximum of 2-3 seconds. The final stage of completing the financial transactions may take a few days, nevertheless, it is certain that by utilizing an appropriate Magento 2 payment gateway, customers will be able to swiftly proceed with the checkout process.
4. Top 9 Magento Payment Gateways for your Ecommerce Store
Some of the major Magento payment gateways available in the market are –
4.1 PayPal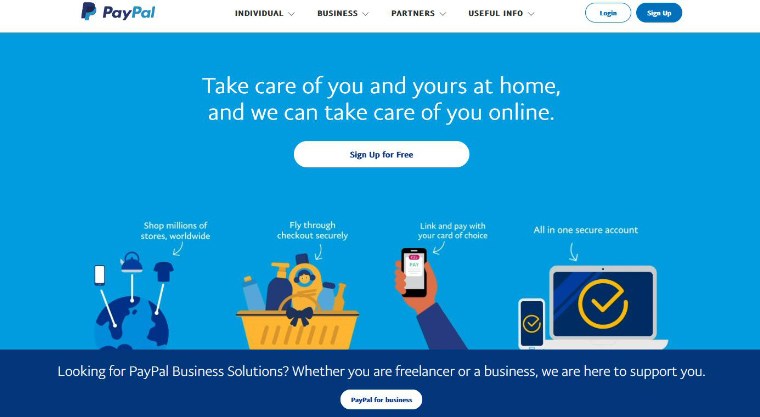 PayPal is known as one of the most popular and secure payment gateways. It comes with some amazing and excellent features that have helped it to create a huge reputation for secure payments. With PayPal integrated into your Magento store, the customers can pay through both a credit card and a PayPal account. This means that the clients can make purchases with credit which gives them an option to spend more and then pay for all the purchases over time. This is one of the most innovative features of PayPal payments. Besides this PayPal comes with advanced encryption and a 24-hour transaction monitoring system which helps in keeping the payment system secured.
Transaction Fees of PayPal: Within the United States, the price of PayPal is 3.49% + $0.49 and per international transaction, 5.0% is charged. It doesn't come with any monthly fees or setup fee.
Key Features of PayPal:
PayPal has the capability to support over 25 currencies.
PayPal is being used in more than 200 countries.
A PayPal merchant account or credit card can be used to request a payment.
4.2 Stripe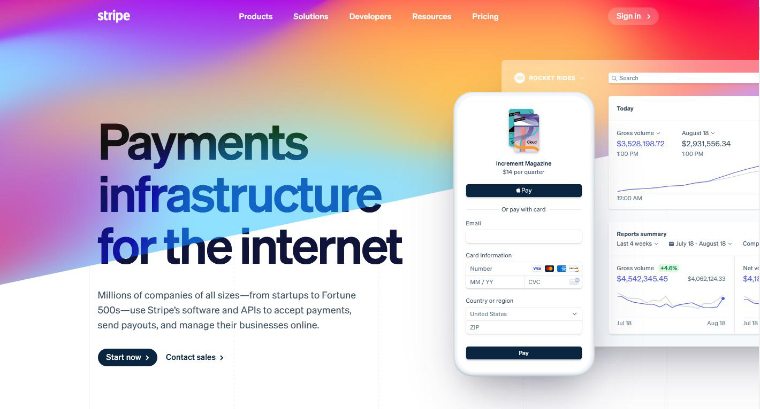 Stripe is a popular payment gateway to get businesses up and running for accepting payments quickly. The Stripe payment gateway has the capability to accept all major credit cards, including Alipay, Bitcoin, Android Pay, and Apple Pay. This is one of the top payment service providers to come up with real-time fee reporting and simple PCI compliance. Stripe has adopted big business names like ASOS, Deliveroo, Monzo, and Xero.
Fee of Stripe: Per transaction with stripe costs 2.9% + $0.30. There is no monthly fee or setup fee for using Stripe.
Key Features of Stripe:
Stripe offers the best user experience by allowing the users to stay on-site while the payment process is going on.
This is one of the eCommerce payment gateways that enables merchants to have access to modify the code and customize the gateway as per their business needs.
Stripe has the capability to provide users with amazing features like one-click checkout and mobile payments.
4.3 Skrill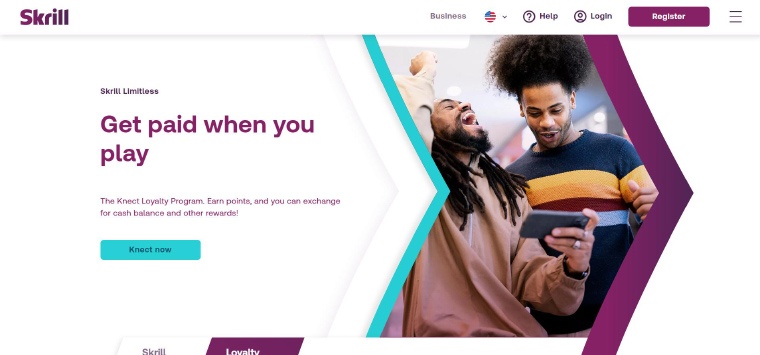 Skrill is one of the most popular and widely used payment systems in the UK. It was created in 2001 and later it became a part of the Paysafe group in 2015. The Financial Conduct Authority is responsible for handling all the activities of this company. Their aim is money transfers where customers can make payments online. They own a prepaid card and run an e-wallet where the cards are available in four different currencies GBP, EUR, USD, and PLN.
Transaction fee of skrill: Magento POS transactions are free.
Main Features:
It offers you chargeback protection on all payments if you're using their digital wallet.
Skrill digital wallet allows you to offer more than 100 local payment methods to your customer for easier cross-selling across borders.
Skrill helps you to improve overall conversion rates.
Your customers can make repeat payments with a single touch.
4.4 SagePay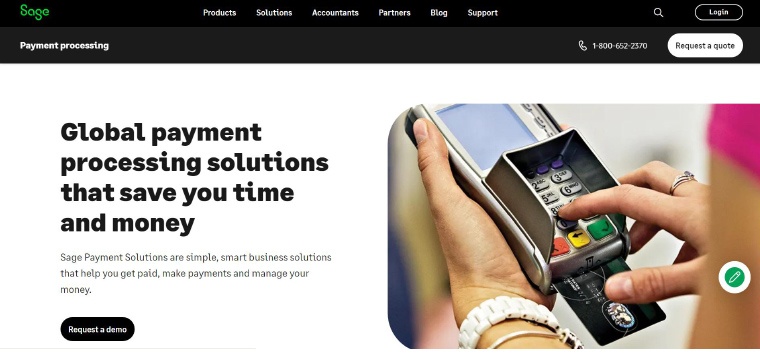 Sage Pay is now known as Opayo Pay which is a major European Payment Service Provider bought from Sage Group in 2019. You'll be surprised to know that the software's success speaks for itself as the Sage Pay gateway processed £40 billion in card payments for more than 50,000 merchants in 2019. They offer the best services and have maintained transparency and trust over the last two decades. Apart from this, Sage Pay is continuously investing in cutting-edge technology for digital security.
Fee: Sage Pay offers two pricing editions from $27 to $45.
Features of SagePay
It helps businesses to speed up their cash flow by ensuring safe payments.
Sage Pay makes sure that consumer payments are sent quickly and securely to the company.
It offers numerous online resources and guides to new members to start quickly.
4.5 Klarna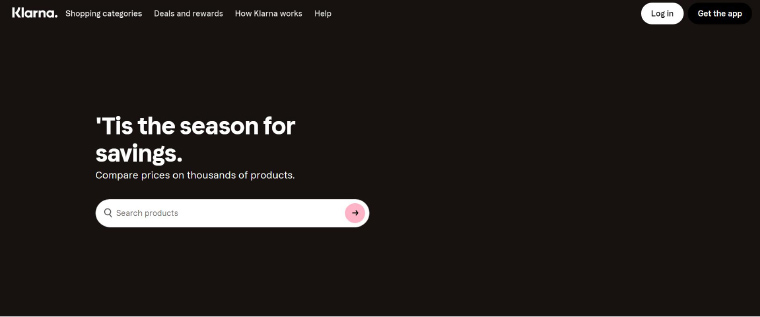 Klarna Bank AP is a Swedish payment gateway that is one of the biggest in Europe and provides the best online financial services along with post-purchase payments. It caters to more than 50 Million people in 14 different countries.
Klarna fee: The prices of Klarna differ from market to market. For example, US businesses spend a fee of $0.30 and a percentage fee from 3.29% to 5.99% whereas merchants who're located in the UK are charged 2.49% + 20p ($0.30) per transaction.
Key Features of Klarna
It gives you the pay later feature where customers can complete the payment in either 14 or 30 days of the span that too without any interest.
If customers are willing to pay the full amount immediately, they can make it through a secure bank transfer with the Pay Now option.
Customers can even slice the payment over six months to three years using a debit or credit card.
4.6 Braintree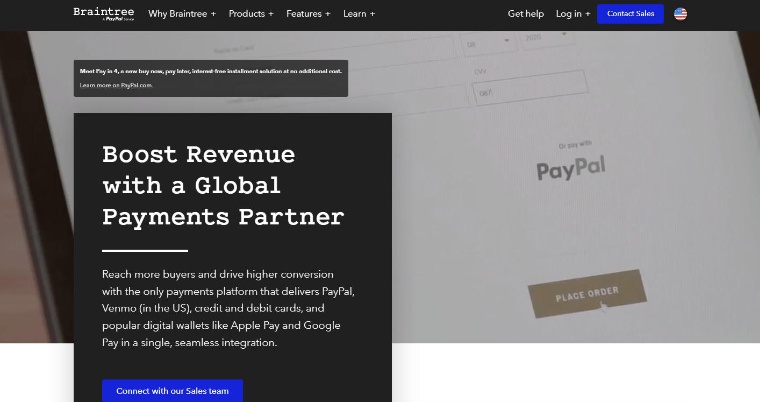 Braintree is a Magneto payment gateway that is owned by PayPal. It is another excellent Magento payment processing system that offers flexible features to small businesses. It can be useful when businesses want to sell their products within the country and also get global clients. With Braintree, the clients get six options to make the payment. Some of these options are Bitcoin, Venmo, and Apple Pay. Basically, the Braintree payment gateway is one of the most popular and flexible platforms. Besides, it comes with secure data storage, basic fraud protection, and PayPal integration built in.
With Braintree, the customers can save the payment data and choose whether they want to add or delete payment information in their payment gateway accounts.
Fee of Braintree: Braintree charges 2.59% + $.49 per transaction.
Key Features of Braintree:
Braintree comes with support for 130+ currencies.
This payment gateway is available in 45 countries.
Braintree comes with excellent security features like fraud prevention tools or recurring billing.
This payment gateway workS to offer seamless checkout with Drop-in User Interface.
4.7 Amazon Pay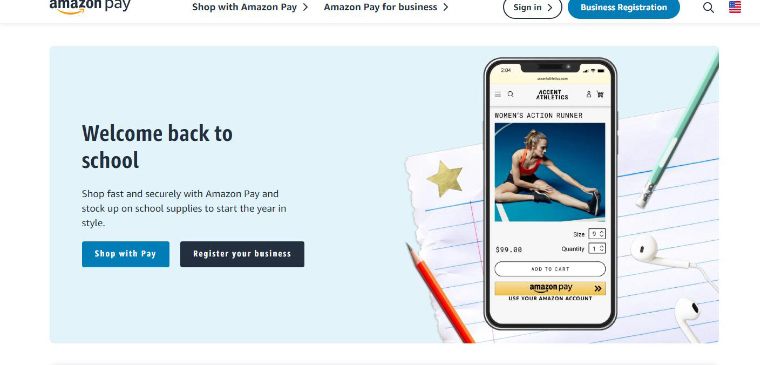 Amazon Pay is one of the most popular platforms among the many eCommerce payment gateways present in the market. It works by enabling the clients to login and pay with the help of their Amazon accounts. This process helps in decreasing the payment checkout time and increasing the sales of the business. Besides this, when the clients are paying through Amazon for the products they have purchased, they can choose the payment and shipping method. This is another very beneficial feature of Amazon pay. In addition to this, Amazon pay comes with the same fraud protection mechanism that is there on Amazon.com. Since 2007, Amazon Payment has been offering a secured and streamlined checkout experience to customers.
Fee of Amazon Pay: Amazon Pay charges 2.9% + $0.30 for the domestic transaction and for international transactions it charges a 3.9% fee.
Features of Amazon Pay:
Amazon Pay is a payment solution that supports 12 leading currencies and is available in 5 different languages.
It enables its users to carry out online payments on-site with the use of just one account.
Amazon Pay offers 2 services for business, CBA (Checkout by Amazon) and ASP (Amazon Simple Pay).
4.8 Authorize.Net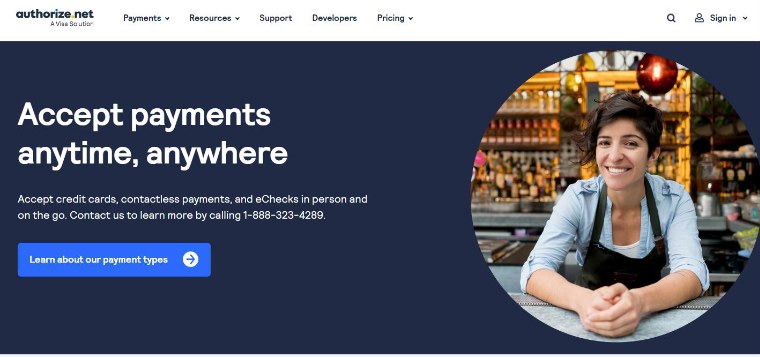 Authorize.Net is one of the most popular payment processing systems that was founded in 1996. Since its launch, Authorize.net has been a trusted platform by more than 430k merchants. This is why it is known as one of the most popular payment gateways for Magento. This Magento payment gateway is best for small or medium-sized eCommerce businesses.
Authorize.Net is one of the platforms that accept credit card payments, eChecks, and contactless payments. It offers different payment types to the users and they are phone payments, mobile payments, billing, eCommerce, point of sale, Check, and mobile card readers.
Fee of Authorize.Net: Authorize.Net is a payment gateway that charges a $25 monthly fee + 2.9% + $0.30 transaction fee for the merchant who is choosing Authorize.net as an All-in-One payment processor. If the business owners use Authorize.Net only for merchant accounts, it charges $0.10 per transaction + $0.10 as a daily batch fee.
Key Features of Authorize.Net:
Authorize.Net is a payment method that is available in more than 33 countries.
This payment processor enables payment through both debit and credit cards of Discover, American Express, MasterCard, and more. Besides, customers can also pay using Google Pay, Apple Pay, or eChecks.
Authorize.Net comes with a user-friendly interface.
4.9 2Checkout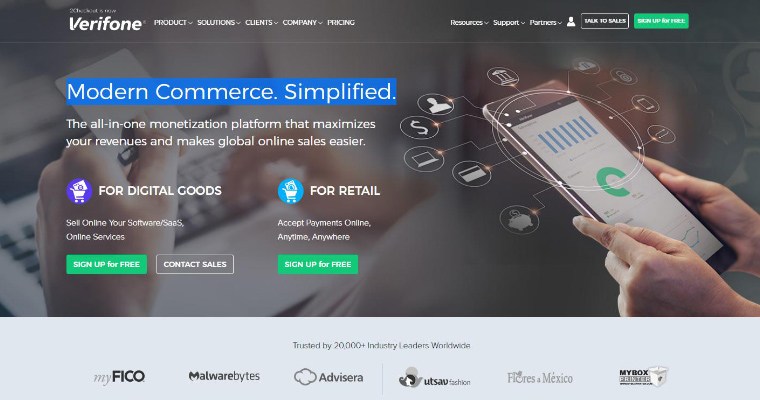 2Checkout is a popular Magento payment gateway that is used by more than 50k eCommerce store merchants all over the world. This platform helps businesses to build online revenue without any headaches or payment processing. This platform offers a security and fraud reduction approach. Besides this, it also offers secure customer data details. When it comes to 2Checkout, the cost per transaction varies as per the business location.
Fee of 2Checkout: The 2Checkout payment gateway charges a $10.99 monthly service fee and 3.99% + $0.45 per transaction,
Key Features of 2Checkout:
2Checkout is a payment gateway that supports 87 currencies.
It also supports 15 different languages and integrates with 100+ eCommerce platforms.
2Checkout payment gateway ensures payment security for any type of transaction with more than 300 fraud rules.
It follows various security standards like SSAE 18, GDPR, BBB Accreditation, and PCI DSS level 1.
2Checkout accepts 8 types of payment methods which includes credit cards, debit cards, and PayPal.
5. Conclusion
As seen in this blog, in the last few years, online payment has been a great advancement in the digital payment ecosystem. One of the biggest reasons behind online payments being so popular is the increasing acceptance of eCommerce stores and online businesses. These eCommerce platforms have a huge list of payment gateways to choose from and these payment gateways help online stores accelerate the checkout and transfer the money between the customers and merchants very smoothly.
This means that the businesses that are having their digital platforms on Magento should consider integrating the extension of a Magento payment gateway to get the benefits of the payment gateway's features. All these Magento payment gateways accept different payment methods like credit and debit cards, Android Pay, and Apple Pay. This means that one can choose any of the payment gateways that fit well to the business site.
6. FAQS
1. What is the payment gateway process in Magento?
You can connect your Magento stores to various payment processing services by using the Magento payment provider gateway. The details of an order can then be used to generate and process transactions.
2. How to integrate payment gateway in Magento?
Install a Magento payment gateway plugin of your choice. Then, from your Magento Admin panel, go to System → Web Setup Wizard → Module Manager. Find your payment module and enable it. As soon as your extension has been installed, you'll see it in your Magento Admin panel on the left.
3. What is the Magento POS system?
The Magento POS system is a checkout platform used as a point of sale. Both hardware and software are included in the POS system. A point-of-sale system is able to calculate sales tax, add prices, and scan barcodes. In addition, the system can handle the exchange of reward points or coupons at checkout.
4. What are payment gateway types?
The four different types of payment gateway are: Hosted payment gateway. Self-hosted payment gateway. API-hosted payment gateway. Local bank integration gateway.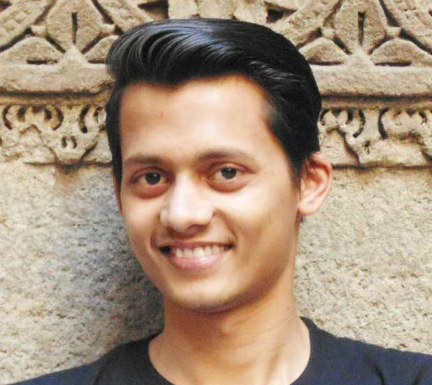 Hardik Dhanani
Hardik Dhanani has a strong technical proficiency and domain expertise which comes by managing multiple development projects of clients from different demographics. Hardik helps clients gain added-advantage over compliance and technological trends. He is one of the core members of the technical analysis team.