Prominently used and most popular open-source platform React - a JavaScript library - offers businesses speedy, agile, and aesthetic front-end web and mobile apps. As a top React Development company, we drive success for most of the businesses by harnessing the skills of our React developers to use a variety of JavaScript Libraries & features for seamless integration, reusing code patterns, boost runtime environments, and eliminate inconsistent bottlenecks.
Get a Free Quote
Our Work
React Development Services
Tap On All The Customized and Quality-driven Services Offered by eTatvaSoft in Offshore React Development Services
React Web Development

Get access to the best-in-class React developers with rich expertise in developing react web applications.

React UI Development

Enhance your React Web application with immersive UI and interactive features through our React expertise.

Migration and Upgrade

Hassle-free migration from one environment to React without relenting to meet quality benchmarks or performance.

Enterprise React Development

Reinvent your brand by building enterprise-grade robust and secure web applications with our consistent React development services

React Front-End Development

Build modern, dynamic, and appealing applications using React front-end development services

React Maintenance and Support

We ensure continuous support and maintenance services to enhance efficiency and app performance using React Development services
Would you like to get in touch with us?
Please send us your React Development requirement by simply clicking the Get a Free Quote Button.
Customized React Applications
Employ our offshore React developers to achieve highly flexible and progressive, web and mobile applications.
React Development Experience
eTatvaSoft has rich practical experience in developing diversified and unique applications for business apps to perform consistently and efficiently. Clients entrust eTatvaSoft as a leading React development company as their proficient React developers have revolutionized existing apps using stunning front-end functionalities, UI features by delivering rapid and smooth performance.
Custom React Development
React Enterprise Solution
React API Integrations
Real Estate Solution Implementation
Ecommerce Application Development
Healthcare Solution Development
React Portal Development
Community Apps Development
Technology Stack
Backend
.Net
PHP
Java
Node
Ruby on Rails
Front-end
Database
MSSQL
MySQL
MariaDB
PostgreSQL
MongoDB
DynamoDB
Firebase
Elasticsearch
Airtable
Testing
Selenium
Katalon Test Studio
Test Rail
Apache JMeter
OWASP ZAP
BrowserStack
Postman
Jest/Chai/Mocha
Cloud & DevOps
AWS
Google Cloud
Azure
Docker
Kubernetes
Jenkins
Others
Third Party API/SDK Integration
Jira
Trello
Slack
Basecamp
Asana
RESTful API
Why Hire a React Developer from us?
If your enterprise wants to take a competitive edge of apps by building a flexible and engaging application then React development services from eTatvaSoft can deliver impeccable results.
eTatvaSoft is a renowned React development company engaged in building hybrid mobile apps with years of experience and demonstrated business outcomes. Making the best use of the potency of React developers, we have developed customized, easy to use and streamlined apps backed up by a resilient backend, stunning front end features, well-structured codes, and overall hassle-free performance.
Get Expert React Consultation
Flawless Design
Explore the best design with the help of our React developers for your project.
Effective Code
We code by using suitable frameworks to cater to business needs.
Easy Communication
Stay updated with daily code validations and reporting with React JS Programmers.
How to Hire a React Development Team?
Stay at the notch of the business market utilizing our skills in React development services. Our team of experts React developers navigates your custom business ideas into feature-rich and secure applications.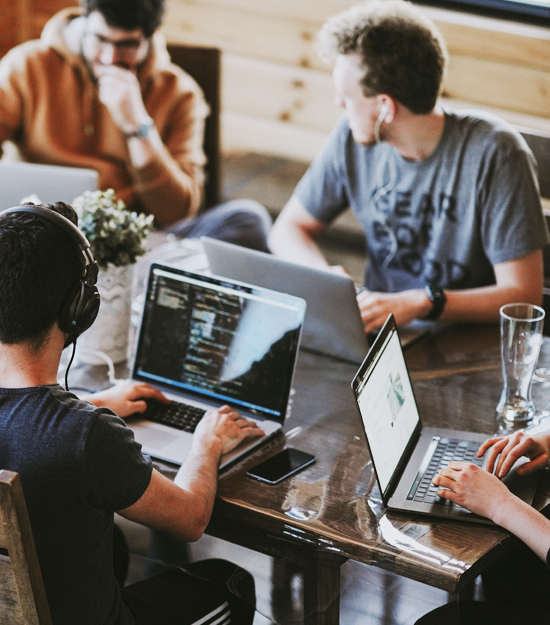 How React development team at eTatvaSoft works?
We at eTatvaSoft help to modernize your application into a cost-effective and high-performing business solution. Our team adheres standard set of business practices which includes
Discussing Business Prerequisites

Illustrate to us your corporate objectives, organization history, and offerings. Our market analyst will make project decisions based on that.

Know Your New ReactJS Team

To meet your unique business needs, we will pick React Developers that fit best to your requirements.

Project Implementation

Boot-up your new React project in coordination with the existing business team for profitable business outcomes.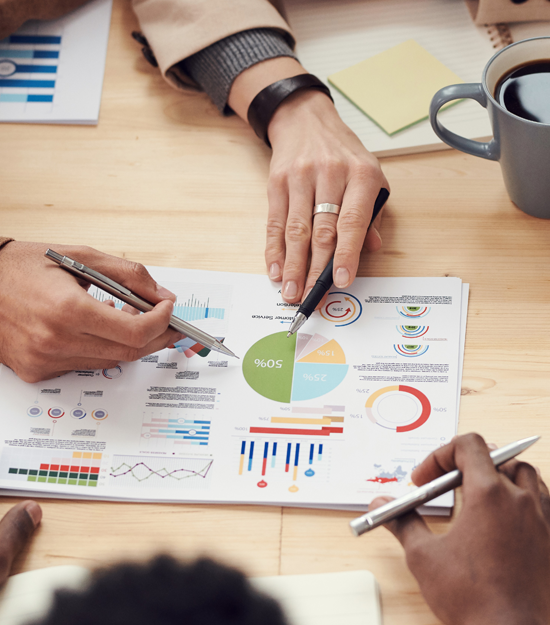 ReactJS development Engagement model
Dedicated Development Team

Handpicked talent and fully dedicated React development team to cater to your unique and market-driven development needs for scalable, robust, and high-performing applications. Our React developers have the ability to comprehensively understand complex business challenges and customize suitable React development functions for businesses to build top-notch features, intuitive user-interface, and robust software architecture.

Fixed Price Model

As a leading React development company, our tech mavens deeply understand what is ideal for a business and which model will help them reap long-term benefits. Based on the prerequisites, our react experts recommend a Fixed-price model when the business scope is specific, budget is fixed and requirements are consistent. Leveraging functionalities of React, we offer business to pay a fixed price for all milestones of projects deliverables
Key Benefits to Choose React Web Application Development
Open Source
Using the free functionalities and features of an open-source development platform, we can utilize and develop premium quality products.
Development Efficiency
React is self-capable to create its own DOM by providing higher flexibility and enhanced performance.
High Performance
React programming strongly advocates the development of large-scale applications by boosting the performance of the system.
SEO-Optimized
Compared to all other JavaScript libraries, React stands out to become more SEO-friendly and improves search ranking organically.
Compatibility
React development addresses all the evolving business needs for a compatible and self-sufficient application.
Highly Versatile
React uses all mobile application features with the aid of React and React Native development for versatile and all-rounding applications.
One-way Data Flow
With React, the traditional methods of data binding are reduced to their maximum extent for a consistent singular flow.
Community Support
Backed up by a huge community of React developers, there are no complexities that remain unresolved while using React framework.
Easy to Learn
One of the easiest programming languages with a perfect blend of coding and design
Let's start your React Development project now.
Our service team will get in touch with you with relevant information and proper documentation.
FAQs
How do I begin?
Please contact us with your requirements. We will analyze them and based on our understanding, we will propose the best-suited solution that meets your business objectives.
What makes your company unique from other offshore react development companies?
Unlike other companies, we do not provide body shopping for developers, instead create a customized React Developers team and put them on contract with SLA's and NDA on point.
What process do you follow for building the React Project?
We try to meet all the needs of a best React development company by following React best practices and agile implementation. To mitigate risks and meet end goals, we create a custom team that includes PM, React developers, Business Analyst, and QA.
What security policy do you follow?
A Software contract or an NDA is an ideal way to safeguard businesses from any data breach and deter theft of intellectual property rights.
After outsourcing my React development project, How will your company secure my Intellectual property rights?
After you outsource React development projects with us, we will sign NDA to secure your intellectual property rights. You will have complete ownership of your source code. We don't reuse the code and have service legal agreements with our employees to protect client code.
What is the cost of developing the React Project?
There is no fixed price. The development cost entirely depends on the project's size and complexity. Also, the number of features that you want in your application.
What approach does your company use for project development?
We use agile development methodology to deliver your software product fulfilling your business needs. Agile allows adaptive planning, continuous improvement, and implementation of rapid changes that arise in on-going development.
How soon can you develop the React project?
The sprint deadlines are defined during the initialization of the project. We follow the same roadmap for the React development process and try to exceed client's expectations.
How can I track my project development progress?
We generally use project management tools as per client preference such as Google Drive, e-mail, Slack, Skype, Jira, Atlassian, Trello, Asana. From this, you will get a clear insight on the project as well as our team do daily or weekly meetings, as mutually agreed, for project update and discussion.
Will I own the legal rights of my project?
Yes. The team at eTatvaSoft builds the projects and the client holds its absolute legal rights.
What if I need any change or modification in my application after launch?
Depending on the type of change or modification you want in the app, our React developer will assist you further. After development, if required we can sign a maintenance contract to maintain your solution.
How does React differ from React Native?
Developed by Facebook, Both React and React Native is used for app development, the only difference being that the former is used primarily for web development and the latter for cross-platform mobile app development. React can though be used for mobile app development as well.
What can we help you with?
If you are interested in finding out more about how we can help your organization, please provide your details and project requirements. We'll get back to you soon.