Next article
Both Magento and WordPress are the two most powerful platforms when it comes to creating an online store. Although both of them are open-source...
Top 6 Magento 2 Security Extensions for your Ecommerce Store
When it comes to eCommerce store development, Magento is one of the most popular platforms. There are around 11% of the eCommerce sites in the market are running on Magento. This popularity makes Magento stores a lucrative target for cyber attackers. Therefore, business owners and Magento developers in India use Magento 2 Security Extension which can help them eliminate various cyber threats.
Table of Content
Besides, Magento is a platform that has to deal with sensitive client data and if there is any data breach on the site, it can affect brand reputation as well as confidential customer data. This is why Magento 2 security extension must be used by all the store owners while creating their Magento website. To know more about Magento 2 security extensions, let's go through this blog.
1. What Happens When Your Magento Website Gets Hacked?
When any Magento eCommerce website gets hacked, there are a few things that can happen. And they are –
It can get defaced.
The leak of clients' sensitive data like debit/credit card details and login details.
Redirection to some spam websites.
Basically, whenever any Magento store is hacked, the impact of it doesn't only destroy the site's credibility but it can also get penalized by Google.
2. Top 6 Magento 2 Security Extensions to Use
Here are some of the best Magento 2 security extensions to use –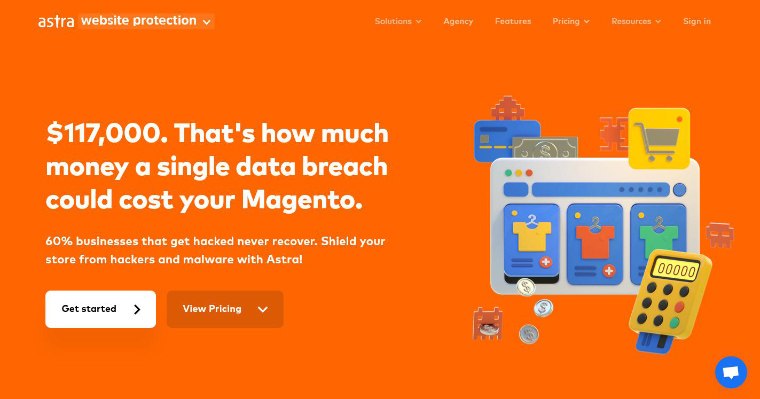 Astra is known as one of the smartest WordPress and Magento extensions and themes that every online store owner wants to have. It is an extension that helps in detecting errors that are missed by some of the automated tools. It is a responsive Magento security suite for ecommerce stores and businesses. Astra has some of the best features. Besides this, it also comes with speed and SEO-optimized templates. Some of the things that the product offers are –
Magento Optimized: It is an extension that helps developers to patch security vulnerabilities automatically, secure third-party plugins, and block malicious users from getting access to the admin actions log.
Solid Security: Astra offers solid security levels that prevent the Magento site from XSS attacks, malware injection, and more. It protects the site against bad bots and stops fake users.
Human Support: Users can also get human support over email, chat, and phone with this extension.
Features of Astra:
Astra offers a 100% responsive design.
It comes with a multi-level full-width menu.
A comprehensive & complete theme is available with Astra.
It offers a customizable product grid.
Social email & sharing subscription is there with this website security extension.
Price of Astra: The cost of Astra is between $12 per month to $149 per month.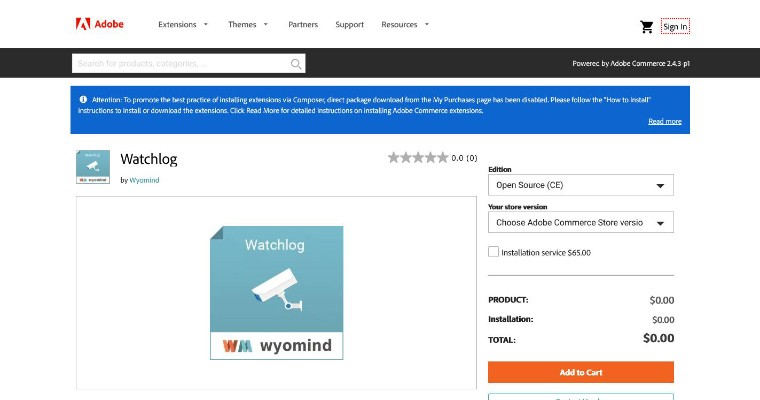 Watchlog is a popular Magento 2 security extension that prevents online stores from brute force attacks. It helps in identifying and stopping attacks that try to get access to the IP addresses that lead to Magento sites. It detects whenever any robot or attacker is trying to access the Magento back end. Basically, this free and easy-to-use Magento 2 security extension enables the developers to easily identify any attack on the backend. Basically, the Watchlog Magento extension is a perfect security suite and it also has the capability to list all the IP addresses that try to crack the secure log in or tries to access the Magento 2 admin panel into tables and charts.
Features of Watchlog:
Watchlog has the capability to prevent websites from attacks like brute force.
It offers a periodic report about the site's statistics through email.
Site owners can get a summarized and detailed table of successful and failed login attempts.
Watchlog can easily track the connection attempts of the eCommerce store.
One can view regular login attempts of the site in graphs.
Price of Watchlog: The price of Watchlog starts from €70.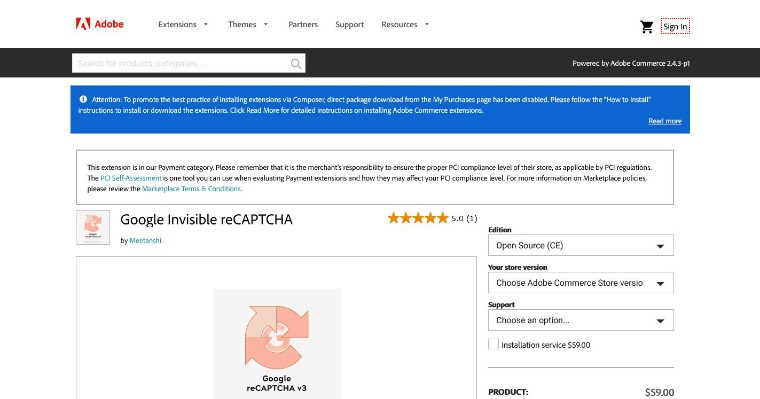 The Google Invisible reCaptcha is a very popular Magento 2 security extension that protects the e-commerce store from spam. It is completely invisible to the website customers. When the store is using this extension, the genuine visitors who visit it don't have to solve different types of quizzes to access the store. This is one of the reasons why it is known as a user-friendly and secure suite. Basically, the google authenticator captcha appears to the users only when the system suspects something uncertain. And it only enables the developers or store owners to modify the suspicious requests and blacklist IP addresses.
Google Invisible reCaptcha is a plugin that enables the site owners to use the version of it that can work perfectly for the site. This extension comes with templates that are ready-made and can be used with minimal coding efforts.
Features Google Invisible reCaptcha:
It enables the store owners to customize the reCaptcha as per the requirements of the store.
It supports versions 2 and 3 of Google reCaptcha.
Google Invisible reCaptcha is an easy-to-use and no-coding required kind of Magento 2 security extension.
The test is only displayed when there are suspicious login requests.
It comes with in-built support of Amasty extensions.
Price Google Invisible reCaptcha: The price of this extension is $ 99.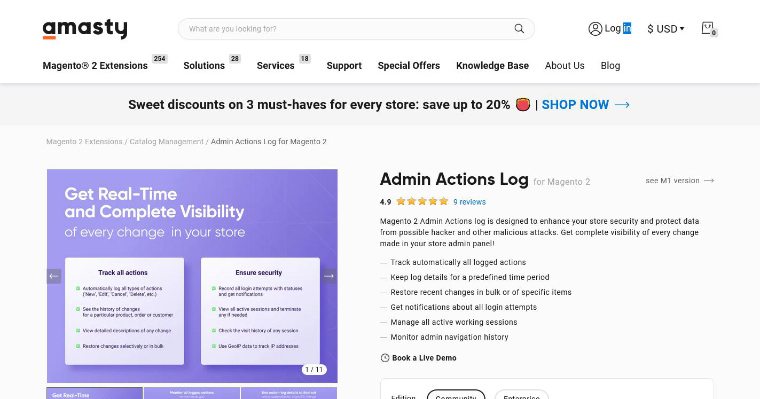 Amasty's Magento Security Extension is very popular amongst commercial site owners as it enables them to keep track of when, how, and by whom the website data has been modified or viewed. It also helps in effectively managing the business staff by separating category management and limiting the access of the staff members.
Magento 2 Admin Login Actions extension enhances the website's security and protects customers' data. One can get complete visibility of the changes made in the admin panel of the store. The actions that happen on the admin panel are automatically tracked and logged in details. To secure the login of the admin panel, this Magento extension constantly notifies the team members about all login attempts. In addition to this, it also has the capability to manage and track active sessions of the store and monitor the history of admin navigation.
Features Amasty's Admin Login Actions:
This extension enables you to check the log history.
All the actions that are performed on this tool are kept stored in the backend by admin users.
This extension keeps track of what has happened in the admin panel.
Saving log records.
To restrict access of the users, the owner of the store can ban or unban users.
Login activity can be seen and malicious login attempts can be blocked.
Price Amasty's Admin Login Actions: The price of this extension is $169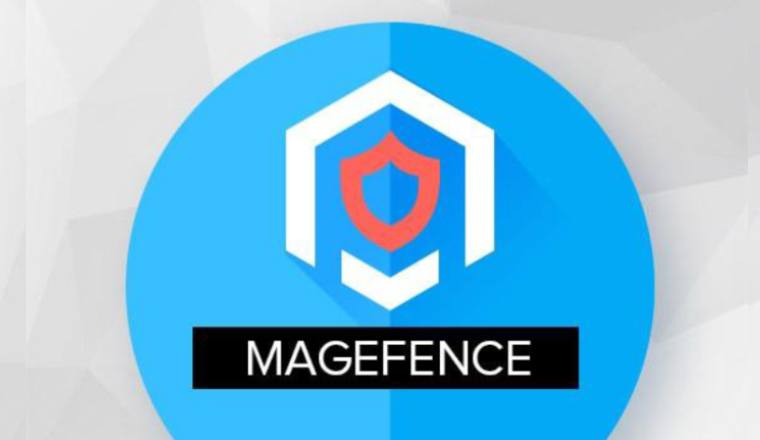 MageFence is a perfect solution for Magento that helps the stores to secure themselves from security issues, threats, and attacks. It is a tool that acts as an additional security layer of protection for the site and helps in blocking hack attacks and brute force attacks. It enables the site owners to regularly scan the site and then get notified of any unwanted changes that might have happened on the site.
MageFence, a Magento 2 security extension also comes with various features that aim to keep the store safe by keeping a check on possible security risks, looking if the site's protection is up-to-date, and using Magento coding best practices. Basically, it is a Magento extension that scans the database and finds out the users that have admin privileges without user permission.
It also has the capability to perform security audits of the Magento websites to check out the security vulnerabilities, security loopholes, and malware infections. MageFence also helps in figuring out the security patches that aren't installed.
Features of MageFence:
It easily scans the database and detects users without admin privileges.
Gives alerts about malware attacks.
Performs security audit.
Offers two-factor authentication.
Price of MageFence: The price of this extension is $159.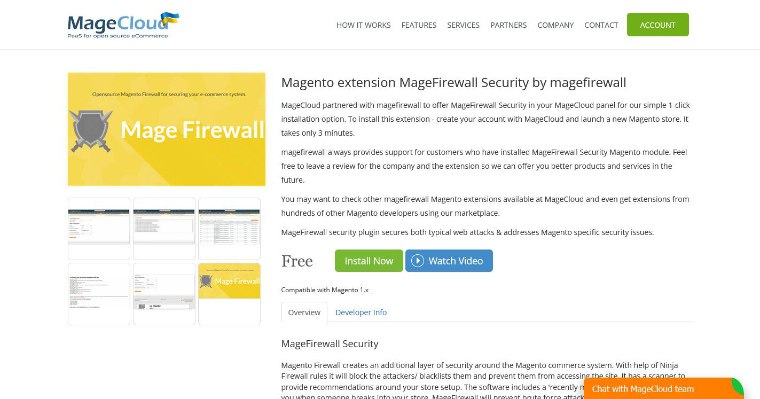 MageFirewall Security is one of the most popular extensions that adds an extra layer of store security. It enables the online store to blacklist or block hackers and attackers.
Features of MageFirewall Security:
Blocks the attackers and protects the site
MageFirewall Security offers a file modification detector.
It scans the online store to offer recommendations.
MageFirewall secures the store from brute force attacks.
It scans the Magento website for unpatched security issues
It also scans web servers.
Price of MageFirewall Security: Free
3. Conclusion
As seen in this blog, Magento sites grab the attention of hackers very easily and this is why maintaining the security of the web store is very important. It is a time taking process but with the use of the right Magento 2 security extensions, the business owner can update security patches and handle cyber threats. But before selecting the Magento extension for your site, one has to make sure that it is perfectly compatible with your system. For this, one can check the reviews, features, and prices of the extensions. And after the analysis, the choice must be made.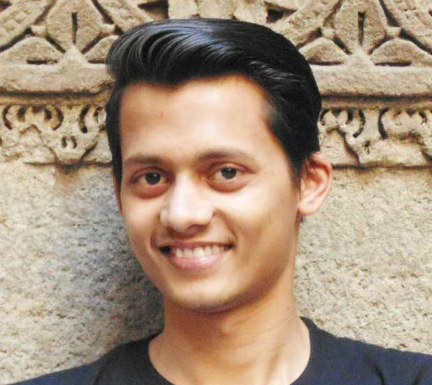 Hardik Dhanani
Hardik Dhanani has a strong technical proficiency and domain expertise which comes by managing multiple development projects of clients from different demographics. Hardik helps clients gain added-advantage over compliance and technological trends. He is one of the core members of the technical analysis team.