Next article
Magento is a platform that has to deal with sensitive client data and if there is any data breach on the site, it can affect...
7 Best Tips and Tricks to Secure Magento Site
Magento is one of the most popular eCommerce platforms in the industry and this is because of its features and regular updates. According to a survey, currently there are more than 739k Magento websites in the market. The main reason why businesses choose Magento is the out-of-the-box security. This is where Magento takes over. It offers the most secure environment for eCommerce sites. Therefore, regardless of the operational history and the size of the business, everyone's first choice is Magento.
Table of Content
To know the reason behind it and understand the tricks of securing a Magento website, let us go through the blog.
1. Tips and Tricks to Secure Magento Site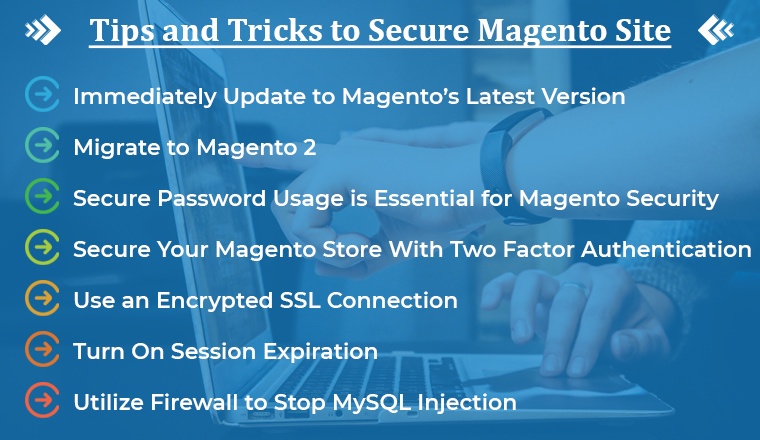 Some of the major tips on how to secure Magento site are –
1. Immediately Update to Magento's Latest Version
Magento is an eCommerce website development platform that releases new versions of its software frequently. And the new versions come with general maintenance updates and bug patches with some security fixes that focus on newly discovered weaknesses of the software. This is why even after people say that immediately updating your eCommerce stores with new versions can be tedious and annoying, that is not the case with Magento.
The new version of Magento comes with patch notes that help in understanding the new features, new security updates, and the ultimate Magento security checklist. These security patches come with fixes for the mistakes that were made in the previous version. They highlight the places in the site that can be exploited by hackers. And this is why it is very important to update the Magento store security and features with a newer version. Our team of Magento developers in India also recommends to constantly look for updates for a secure and reliable ecommerce platform.
2. Migrate To Magento 2
Migration from Magento to Magento 2 is very important for all the Magento stores in the market. One of the main reasons behind it is that the first version of Magento is setting off and the support from the community has also stopped from June 30, 2020, onwards. Website security patches are no longer offered by the Magento community and this makes the site vulnerable to hackers. It eventually puts the client's data at risk.
Besides, the Magento stores created using Magento 1 were hacked all over the world in a massive automated campaign. And it was the largest automated hack that had affected more than 10,000 customers. It also led to the loss of personal data. It was known as a Magecart attack that stole payment information by injecting malicious code. Basically, now hackers have started using more sophisticated techniques that help them to get access to the private information of the website's users. And this has made unbreached e-commerce stores the target of data theft and other breaches like brute force attacks. This is why upgrading your store to Magento 2 is very essential for every Magento store owners.
In addition to this, Magento 2 is a version that comes with an amazing Magento security scan tool and other approaches to avoid possible security risks. Some of the main features of Magento 2 include –
Clickjacking prevention
Support for SHA-256 cryptographic
Session and cookie validation
End-to-end AES-256 encryption
XSS protection
Further Reading on:

Top 6 Magento 2 Security Extensions for Your Ecommerce Store
3. Secure Password Usage is Essential for Magento security
Passwords are something that can be guessed and hacked easily. And once it's done, the entire website is at risk. One of the best and easiest ways to combat it is to follow the below-given steps and make the Magento passwords strong.
Magento Users Must Set Unique Passwords: When a user keeps the same password for multiple logins just to make it more convenient to remember, they have to face some major security issues. Basically, when the same password is set at multiple places, the chances of it getting discovered increases. Therefore, they must set a unique password for their Magento store.
Create a Complex Password: When it comes to creating a password, it must be complex. And this is for both users and admin people. If the password to the online store is complex, which includes both upper-case letters and lower-case, along with special characters and numbers, it cannot be hacked easily. This is one of the best Magento security tips. And if someone wants to make the password stronger and prevent brute force attacks, they must avoid using dates and dictionary words.
Periodically Change your Password: One thing you can do is periodically keep changing the password to keep your sensitive data and online transactions safe. In this way, you can make your would-be password predators keep guessing and meanwhile safeguard your website from getting compromised. And if it happens that your website gets hacked without your knowledge, the consistent changes in the passwords can make the old ones obsolete and lock out the hacker.
Do Not Save your Password on your Computer: If you want to keep your Magento store secure from different types of malware roaming that are around on the internet. Besides, it helps your Magento store and default admin URL be safe from every security breach. And the password gets secured.
4. Secure Your Magento Store With Two-Factor Authentication
To keep the Magento site safe, Two Factor authentication must be performed. It ensures the security of your Magento website even after the site has been hacked and the hacker knows the id and password. With two-factor authentication support, you get four different methods and they are –
Authy
Duo Security
Google Authenticator
U2F
5. Use an Encrypted SSL Connection
Another Magento 2 security tip is to use an encrypted SSL connection. Basically, if you want to create a secure shopping experience for the ecommerce store and earn the trust of the customers, you must ensure that the data that is being sent to and from the Magento website is secured using Secure Sockets Layer (SSL) encrypted connection. This approach enables you to safeguard the connections and secure the data. If any store owner or Magento developer ignores this it will lead to the theft of information like clients' login credentials.
6. Turn On Session Expiration
Any eCommerce website is not only vulnerable to cyber attacks. It is also at risk from unauthorized people getting its admin panel login access. And in this case, one of the simplest ways is to secure the website and protect it from session expiration.
7. Utilize Firewall to Stop MySQL Injection
The injection attempts made by MySQL are mostly against the online retailers and when these attempts are successful, they allow attackers to tamper with the website's and user's data. This clearly means that MySQL Injection has the capability to destroy or disclose customer data, void transactions, alter balances, and more. Therefore, to prevent the Magento site from this type of security issue and make failed login attempts to tamper the Magento admin panel, you must protect the website. And in order to do that, you must implement web application firewalls that can easily defend the site against such attacks.
2. Conclusion
As seen in this blog, like any other eCommerce store, the Magento site can also be unsafe at times, and to keep it secure, there are some major points that must be considered. The above-listed tips on how to secure the Magento site can be very useful against various security issues.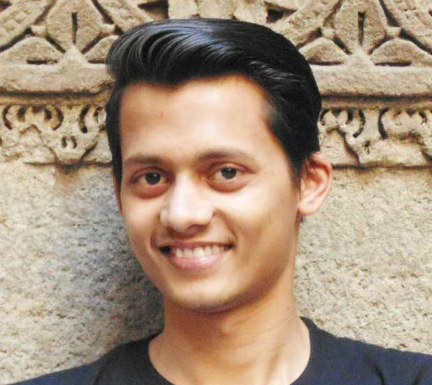 Hardik Dhanani
Hardik Dhanani has a strong technical proficiency and domain expertise which comes by managing multiple development projects of clients from different demographics. Hardik helps clients gain added-advantage over compliance and technological trends. He is one of the core members of the technical analysis team.