Leverage the knack in iOS development knowledge and expertise in developing diversified cutting-edge applications. By the virtue of delivering excellence, eTatvaSoft is a leading iOS app development company with a team of exceptional iOS developers who deeply understands the Apple ecosystem and develop apps that are compatible with all iOS-based devices. Our team is adept and can easily develop swift and fast-performing applications using the right use of technologies, tools and iOS professionals.
Get a Free Quote
Our Work
iOS App Development Services
Delve deep into our diversified and business-driven iOS app development services
iOS Development Consulting

Our exceptional industry experience in iOS app development will guide you from scratch to develop professional native apps using Swift.

Team Augmentation

Hire iOS developers, follow iOS standards to deliver perfect solutions, to bring your unique idea into the real world.

Enterprise iPhone App Development

To assist your business from consulting to strategizing or prototyping, we deliver all types of enterprise iOS app development solutions.

iOS App UI Design

For a feature-rich UI and engaging user experience, our iOS developers create cutting-edge iOS mobile applications

iOS App Testing

We draw logical reasons by testing the applications rigorously and abide by strict coding standards that offer the best app performance.

Migration and Upgradation

Our iOS migration and upgradation services keep you updated without any data loss or complications.
Would you like to get in touch with us?
Please send us your iOS Development requirement by simply clicking the Get a Free Quote Button.
Customized iOS Applications
eTatvaSoft offers a vetted team of offshore iOS developers for your tailored app development need
iOS Development Experience
Our extensive experience in your business to convert your ideas into reality through custom iOS application development services. At eTatvaSoft, we keep user-experience at priority and develop applications with seamless integration, appealing UI/UX, and the right technology stack. As a leading iOS development company, our iOS developers have rich experience creating efficient, interactive, and high-performing iOS applications.
Enterprise iOS solution
ERP and M-Commerce solutions
SDK and Hardware Integration
iOS Application optimization
Online streaming solution
Social media solution
SaaS based solution
Real time location tracking
Technology Stack
Backend
.Net
PHP
Java
Node
Ruby on Rails
Front-end
Swift
RXSwift
Objective C
SwiftUI
Database
SQlite
CoreData
Realm
Firebase
MySQL
MSSQL
Testing
Appium
Katalon Test Studio
BrowserStack
Cloud & DevOps
Enterprise Distribution
CI/CD
GitHub Action
AWS
Google Cloud
Azure
Others
Third Party API/SDK Integration
Jira
Trello
Slack
Basecamp
Asana
BLE
RESTful API
Why Hire iOS Developers from us?
Planning to build impactful applications for all your apple applications? Take advantage of our iOS developers to build robust, scalable, and high-performing applications.
As a leading iOS development company, we focus primarily on implementing all the predefined requirements with our experience in the iOS app development framework. Our iOS developers provide consistent support in all stages from accurate planning, research, consulting, designing programming, testing, and deployment. Explore our multiyear in iOS development to drive higher engagement and upscale business growth.
Get Expert iOS Consultation
Flawless Design
Explore the best design with the help of our iOS developers for your project.
Effective Code
We code by using suitable frameworks to cater to business needs.
Easy Communication
Stay updated with daily code validations and reporting with iOS programmers.
How to Hire an iOS Development Team?
Compete and excel your iOS development projects using our expertise in iOS development services. We assist businesses with consistent support to drive business ideas into interactive iOS apps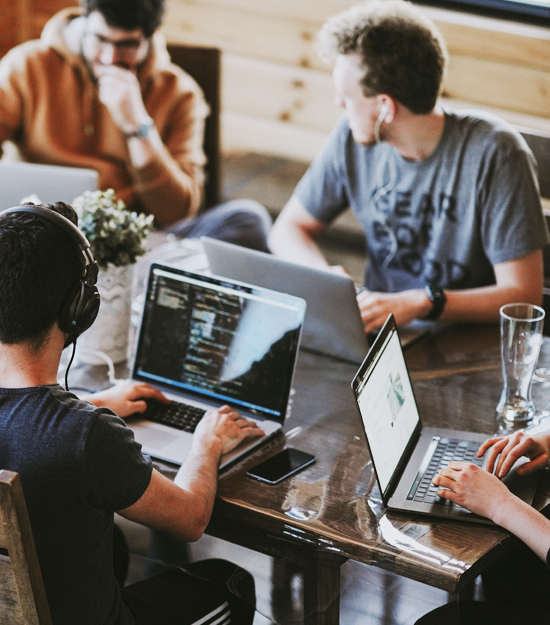 How does an iOS development team at eTatvaSoft works?
At eTatvaSoft, we strive to provide sleek iOS app development that is both cost-effective and timely. Before starting your iOS project, we follow standard business protocols.
Planning & Requirement Discussion

Take us through your company's objectives, organizational history, and offerings. Our iOS expert will make project recommendations based on that.

Meet Your New iOS Development Team

We'll find iOS Developers that are the right choice for your specifications to fulfill your specific and compatible needs.

Transform Your Idea

Convert your next-gen iOS idea by harnessing our skills in iOS app development in coordination with your current management team for outstanding results.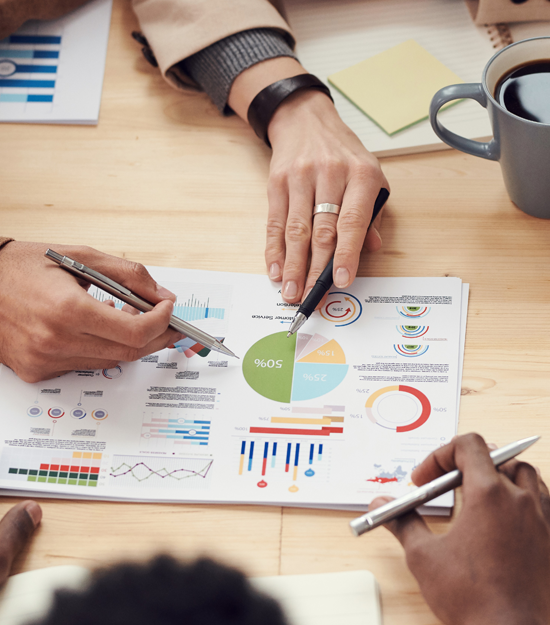 iOS Development Engagement Model
Dedicated iOS development Team

Perfectly fitting into your custom iPhone app development needs, eTatvaSoft can help you expand your business and develop cutting-edge apps leveraging the skills of a dedicated iOS development team. Our iOS developers are completely dedicated and flexible to altering business requirements that lead you towards growth transitions easily and you can embrace profit for your business.

Fixed Price Model

Your business vision and predefined project requirements can be easily achieved through the Fixed Price engagement model. Rely on our highly-functional iOS Developers who take your budget into consideration and draft a roadmap considering the scope of work, technical complexity, and utilization of different library functions such as iPhone SDK, Core Animation, Xcode IDE, GPS and Cocoa Touch / Objective C, Interface Builder, Accelerometer, Core Audio, Core Graphics and more.
Reasons to Choose iOS Application Development
Speed
Native iOS application backed by apple and native to the platform. It is always a faster option compared to any other.
Comprehensive User Experience
Choosing the iOS platform for app development will provide a quality user experience.
HTML 5
Simple integration of HTML with Swift to better build iOS app development
Offline Support
Give more freedom to users by giving offline access to information
Security
iOS applications provide the most secure environment compared to any other platform.
Compatibility
Offers versatility and scalability across all iOS devices from iPhone to iPad, Apple watches, etc
Meeting Quality Benchmarks
Simpler integration and smooth transition within iOS apps without any overload and meeting quality benchmarks
Apple Functionalities
eTatvaSoft- a leading iOS application development company offers comprehensive services with advanced hi-end features that are secure and rapid.
Let's start your iOS Development project now.
Our service team will get in touch with you with relevant information and proper documentation.
FAQs
How do I begin?
Bring your requirements to us, our expert iOS developers will help you with a best-suited solution describing the scope of work, man-hours required, the complexity of work, and final estimation of cost and deadlines.
What makes your company unique from other offshore iOS development companies?
We do not provide body shopping for developers, instead create a customized iOS Developer team based on client needs and put them on contract with SLA's and NDA on point.
What process do you follow for building an iOS app?
We follow a custom waterfall or agile process of understanding client's requirements and proposing a clear roadmap to clients about iPhone app development services. We assign resources which include a custom team Project Managers, UI/UX developers, iOS developers and QA.
What security policy do you follow?
As a reliable iOS development company, we are very particular about signing an NDA. Signing an NDA will bring clarity for both parties and will help your business gain trust in our offerings and leverage the best iOS App development services.
After outsourcing my iOS development project, How will your company secure my Intellectual property rights?
After you outsource iOS development projects with us, we will sign NDA to secure your intellectual property rights. You will have complete ownership of your source code. We don't reuse the code and have service legal agreements with our employees to protect client code.
How fast can you develop an iOS application?
This would be subjective to the application you want to develop, but our iOS app developers are adept and skilled to understand logical business reasons and develop applications with a specific period of time in the iOS development process and projected deadline.
What approach does your company use for project development?
We use agile development methodology to deliver your software product fulfilling your business needs. Agile allows adaptive planning, continuous improvement and implementation of rapid changes that arises in on-going development.
How can I track my project development progress?
As per the client's preference, we majorly utilize project management tools like Google Drive, E-mail, Slack, Skype, Jira, Atlassian, Trello, Asana. With this, you will get a clear insight into your project progress iOS development process. We can also do daily or weekly meetings, as mutually agreed, for project updates and discussions.
Will I own the legal rights of my project?
Yes. The client has the full right to own all the legal rights of source codes or any intellectual property rights. At eTatvaSoft, we create NDA so that the process of engagement for iOS development projects becomes seamless.
Is there any hidden cost?
No, we follow a transparent and stringent communication channel where we discuss every minute details with the client, from pricing structure, launch date or technology to be used before signing an NDA.
What after-sales service do you offer, once my app development is completed?
Depending on the type of change or modification you want in your app, our iOS development team will assist you further. Even after the completion of the development project, we can sign a maintenance contract to maintain your solution.
What can we help you with?
If you are interested in finding out more about how we can help your organization, please provide your details and project requirements. We'll get back to you soon.