Would you like to get in touch with us?
Please send us your Shopify eCommerce web Development requirement by simply clicking the Get a Free Quote Button.
Customized Shopify eCommerce Applications
Hire our experience team of Shopify developers for your diversified and unique eCommerce web development needs
Shopify Development Experience
Shopify has been a gamechanger for many businesses deciding to develop modern and ready-to-sell online stores. Shopify and Shopify plus provides a diversified variety of features to develop flexible and versatile eCommerce web applications for your eCommerce business. eTatvaSoft is a leading Shopify development company that upholds significant experience in creating unique and ground-breaking eCommerce websites empowering client's sales graph to profitable results.
Custom Shopify Theme Development
Shopify Theme Integration
Clothing and Apparel Online Solution
Beauty and Fashion Solution
Shopify Customer Focused Retail Solution
Shopify App Development
Shopify Multi Store Application Development
Shopify Theme Customization
Technology Stack
Backend
Node.js
PHP
Ruby on Rails
Front-end
Liquid
HTML5
JavaScript
jQuery
Database
MongoDB
DynamoDB
MySQL
PostgreSQL
Testing
Selenium
Katalon Test Studio
Test Rail
Apache JMeter
OWASP ZAP
BrowserStack
Postman
Deployment / Server Management
npm or Apache for custom app
Others
Jira
Slack
Trello
RESTful API
Why hire Shopify Developers from us?
Getting ready to kickstart your eCommerce business using all the functionalities of Shopify? Our team of Shopify eCommerce developers can make a difference
eTatvaSoft- a trusted Shopify development company has launched many complex and peculiar eCommerce development projects. We have been helping businesses in all stages from Shopify store set up and configuration, Shopify theme design and customization, Shopify integration, and Shopify migration services. Explore our multi-year experience in creating dynamic eCommerce web portals that are fully-functional and deliver operational success to all types of eCommerce businesses.
Get Expert Shopify Consultation
Flawless Design
Explore the best design with the help of our Shopify developers for your project.
Effective Code
We code by using suitable frameworks to cater to business needs.
Easy Communication
Stay updated with daily code validations and reporting sheets with developers.
How to Hire a Shopify Development Team?
Team of indigenous Shopify developers at eTatvaSoft can turn your vision into performing eCommerce stores. To hire the Shopify development team from eTatvaSoft, fill up the inquiry form or email your requirements to us.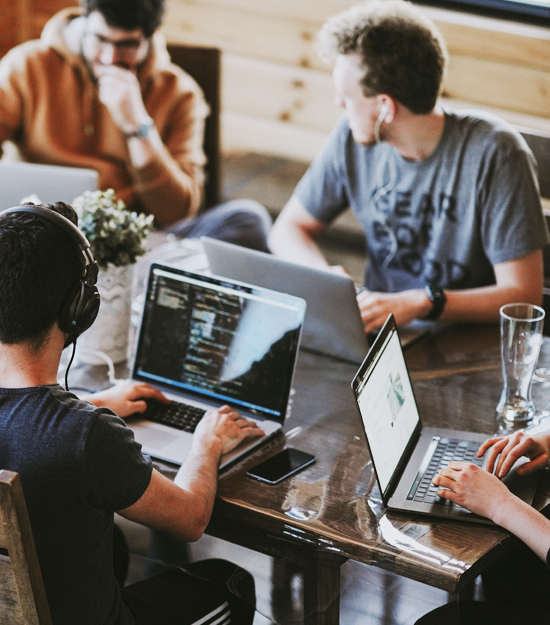 How Shopify eCommerce Web Development Team at eTatvaSoft Works?
At eTatvaSoft, Our team of expert Shopify developers is focused to provide cost-efficient and real-time eCommerce solutions. We follow a standard business process before initiating your Shopify project
Project Specifications & Discussion

Explain your business objectives, company profile, project requirements, skill sets, and experience required of us. Our business analyst will make project recommendations based on it.

Meet Your New Extended Team

We will select Shopify Developers that best suit your requirements to meet your specific business needs.

Project Implementation

It's time to give a kick-start to your new Shopify project in coordination with your existing business team for remarkable business outcomes.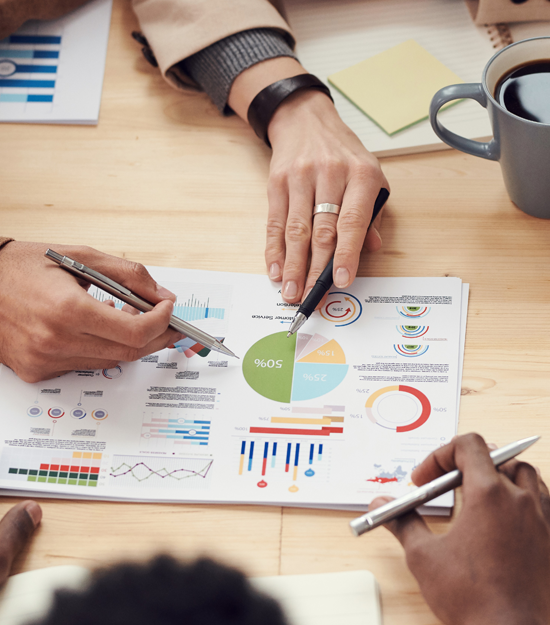 Shopify Development Engagement Model
Dedicated Shopify Development Team

Considering different facets of your business domain, our masters have the knack for technology and can suggest the hiring model that best fits your business needs. In this dedicated Shopify development team model, our Shopify developers will be fully committed and ready to guide you throughout for development and transformation of your Shopify WebStore.

Fixed Price Model

In the Fixed price model, there is a pre-decided value offered to businesses based on the scope of work, technical complexity, and the use of various functionalities of the Shopify framework. This model enables you to easily accomplish your business goals with lower investment and higher profitability.
Reasons to Choose Shopify App Development
Solid Design Control
Take advantage of various design themes and controls to beautify the user interface and enhance the customer experience.
Budget-Friendly
Shopify provides pocket-friendly subscription packages for every user base
Safe and Secure
Shopify provides robust security and insurance to your eCommerce store.
User-friendliness
Shopify WebStores are convenient and user-friendly for all the users.
Mobile-Friendly
Shopify inbuilt feature makes your store compatible with different mobile platforms
Easy BackEnd Operations
With a user-friendly admin area, Shopify serves clients with desirable user satisfaction.
Wide Range of Tools
Shopify offers a variety of tools, ready-made themes, and an easy-to-use backend interface that helps businesses improve their store's performance.
SEO-optimized
Shopify is a SEO friendly platform which will give you all the functions to optimize your store for search engines..
Rapid Scalability
Applications developed using Shopify are more versatile and compatible when it comes to handling large or small eCommerce stores.
Let's start your Shopify Development project now.
Please send us your Shopify Development requirement by simply clicking the Get a Free Quote Button.
FAQs
Can you please explain the roles of the team members that you will assign to my Shopify project?
Whenever you award your Shopify project to us, we generally assign a team of technical experts as mentioned below:
A business analyst or Technical Lead would perform a feasibility check and assess your Shopify requirements. They would discuss the requirement breakdown, the total budget for the project, and submit the project proposal.
Shopify developers to work on your Shopify store
A Quality Analyst to review the work done and keep a check on its accuracy while following an agile approach.
How can Shopify help me grow my online store?
Shopify offers an absolute marketing suite that empowers businesses to easily scale and get noticed by their target audience. Shopify offers many SEO features such as customizable headlines, titles, and meta tags that can help your existing web store to rank higher in search results. Customers can post product reviews that help in building your business's credibility. Shopify platform boasts amazing customization abilities as it can be easily integrated with apps. This means that the seller can easily add some extra features and functionalities to his store and enhance its value manifold. For payments, Shopify provides Credit cards (including Stripe and Authorize.net), PayPal, manual payment options, and even BitPay for Bitcoins. There are more than 100 external payment gateways available. Shopify also supports a multilingual Shopify store, so that you are at a better chance of increasing your market share in terms of customers, followed by increased popularity and brand recognition on a global scale. On top of this, there are Shopify Apps stores available which can be quickly installed and configured to expand your Shopify store capabilities.
How much does it cost to build a Shopify eCommerce store?
The cost of developing a Shopify eCommerce store varies from project to project depending on several factors such as complexity involved, the number of features to be integrated, the scale of the project, the country and experience level of developers, etc. Get in touch with our Shopify experts for the best cost estimate of your project.
What is the support period provided by your company?
To ensure smooth and continuous performance, we as a leading Shopify development agency provide 30 to 60 days of Shopify website development support to all our clients which starts when your last milestone is accomplished and delivered. If you want to extend the support after this it is possible by signing Shopify maintenance and support service contract.
I don't have technical knowledge. Will your agency help me?
Yes. When you decide to work with us, we make sure that you have a worry-free development experience. We take care of all your development needs from design to deployment and you won't need technical expertise to be able to run your Shopify store from the back-end. If required, our Shopify experts offer guidance to help you to manage the website effectively.
I want a custom design for my Shopify store. Can you help in custom Shopify theme integration?
Our Shopify eCommerce designers will help you by designing a custom shopify theme which will enhance user experience and will be mobile friendly.
Is Shopify Open Source? What are different subscription plans in Shopify?
No. You can sign up and use Shopify for 14 days without entering your payment details. At the end of your trial, or when you decide to launch your store, you will need to pick a plan and enter your payment details. The different subscription plans in Shopify are:
Basic Shopify allows you to sell an unlimited number of products. This is the cheapest available solution when you have a vast product range. Shopify doesn't limit the number of products or file storage. This plan also contains "Abandoned Cart Recovery". However, features like gift cards or professional reports aren't included.
Advanced Shopify is the expensive plan compared to Basic plan. This plan is the only option if you need real-time carrier shipping, which means that the shipping cost is automatically calculated by a third party. Furthermore, it has an advanced report builder that will allow you to customize your own professional reports.
Shopify Plus is an enterprise solution for businesses that seek a scalable eCommerce platform. Shopify Plus pricing starts at about $2000 per month which is a massive increase compared to Shopify Advanced ($300)
In which scenario Shopify is better compared to Magento?
While both Shopify and Magento are fairly powerful eCommerce platforms, Shopify provides greater ease of use since it is a hosted and fully managed service. Magento, while free itself, requires you to purchase hosting and carry out all the software/system setup and installation procedures yourself – something that only fairly tech-savvy people (and not typical end-users) would be able to do. In light of this, Shopify comes out as a winner as an eCommerce platform for building your online store with maximum ease of use and powerful capabilities. However, if you want to have control on source code then Magento would be the best choice. To know more, get in touch with our Shopify experts!
Which industry domain are you experienced in Shopify?
We have years of experience in providing up-to-mark Shopify services to all major industries. With Automotive, industry to Healthcare, Banking & Finance, Retail & eCommerce, Education & eLearning, Travel & Tourism, Fashion, Jewelry, Home Improvement we have got our expertise in all!
Do you have experience in Shopify App development?
At eTatvaSoft, we have a team of expert Shopify developers who have earned expertise in developing powerful Shopify Apps. Our Shopify Development services include error-free coding (as per Shopify standards), highly responsive custom Shopify App development, third-party integration, and more.
What can we help you with?
If you are interested in finding out more about how we can help your organization, please provide your details and project requirements. We'll get back to you soon.