Next article
The most preferred Magento version is Magento 2. It offers the best extensions and themes that come with amazing features and functionalities for an online...
Top Magento Developer Skills That Every Developers Must Posses
Nowadays, every business organization wants to have an online store to reach out to have a larger audience base. To have a successful eCommerce store, one has to choose the right web development platform and currently, one of the best platforms to create a commercial site is none other than Magento. It is an open-source CMS platform built in PHP to create robust and user-friendly eCommerce websites. Because of the popularity of this platform, so many techie wants to become a Magento developer. But it is not an easy task. Therefore, everyone who wants to become a Magento developer has to look over the top Magento developer skills that are required to ace in this field. Besides these are the skills every business owner is looking for in a Magento expert he wants to hire.
Table of Content
Magento developer doesn't only require technical skills but also soft skills and specific industry knowledge. As a Magento development company, we also analyze and review the following skills while recruiting Magento developers in India. This list includes an understanding of command chain creations, Git version control software, and more.
Basically, a Magento developer has to be well-versed with all the CMS development skills, MVC architecture knowledge, basic programming languages, basic SEO knowledge and more. To understand more about the skillsets of a Magento developer that every business organization or web development company is looking for, let us go through this blog.
1. What does a Magento Developer do?
A Magento developer is someone who is responsible for creating and helping business owners maintain Magento websites. A Magento developer is responsible for offering unique and amazing eCommerce sites. He can work as a freelancer or an in-house web developer. Magento experts are:
Frontend Magento Developers:
Magento web developers who are responsible for creating Magento themes and are working to replicate the design that is provided by a web designer to ensure that the website looks good are known as front-end developers in Magento. They offer responsive eCommerce Magento websites so that they work perfectly on tablet and smartphone devices.
Backend Magento Developers:
The developers who focus on creating the Magento website's features through various Magento development tools and extensions or bespoke code are known as back-end Magento developers.
Basically, a skilled Magento developer is someone who can create a unique website, can handle every task, and can solve issues for the client's site. A Magento backend developer can also become a Magento Certified Frontend Developer, Magento Certified Developer, and Magento Certified Developer Plus (MCD +). Achieving Magento certification for every web developer can be the cherry on the cake for them.
2. Understanding the Requirements for a Magento Developer
Here are some of the major requirements for a Magento Developer –
A Magento developer should be proficient with web development languages and the latest technologies like Magento (Adobe Commerce), Javascript frameworks, CSS, HTML, PHP, and MySQL.
Besides having basic knowledge about UI/UX trends, a Magento developer must have enough understanding of the complete eCommerce Lifecycle Development.
Magento certifications can add value to the skills of a developer and many hiring companies prefer certified Magento developers.
A Magento developer must be able to work with the team and handle the project by keeping strict deadlines in mind.
A creative Magento developer must have sufficient knowledge of Google Analytics, SEO, Google Tag Manager, PPC, A/B Testing, Adobe Photoshop, and Adobe Illustrator.
3. Top Magento Developer Skills to Look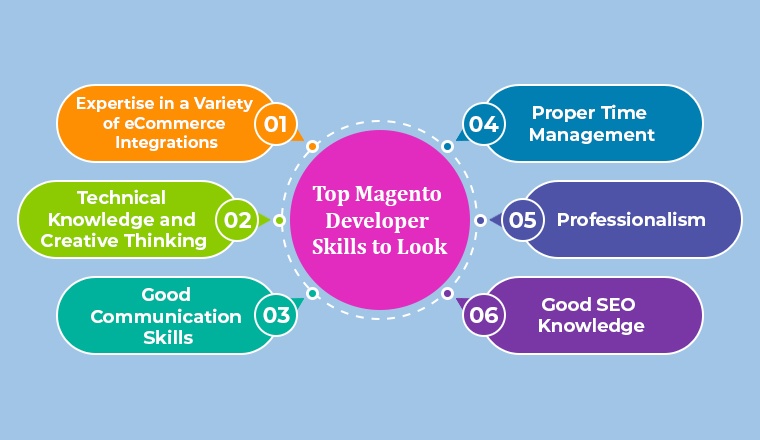 Some of the major skills that companies look for while hiring Magento developers are –
1. Expertise in a Variety of eCommerce Integrations
Integration in eCommerce is something that saves a lot of time as it automates the entire workflow of the system and eliminates data and process redundancies. And this is why it is always required in online stores. Therefore, a Magento developer must have enough knowledge about eCommerce integration that is done with a variety of systems like payment gateways.
2. Technical Knowledge and Creative Thinking
Every Magento developer must be able to understand how an eCommerce website works, what are its functional requirements, and which parts of the system are responsible for different functionalities on the website. For this, the developer must have great technical skills and creativity. While working on a Magento platform, a developer must come up with new and creative ideas that can help the client's business to grow. He must also be able to create a feature-rich eCommerce store with his techniques.
3. Good Communication Skills
One of the skills that every developer in every department should have is the ability to communicate well with their team members and clients. And it is the same with the Magento developers. They must be able to give their opinions on what would be the best for the client's website and make it clear to them. Having good communication skills enable a developer to understand the client's requirements better.
4. Problem-Solving Skills
For all Magento developers, it is necessary to have excellent problem-solving skills. When a developer is creating an eCommerce store, he may encounter some issues with coding and designing, to solve them and offering a robust system is a developer's responsibility.
5. Proper Time Management
Time management is a very important concept when it comes to a smoother website development process. If time management is not proper, dealing with a project might become difficult for any budding Magento developer. Therefore, every developer must make sure that their time is used efficiently. For this, a developer can see to it how much time he might require to work on a project. Then he can break the project into small manageable chunks and prioritize the tasks that need to be completed.
6. Professionalism
Professionalism is very important for Magento developers who are creating or working for leading eCommerce platforms. Their professional behavior can help them create a better impact on the clients and this helps in retaining the old & important customers. Basically, if a developer has a professional attitude it can surely reflect on the eCommerce website he built and even on the customer base of the company. Therefore, professionalism is the most important factor in a Magneto developer after his development skills.
7. Good Knowledge About SEO
SEO is one of the most important factors in today's world for every online store. It allows the online store to reach a larger audience by ranking at the top of all the search engines. Therefore, a Magento developer who is responsible for eCommerce development must be aware of some basic SEO (Search Engine Optimization). And as it is very important, developers that every firm hires must be familiar with some of the SEO-based fundamental tasks and ways to optimize the client's eCommerce website in an effective and feasible manner.
4. Conclusion
In conclusion, Magento developers are those who have apt knowledge of programming languages, MVC frameworks, Javascript expertise, theme development, and front-end & back-end development. They are responsible for creating cutting-edge eCommerce stores for their clients and solving any issues that might occur in them. Therefore, as seen in this blog, they must have some basic skills to be able to work for business owners. These Magento skills make every developer the best at their job and increase their demand amongst the businesses.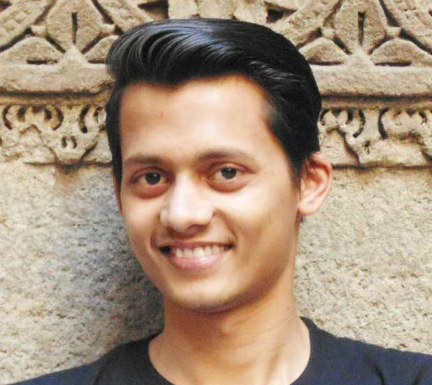 Hardik Dhanani
Hardik Dhanani has a strong technical proficiency and domain expertise which comes by managing multiple development projects of clients from different demographics. Hardik helps clients gain added-advantage over compliance and technological trends. He is one of the core members of the technical analysis team.