Next article
For comparing the two most popular eCommerce platforms, both Magento and WooCommerce, there are many factors that play a role in it like the performance,...
10 Best Magento 2 Extensions to Boost Ecommerce Sales
Magento is known as one of the most powerful eCommerce platforms and it has grown to be the most reliable one. Businesses of all sizes and fields prefer this platform to make their online store a success. And the most preferred Magento version is Magento 2. It offers the best extensions and themes that come with amazing features and functionalities for an online store. They help in managing and optimizing the site in the right manner. To learn more about the best Magento 2 extensions, let's go through this blog.
Table of Content
1. How to Choose the Best Magento 2 Extensions?
When it comes to choosing the best Magento 2 extension, one can always take assistance from our India based Magento developers or else take help from the list of the eCommerce plugins that can be useful in making a Magento store a success. This means that when one uses the best Magento 2 plugin, it becomes very easy to handle all the shopping site tasks and enhance its features to stand out from the competition.
2. 10 Best Magento 2 Extensions to Choose in 2023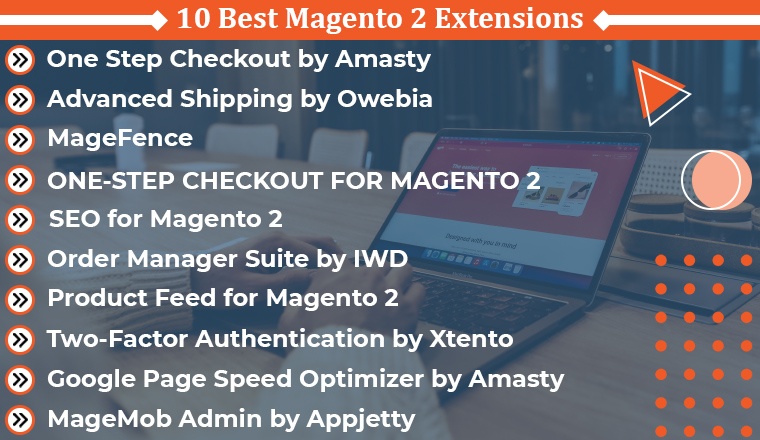 1. One Step Checkout by Amasty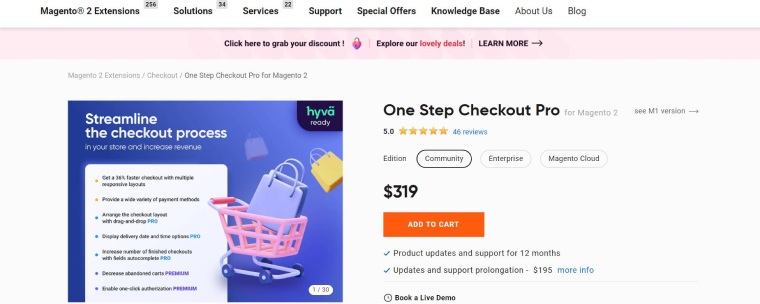 One Step Checkout by Amasty is an extension that enables the store owners to turn their checkout page into the real attention-grabbing page for any Magento 2 site. Besides speeding up the process of the web page, it also helps in enhancing customer satisfaction. Basically, it is a tool that offers an easy and fast checkout page that will turn the buyers of the business into loyal customers. It also helps in optimizing and customizing the checkout page design.
Features
Display delivery date and time options
Edit Product options
Automatic geolocation detection
Amazon Pay support
Sets default preselected values
3-month free support
60 days money back
Free lifetime updates
Price: $619 for the Enterprise version and $319 for the Community version
2. Advanced Shipping by Owebia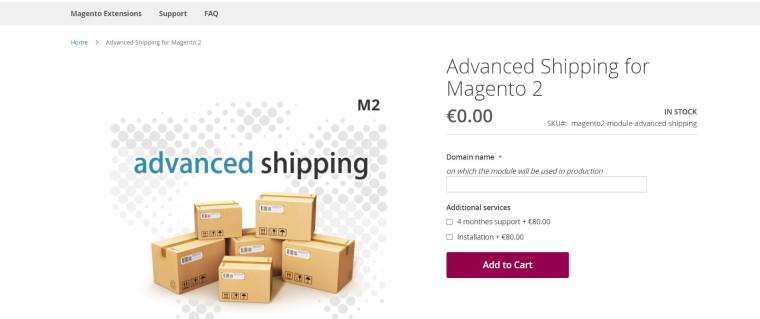 Advanced Shipping by Owebia is one of the most popular Magento 2 extensions that enable the magento developers to create an easy-to-use and unique shopping cart for clients. This Magento 2 extension enables one to flexibly configure shipping fees. This makes all the buyers of the online business happy with the clean shipping page layout. It also helps in enhancing the user experience of the business web store.
In addition to this, Advanced Shipping by Owebia also helps in setting shipping fees with the use of all the required variables like quantity, price, delivery date, destination, categories, weight, product attributes, coupon codes, item options, Magento custom variables, and customer attributes.
Features
Manage fees reduction by using specific coupon codes
Manage drop shipping extension
Free of cost Plugin
Add variable attributes
Price: Free + $80 installation charge
3. MageFence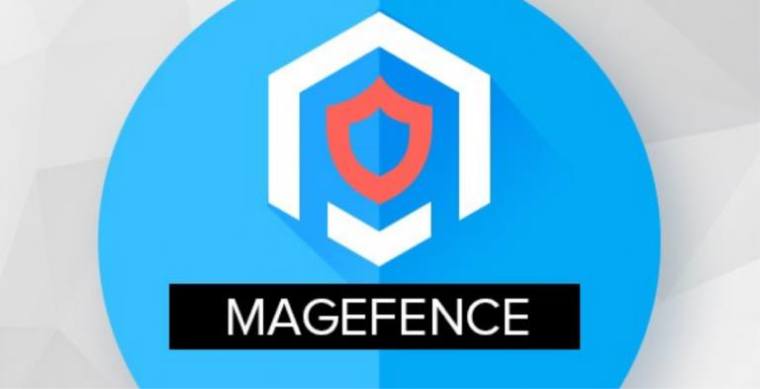 MageFence is one of the most preferred Magento 2 plugins by both the merchants and the developers. This is an extension in the Magento marketplace that keeps the Magento 2 store super-secure from different types of vulnerabilities and threats. MageFence enables eCommerce business owners to control their web store security. Basically, this extension helps in forming an additional security layer on the store.
Features
Update the features of the eCommerce store and keep the security level impeccable.
Keep analyzing the site to find its potential threats.
It performs security audits and finds out unwanted code injections.
Price: MageFence's community edition starts from 159$. and enterprise edition starts from 509$.
4. SMART One-Step Checkout for Magento 2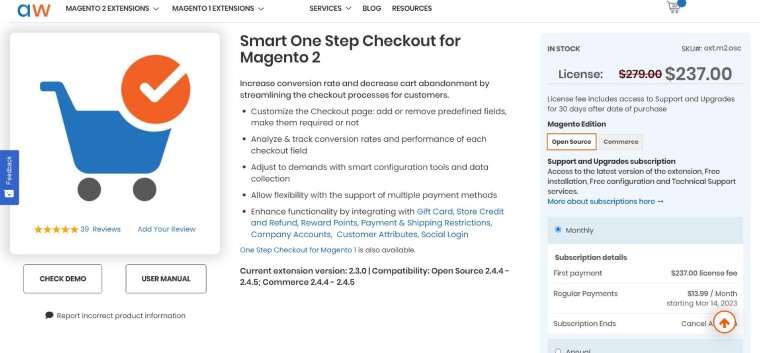 Smart One Step Checkout for Magento 2 helps you simplify the e-commerce store's checkout process, reduce checkout time by 80%, lessen the abandonment cart to 66%, and increase the conversion rate of the e-commerce store by over 30%. This helps in increasing the revenue of the online business.
Features
Optimizing of the checkout page
Suggestion integration for Google Maps
Delivery as per client's favored time
100% compatibility with third extensions
The client can wrap gifts for their friends.
Customers can leave the comments as Feedback
Price: $237
5. SEO for Magento 2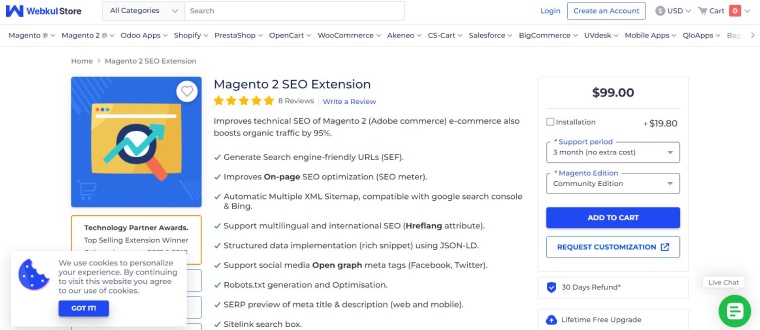 SEO for Magento 2 plugin comes with some amazing features and they help in improving the online stores' ranking by around 32%. This ecommerce store performance optimization tool helps in increasing the traffic of the site by more than 198%. It enables the developers to reduce duplicate content by 100%. Besides, installing a search engine optimization plugin doesn't require any code modifications. This makes it a leading feed marketing solution.
Features
Automatically adds structured data
Stops content duplication
Uses Hreflang tags
Amazing SEO report feature
Smart Page Analysis
Supports Crosslinks
Improved features of HTML/XML Sitemaps
Assist multi-languages and multi-stores
Price: $99
6. Order Manager Suite by IWD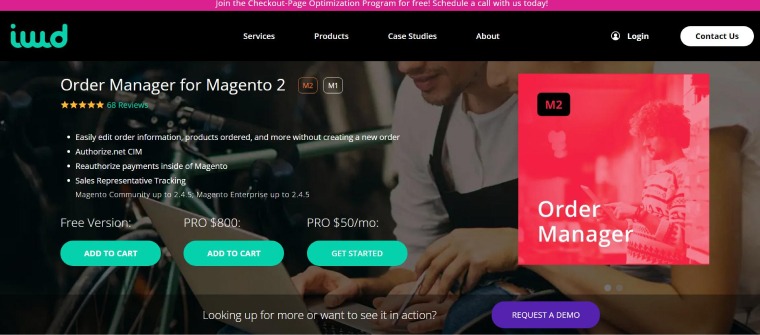 Order Manager Suite by IWD is one of the free extensions of Magento 2 version that is useful in keeping orders and delivery uncertainty away. It helps in easily managing the entire workflow with the help of a single IWD extension. It also helps in organizing the multi-warehouses inventory sources, modifying existing orders' details with their customer information, and generating detailed invoices.
Features
It colors the rows to make the order statues visible.
Helps in securing payments with Authorize.Net CIM
Manages commissions and increases sales representatives.
Price: It comes with three versions. A Free version with limited functionalities, A pro version at $800 and another one with $50 per month.
7. Product Feed for Magento 2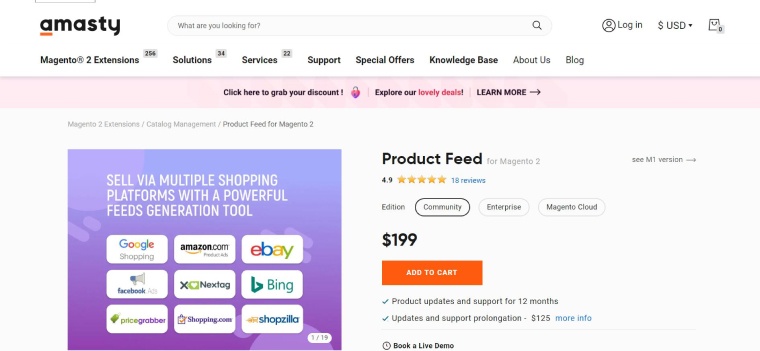 A product feed for Magento 2 is a popular Magento 2 extension that is helpful in speeding up the work with a shopping engine and multi-vendor marketplace. It guides the user with the feed generation process and gets a data feed compliant.
Features
Flexible data feed configuration
4-step Feed Wizard
Offers feed templates for shopping engines
Google Analytics support
Web push notifications
All product types support
Multiple data feed formats
Price: $199
8. Two-Factor Authentication by Xtento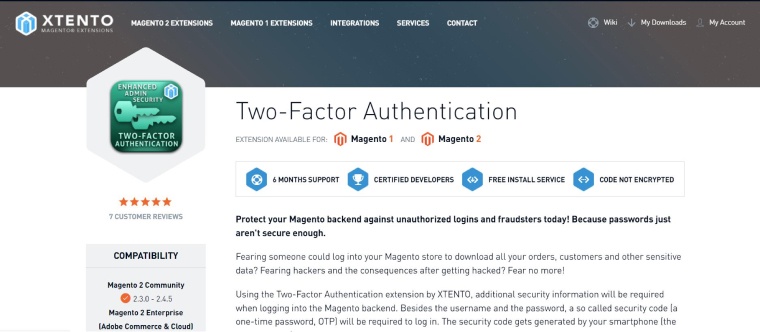 When it comes to any web store, unauthorized login is a big problem. This means that if the owners of the eCommerce channels want to secure the site and want to stop people from accessing the store without any permission, two-factor authentication by Xtento can be used.
This means that using Xtento two-factor authentication can add more security to the Magento 2 store backend. For this, the user will have to submit an OTP when he wants to log in to the backend.
Features
6 months of free support
Free installation service
OTP is valid for 30 seconds
No code encryption
Price: $119
9. Google Page Speed Optimizer by Amasty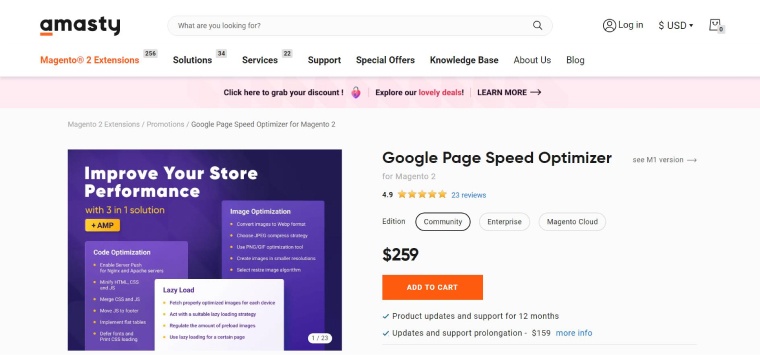 Google page speed optimizer by Amasty is an extension that helps in taking the business store's performance higher. It also makes it possible to deliver an excellent browsing experience on search engines for the users.
Features
Increases the site's loading speed on desktop and mobile versions
Compatible with all the themes of Magento 2 extension
SEO-friendly
Optimize JavaScript, CSS, and HTML files to boost the speed of product pages
Price: Community edition of it costs $299 and enterprise edition of it costs $599
10. MageMob Admin by Appjetty
MageMob Admin is a tool that makes handling the Magento backend with the help of the smartphone an easy task. It is an extension that can be used 24*7 with your fingertips. This Magento 2 admin app enables the users to manage the site from the mobile device's backend. This helps one track the order details, monitor order fulfillment, manage customers, and more from anywhere in the world.
Features
Offers enhanced security for the online store
Provides multiple store support
Enables viewing and managing customer reviews
Helps in getting business insights as per various reports
Price:  starts from $259
3. Factors to Consider When Choosing Magento 2 Extensions?
Here are some of the most important factors that are considered while selecting Magento 2 extensions –
User Ratings, Expert Advice, and Reviews
The majority of the business owners depend on previous customers' reviews and ratings when it comes to choosing Magento 2 extensions. Besides, they also seek advice from experts and professionals who have the knowledge of using these plug-ins earlier. Besides this, they ensure that the plugin easily supports Magento 2 stores.
Costing of Magento Extension
Another important factor that is considered while choosing Magento 2 extension is cost. The business owners are always confused on which one to use, free Magento 2 extensions or paid Magento 2 extensions. To get efficient and top-rated functionalities one must use paid Magento 2 extensions that have the capability to optimize the performance of the Magento eCommerce store.
Frequent Updates of Magento Extensions
Magento 2 comes with frequent updates. So, one must always go with the top-rated and updated Magento 2 extension.
Customer Support and Services
One must ensure that the plugins that you select must offer the best customer support and services. And this can be easy with this platform as the Magento community is huge, so they can help in solving all the issues.
4. Bottom Line
As seen in this blog, Magento 2 is one of the most important eCommerce platforms that most ecommerce business owners rely on. And the main reason behind it is that it helps in increasing the brand value, boost sales and revenue. If someone chooses the right Magento 2 extension, it benefits their platforms and also empowers merchants. Therefore the selection must be done wisely.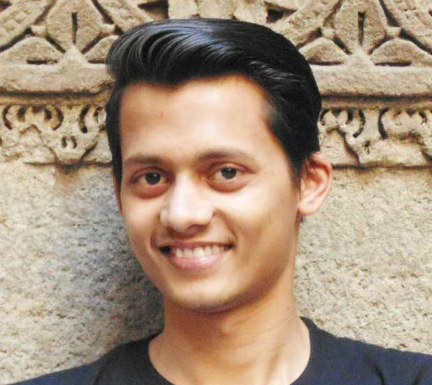 Hardik Dhanani
Hardik Dhanani has a strong technical proficiency and domain expertise which comes by managing multiple development projects of clients from different demographics. Hardik helps clients gain added-advantage over compliance and technological trends. He is one of the core members of the technical analysis team.