Next article
If you are having your business website constructed or have already started looking for PHP developers from India for outsourcing your custom PHP and WordPress...
Joomla vs WordPress: Which PHP CMS to Choose?
Following the current trend, if you are also moving to CMS (Content Management System) services, creating a website will be easier than ever. Joomla and WordPress are two top-tier PHP-based CMS solutions that stand out from the eCommerce business. So, we have covered this debate of Joomla vs WordPress in this blog.
Table of Content
Therefore, how can you determine which one is the best for you? In this post, we will provide a full analysis of Joomla vs WordPress to assist you in determining the victor to give you front page knowledge before you start looking for PHP developers from India or around the world to outsource your web development project.
1. What is Joomla?
Joomla is an open-source content management system, which debuted in 2005, and is a leading CMS platform developed on PHP and backed by a MySQL server.
As an Open Source CMS, it is freely accessible to everybody. It was designed to provide users with a comprehensive method to build a website without the need for technical knowledge and experience.
2. What is WordPress?
WordPress, which debuted in 2003, was first conceived as a weblog platform, or a means to produce blogs. Nevertheless, it has far surpassed that stage. You may develop any type of website such as online stores, portfolios, multi-vendor eCommerce sites, and personalize custom websites utilizing WordPress's vast environment of themes and plugins.
WordPress comes with two variants, WordPress.com and WordPress.org.
WordPress.com is a variant that is not self-hosted. Simply establish a profile, select a package, and start building your website. Using wordpress.com, you can simply build any website in just a few clicks.
WordPress.org is a CMS that is self-hosted. You have complete authority over your website, but you will require to obtain the necessary software and locate WebHost.
Further Reading on:

WordPress vs Magento: A Full Comparison Guide
3. Common Advantages of WordPress and Joomla
There are many fundamental clashes among Joomla and WordPress programmers on both ends of the scale when you look for Joomla vs WordPress. Generally, the following are some of the most common arguments you may hear about why one system is superior:
3.1 WordPress Advantages
1. Easy usage – WordPress is often recognized as the most user-friendly content management system, particularly for non-technical users. Its usage for various tasks is easier than Joomla and Drupal.
2. Works best for bloggers – WordPress is more suited for publishing since it distinguishes between "blog posts" and "static pages" out of the box, while Joomla only offers a single "article" type that may be modified with classes.
3. Extensibility – WordPress offers the greatest infrastructure of WordPress plugins and WordPress themes, making it simple to enhance your WordPress site with a range of components.
4. Support Community – Since WordPress is so widespread, it is simple to obtain assistance through the vast third-party network of bloggers, social communities, and experienced programmers.
5. Reduced development expenses – Because of the size of this community, it is normally less expensive to have development work completed.
3.2 Joomla Advantages
1. Powerful user management – Joomla is equipped with a more sophisticated mechanism for user access restrictions and user management.
2. Support various data – It offers modules and extensions that provide greater versatility for presenting non-standard data kinds.
3. Multilingual support – It incorporates excellent features within its core, whereas WordPress needs the usage of third-party plugins.
4. Multiple designs – Joomla allows you to use several templates for certain bits of content, but WordPress restricts you to a single theme.
4. Head-to-Head Comparison For WordPress vs Joomla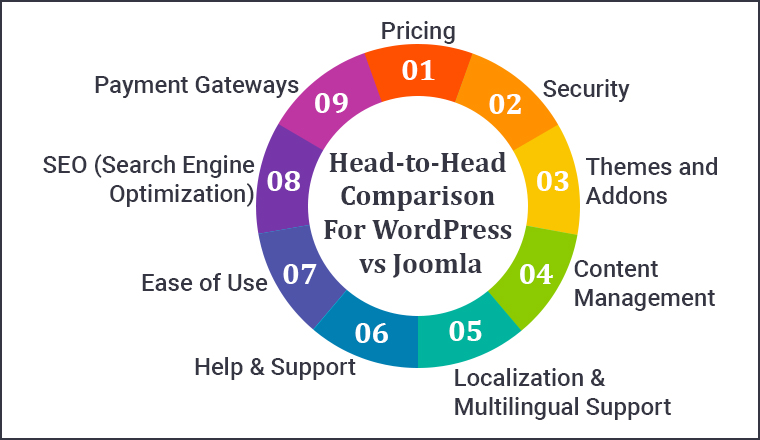 4.1 Pricing
WordPress Pricing
Since WordPress is an Open Source Platform, it is free for users to access. Only a web address (domain name) and hosting services are required. You must also do manual backups and any required upgrades.
| | |
| --- | --- |
| Concerns | Cost |
| Domain | $12 Yearly (approx) |
| Cost of WordPress hosting | Starts from monthly $3.95 (which can vary) |
| Security | From $50, a recurring or one-time fee |
| Developer fees | $0-$1000 (one-off cost) |
| Maintenance fee | Starts from $99/month |
| Plugins | $0-$1000 (recurring or one-time fee) |
Based on your demands, the cost of launching a WordPress website might vary between $100 to $3,000 and perhaps more than $30,000. In exchange, you may establish a premium website with endless customization options, a skilled supporting staff, and complete authority over your website.
In addition, getting WordPress development services can assist you to determine the actual cost of building a WordPress website.
Joomla Pricing
Joomla, like WordPress, is free for every user and is simple to use. Nevertheless, you must acquire the following:
Domain registration: a mean of $10 to $30 each year
$150 to $500 per year for registration with a hosting provider
Custom development is between $500 and $5,000.
Monthly upkeep: $100 to $1,000
In all, you will need to spend between $700 and $6,500 per month or more for a Joomla site. It appears to be costlier than WordPress. Even though both are open-source frameworks, there may be a price difference due to differences in expenses such as production and service fees.
WordPress offers lessened development costs because of its large and devoted community, where customers can readily access assistance through a vast environment of blogs, newsgroups, and programmers. When it concerns Joomla websites, you are still obligated to invest in the development.
The outcome of the price comparison between WordPress and Joomla may not be definitive due to the possibility of additional expenses. Therefore, ensure that you conduct a complete study on what you intend to do about your site in order to determine cost comparison among both platforms.
4.2 Security
WordPress Security
Hackers frequently target WordPress sites for privacy violations, network intrusions, malware, and virus assaults due to the platform's ubiquity.
While WordPress provides dozens of add-ons and modules, it is hard to ensure that each plugin adheres to appropriate security criteria and stays interoperable with future platform versions. In terms of security, this might be a disaster. Additionally, the majority of its sophisticated additions depend on plug-ins, and its base file must be modified to permit an SSL connection.
However, there is no need to fret just yet, since WordPress has indeed provided its own suite of protection plugins and extensions to assist users in securing their website to the maximum degree. Particularly, an increasing number of WordPress users are downloading the SSL certificate that launches a private browser connection. Before beginning the installation procedure, you will have to get the SSL certificate through a third-party provider.
Once your SSL is available, you would be ready to deploy it on your websites using such platforms' assistance. Really Simple SSL is the prominent WordPress plugin for obtaining SSL certificates, and it will identify your configurations and build up your page to use HTTP as a result of it.
Alternatively, you may reduce your effort by utilizing WordPress Management Services.
The excellent thing is that WordPress has a frequent updating cycle that includes security patches, speed upgrades, and new features. Whether you're a WordPress fan who wants to get the most out of the platform, you must routinely upgrade WordPress to its latest versions.
Joomla Security
Joomla security is vulnerable due to additional Joomla addons and modules, which account for 84% of all attacked websites. It provides a collection of privacy modules and extensions in recognition of this fact since no CMS is completely safe.
Joomla Force SSL enables users to unlock the SSL Certificate in the main software without downloading an additional extension, unlike WordPress, which needs additional plugins for SSL configuration.
Additionally, you must be careful that every latest edition of Joomla can only be maintained for a short period by the Joomla crew. Therefore, you must regularly upgrade Joomla to guarantee that it is operating on the most recent and bug-free version.
Considering the characteristics of open-source software, users of both Joomla and WordPress are responsible for access control duties. Joomla has its own SSL, eliminating the necessity to download further plugins, but WordPress requires the installation of an additional plugin to enable an SSL certificate.
4.3 Themes and Addons
Both of these prominent CMS include templates and modules to enhance the functionality and look of the website.
Templates determine your website's frontend design and how it appears to visitors. Modules are similar to applications for a CMS.
Let's compare the performance of these two prominent CMS platforms in this category.
WordPress
Leveraging templates, WordPress enables consumers to alter the look of their websites. WordPress has some pre-installed basic templates and themes.
You may download free WordPress templates from the directory at any time by clicking the "Add New" option on the Display tab of your WordPress dashboard.
In addition to free designs, there are several custom WordPress templates created by third-party design companies such as StudioPress, Astra Theme, and Elegant Themes. All of those are professional, paid themes that have top-quality assistance services.
The true strength of WordPress rests inside its plugins. In the authoritative WordPress directory, there are a minimum of 59,000 free and premium extensions. Additionally, you may purchase premium add-ons that include paid assistance from plugin creators.
Joomla
Joomla has both layouts and modules. There are excellent extensions for developing an eCommerce store and handling email, among other tasks.
Nevertheless, the number of themes and plugins is not as extensive as WordPress. This might make it more challenging to locate the ideal design and plugins.
Visitors can search for and download add-ons or layouts from the administrative section by default. There is an add-on that enables the addition of "install from web" functionality for plugins. Joomla users will still be required to manually look for and download themes by entering their URLs.
4.4 Content Management
WordPress and Joomla are both sophisticated CMSs that enable users to design and develop almost any type of webpage. Despite WordPress being frequently linked with seamless blogging, it is also an excellent choice for home pages and even larger enterprise-grade websites.
Joomla, in contrast, is notorious for its intricacy, despite its excellent guidance. Joomla-based websites may morph into a learning curve that is harder for visitors with no prior web development knowledge.
WordPress allows its visitors to handle their material with relative simplicity, yet is on a scale with other platforms in terms of raw capability. In contrast to Joomla, anybody can download the system and learn how to build blogs, webpages, and custom content kinds within moments.
4.5 Localization & Multilingual Support
A significant proportion of newly-created websites are multilingual. Numerous novices are more inclined to seek a CMS that supports numerous dialects and regions.
WordPress
WordPress provides a fantastic framework for creating multilingual websites. It does not accept different languages by default, but there are fantastic plugins that make it easy to develop a multilingual WordPress site.
WordPress is accessible in over 57 different languages. Installing new languages is as simple as clicking a button in the WordPress administration panel.
The majority of famous templates and modules are translated into many languages. Developers of themes and plugins are constantly seeking assistance to convert their products into additional languages.
All of these initiatives make WordPress an excellent solution for multilingual websites.
Joomla
Joomla is capable of handling a multilingual webpage without the installation of a plugin. Simply navigate to the language administrator, choose a data language, and initiate the creation of multilingual content for your blog.
Dictionaries for the management console in Joomla are accessible in several languages and may be readily updated by the WordPress admin.
4.6 Help & Support
WordPress Support
WordPress has created a highly robust and dynamic forum for its massive user base. You may discover a lot of WordPress-related information, tutorials, and sessions online. In a similar fashion, you may also find several written and visual guides, instructions, and demonstrations prepared by other users.
In addition to the free help feature, WordPress professionals may be hired from all over the world in the case of difficulties in technicality.
Joomla Support
Joomla is a collaborative internet forum for its customers, programmers, and anybody else eager to know further about Joomla. In addition, the main site provides an abundance of lessons, reference papers, and videos that are free, informative, and easy to locate.
Additionally, you may receive guidance from Joomla specialists, but you must acquire programs to use the full services. It offers four assistance plans starting from $39 to $299 monthly with varying service bundles.
Both WordPress and Joomla offer a variety of tools to assist customers in resolving difficulties with the systems. Joomla is the victor in this category since it offers four support subscriptions starting from $39 to $299.
4.7 Ease of use
WordPress
WordPress is renowned for its user-friendliness, leading many customers to choose it over alternative Content management systems. The majority of its users are both novices and tech-savvy folks. It is straightforward to deploy and utilize. Especially due to its straightforward settings menu, most novices may quickly grasp the fundamentals.
The back end is straightforward and organized, and the interface is intuitive. Down the left sidebar of the screen are the platform's different content categories and the options that may be modified. There is no doubt as to where you may go to modify your layout, configure social networking, or publish a new blog article.
Joomla
Joomla, on the other hand, is wholly unique and may take more attention if you're unfamiliar with technological jargon. It may be a huge benefit to a business if you take the time to understand its pros and cons, but owing to the sheer amount of different administrative screens, it will need more work and intellectual capacity for novices than WordPress.
Joomla makes use of both Publications and Topics. In plain terms, you must define sections for the sort of material you intend to generate prior to producing it in Joomla. This procedure may be more difficult than WordPress, particularly for non-techies.
Both Joomla and WordPress are relatively user-friendly and have identical setup procedures. Nevertheless, Joomla's administrative interface is not beginner-friendly. Learners may regard Joomla's settings menu and UI as more difficult to comprehend than WordPress'.
4.8 SEO (Search Engine Optimization)
If we examine the Search Engine Optimization (SEO) capacities of both systems, then Joomla has a tiny advantage owing to its customers' ability to define meta tags and key phrases for new articles.
Nevertheless, the full SEO potential of each platform is not easily obvious until you examine the various modules and plugins. They have the hugely successful Yoast SEO plugin, it's robust, offers a ton of functions, and most of the time anybody can master it in days.
Utilizing a traffic light approach, Yoast segregates your SEO ranking in several domains as red, yellow, or green. In addition, the plugin informs you how to increase your SEO rating within every area, and as if that weren't sufficient, it also assesses the readability of your article.
Through extensive testing, it is determined that Easy Frontend SEO (EFSEO) is the best Joomla alternative to Yoast. It allows you to perform many of the same operations, such as amending your metadata, immediately on the user side of your website, and also offers a convenient automated mode for creating this information without your intervention.
Despite how useful EFSEO may be, it is evident that there is no competition for Yoast. Because of this, WordPress wins this battle against Joomla.
4.9 Payment Gateways
WooCommerce Payment Gateways
WooCommerce is perhaps the most prominent WordPress plugin for eCommerce. It also offers over 100 payment gateways, notably some famous ones like Paypal, Stripe, and more to facilitate the processing and synchronization of payments.
Joomla Payment Gateways
You may accept any sort of payment with the 54 payment options offered by Joomla, covering both free and premium modules.
Here, The champion is unquestionably WordPress, which offers over 100 payment processing alternatives. However, Joomla provides its customers with over fifty payment channels.
5. Joomla vs WordPress: Which Popular CMS to Choose?
As per the parameters we have just reviewed, WordPress emerges victorious in the WordPress vs Joomla debate. To determine which CMS to employ, you must examine the objective of your project.
It is not unusual to state that WordPress is the finest CMS for newbies, particularly non-IT users, and the perfect platform for writing blogs. If you are inexperienced in web design and want to launch your site as fast as possible, you can use WordPress.
Joomla is a more versatile framework for displaying various sorts of information and managing users. If you have some level of technical expertise and are seeking a more versatile CMS that leads to better design flexibility, then you can use Joomla.
6. Conclusion
Having read this post, now you have a better understanding of the fundamental distinctions between Joomla & WordPress, allowing you to select which content management platform is appropriate for your business.
If you feel that your website currently is no more suitable for eCommerce and you desire to transfer, our team will present you with the optimum way to transfer your information to a more powerful one, while maintaining your SEO ranking, data protection, and integrity. For further details, please contact us.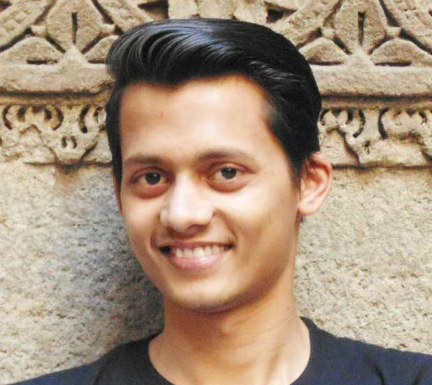 Hardik Dhanani
Hardik Dhanani has a strong technical proficiency and domain expertise which comes by managing multiple development projects of clients from different demographics. Hardik helps clients gain added-advantage over compliance and technological trends. He is one of the core members of the technical analysis team.