Next article
Since PHP is the core of nearly every web application around the internet, PHP security issues must under no circumstances be regarded as unimportant. PHP...
Symfony vs Laravel: Which PHP Framework to Choose?
Are you aware that PHP frameworks are preferred the most and the reasons are pretty obvious? Some of the most obvious reasons are because it is loosely coupled, easily customized, and makes optimal use of codes. Out of the list of PHP frameworks, the most popular ones and the most easily comparable ones are Laravel and Symfony frameworks. Both these PHP based frameworks are massively popular and extremely comparable because both of them are suitable for developing enterprise grade web applications that are complex and time-consuming at the same time. The key differentiator between Symfony vs Laravel have many aspects in common and hence, this brings businesses as well as Laravel developers in India and around the globe on point to understand which one to choose between the two web application frameworks.
Table of Content
Here in this blog, we are going to discuss some similarities, features and differences between symfony vs Laravel. To better understand it, we will delve deeper by understanding the key differences from different projected aspects.
1. Laravel vs Symfony: Overview
Taylor Otwell developed Laravel in June 2011 and this was developed to get ahead. Popular open-source (free) PHP framework Laravel operates under the MIT license. The Laravel framework was created utilizing the approved MVC (model-view-controller) architecture and Symfony components.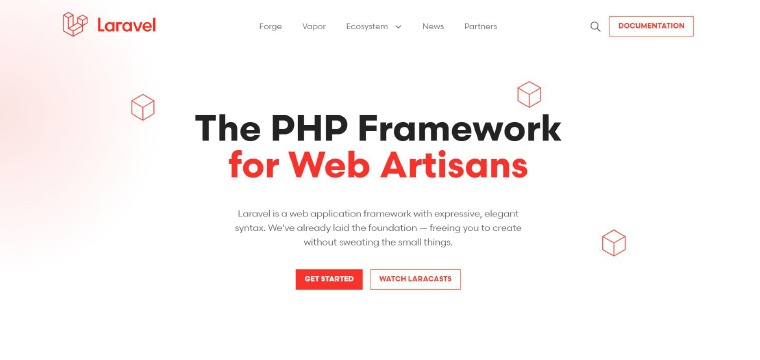 Along with Composer, a Laravel-specific dependency manager for the PHP programming language, Laravel has a modular packaging system. Additionally, a variety of relational database access techniques were included, along with tools for database management and application deployment.
For the creation of web applications, Symfony offers a PHP framework and reusable PHP components. Fabien Potencier released Symfony with an MIT license in October 2005. Since Symfony is open-source, each programmer can implement any necessary modules on their own to tailor it to their specific needs.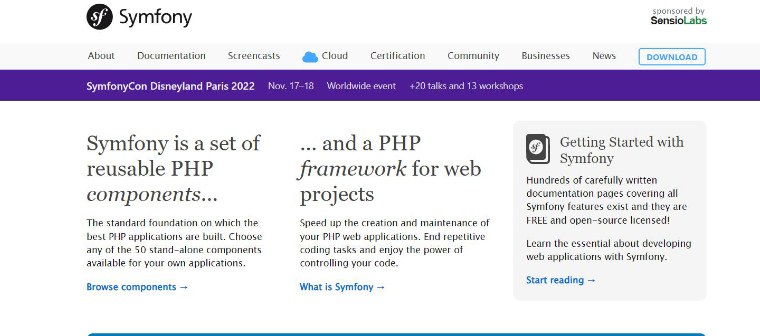 The MVC architecture (Approach View Controller) model can be used to organize Symfony, a PHP framework, to its fullest potential. It operates in just that manner. Because of the size and strength of the Symfony community, each user has an equal number of options. And if you still can't find what you're looking for, you can always incorporate bespoke components into your framework.
1.1 Similarities
The fact that they are both PHP frameworks and employ PHP as their programming language is, of course, the first resemblance you'll notice.
The key characteristics they both have are listed below:
Open Source Software which is also known as free initiatives.
Utilizing the MVC pattern which means there are no big conceptual differences.
A certain organization of the plain PHP code is used.
For typical tasks, a CLI tool is offered.
Utilize current complex projects to cover the entire stack (ORMs, Template Engines, etc.) It is conveniently extensible.
It can be used with several platforms like operating systems and database engines.
Possesses integrated internationalization capabilities that enable you to easily support multiple languages within your application.
1.2 Differences
The goal of Laravel, a PHP-based MVC framework, is to simplify and see essential tasks performed in the majority of scalable web applications. These include activities such as authentication, routing, sessions, and caching, in order to accelerate development and remove obstacles. Laravel aims to keep the functionality of the application while making the web development process entertaining for developers.
PHP Symfony is made up of a collection of modular PHP modules, a framework, and communities that work together to develop web development projects. Like Laravel, it is not a complete MVC framework.
2. Symfony vs Laravel: Features
The MVC (Model-View-Controller) paradigm is typical of most frameworks and is used by the open-source PHP framework Laravel. Its framework has a strong syntax and just a little configuration is needed. Laravel recycles the list of laravel components it can utilize from several frameworks to build web projects.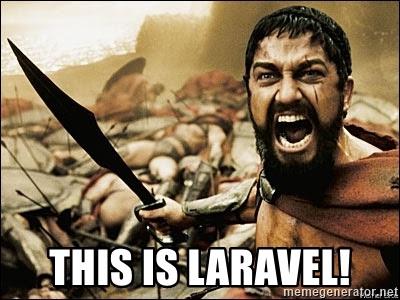 Laravel was developed in 2011 as a more practical alternative to CodeIgniter with a wider range of capabilities. Since then, it has developed into a powerful PHP framework that can stand alone and is supported by a large user base to create web apps in PHP Laravel is renowned for its straightforward and quick coding style.
Symfony PHP framework is a web app development framework that is also compatible with a variety of computing platforms and depends on the MVC design. It is a collection of reusable PHP components, not just a framework.
Both frameworks have several similar features. Like the majority of Laravel's third-party libraries come from Symfony components. The result which we can see is that it has around one by-fourth of all Laravel's code written in the Symfony framework. While Symfony is more difficult to learn than Laravel and is better suited for large-scale projects, it is also more complex.
3. Advantages & Disadvantages of Laravel and Symfony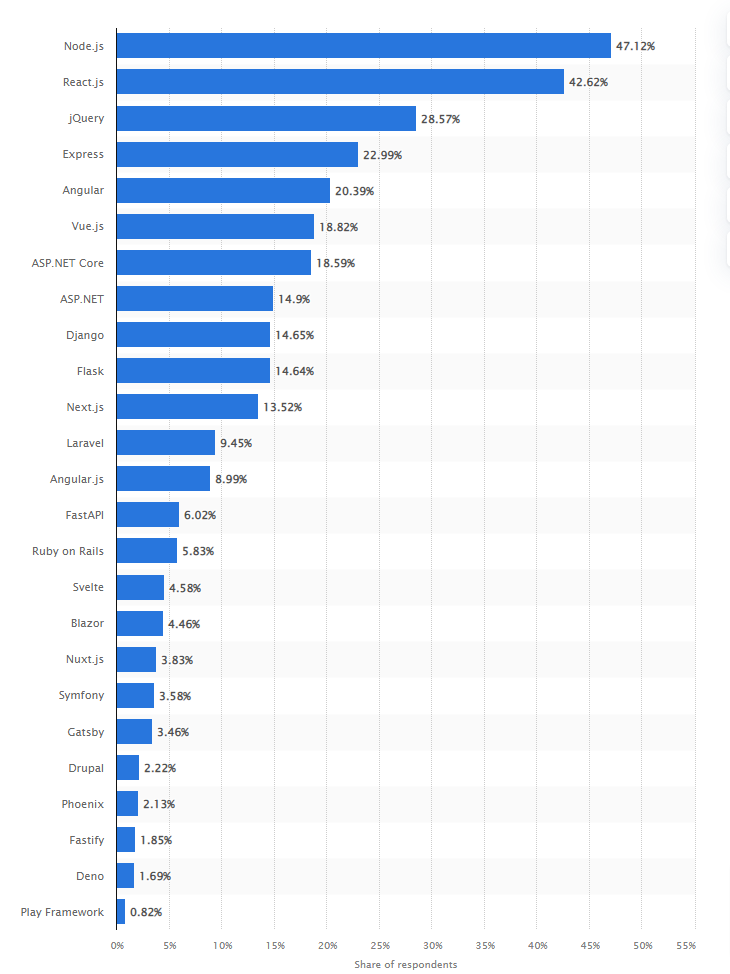 Statista says that among the most developed web development frameworks include Laravel with 9.4% of businesses using it for web app development.
As per the Stack overflow developers' community, 85% of businesses use Symfony for their web development.
Let us start with some of the advantages of PHP's most pioneering framework that we can use.
3.1 Advantages of Laravel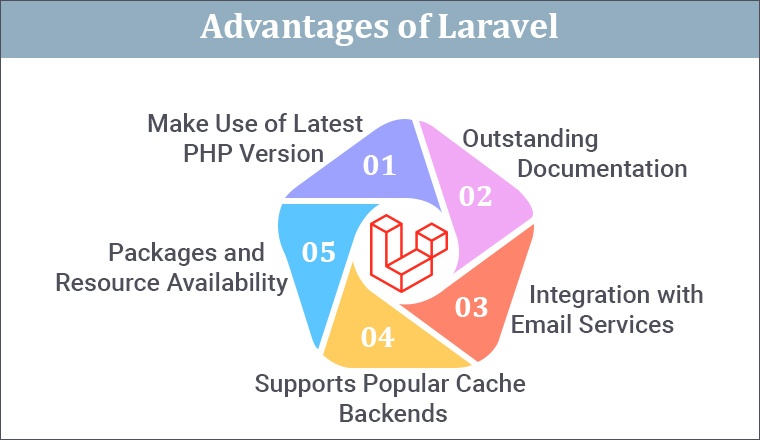 1. Make use of latest PHP versions
The most significant advantage of the Laravel framework above others is that it makes use of all of the latest PHP features. Most other frameworks are unable to do so. By using Laravel 5, you may take advantage of several new PHP capabilities, such as interfaces, overloading, shorter array syntax, namespaces, and anonymous methods.
2. Outstanding documentation
Because of the documentation, it is thought that Laravel is developer-friendly. All Laravel versions come with adequate documentation, which includes good and detailed explanations of classes, coding styles, and methods.
3. Integration with email services
It is essential for web apps to communicate with their users and advise them of new bargains and offers. Rather than the SwiftMailer library, the framework includes an API. It also includes the drivers needed to enable PHP's "mail" features.
4. Supports popular cache backends
One of the more novel aspects is that it comes with built-in support for Memcached and Redis.
5. Packages and resource availability
You can use NPM packages and bower packages by linking the framework to elixir and Gulp. It is particularly useful in resource and asset revision. Furthermore, this, in conjunction with the composer, will sort out dependencies, making it the most stable source of the package in the PHP world.
3.2 Disadvantages of Laravel
1. Non-Powerful Composer
Laravel is a complex framework, so dealing with it is tricky for developers. In addition, Laravel's composer is weak in comparison to Ruby gems, npm (node.js), pip (for Python), and others.
2. Inconsistency between versions
There appears to be no transition from Laravel 4 to 5. If you try to update the code, you may break the application.
3. Quality varies at times
The quality of apps starts to vary from version to version or device to device. This is because some framework components are poorly constructed. So, if you are a naïve developer you might need assistance in gaining experience.
4. Upgrades can be challenging
It is not simply a Laravel issue, but also a PHP framework issue when the version is upgraded. As a result, the user must exercise caution when changing the version.
5. Growth
When compared to Laravel, the development of other frameworks is much faster.
3.3 Advantages of Symfony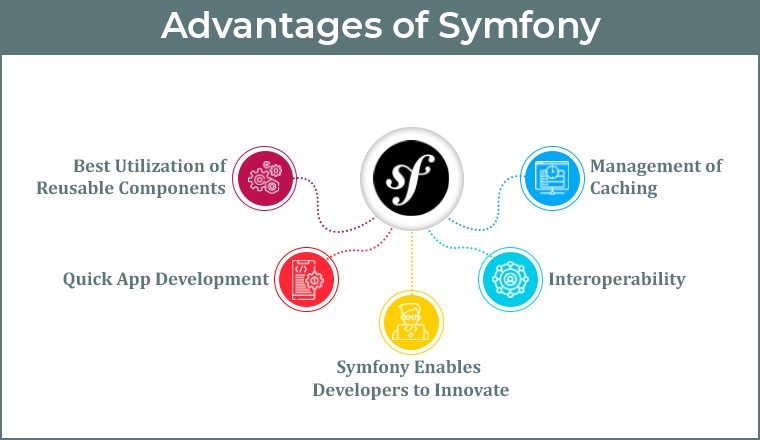 1. Best utilization of reusable components
The PHP's Symfony framework is built on the MVC framework. MVC, or the Model Controller View paradigm, is the PHP application architecture. This framework is based on the Reusable Components principle and is one of the most modular. Because developers use reusable components, project development proceeds as expected, and stockholders are pleased because the TMM, or Time to Market, is shorter.
2. Quick app development
One of the primary benefits of adopting a framework is the speed with which it allows you to construct applications. Symfony's major goal was to enable PHP developers to create programs rapidly, and this is only possible because of its module framework and the extensive utilization of reusable components. However, multiple frameworks may be appropriate for different types of applications, but if you are choosing symfony for web app development, you are already innovating.
3. Symfony enables developers to innovate.
Symfony is one of the best PHP frameworks due to its unrivaled speed, reusability, and flexibility. It adheres to industry best practices and integrates some of the greatest and most innovative libraries in the industry, as well as features such as dependency injection.
4. Interoperability
Symfony supports compatibility in the sense that, while it supports the current " with naming standards or classes and PHPUnit. It allows the web developer to employ certain software building elements such as translation management, dependency injector and management.
5. Management of caching
Symfony has an excellent caching management mechanism since MySQL database performs every read query executed by Symfony. In MySQL, a pool of all statements will be kept, making it simple to execute.
3.4 Disadvantages of Symfony
1. Performance
Most of the time, symfony shows performance concerns and the reason is because of low performance and the need to load real-time web applications. This occurs to users when there is too much traffic on the website or application. If you wish to integrate the performance, you need to integrate it with third-party plugins, websites and other PHP frameworks.
2. Demands consistency
If you are using symfony, you need to invest a larger time in this framework compared to all other PHP frameworks. It is hard to learn the language and hence demands more effort and dedication.
4. Laravel vs Symfony: Comparison Table
| | | |
| --- | --- | --- |
| Factors | Laravel | Symfony |
| Initiated in the year | 2011 | 2005 |
| Latest Version | Laravel Version 9 | Symfony Version 6.1.4 |
| Flexibility | Less than Symfony | More Flexible |
| Framework Type | Web App Framework | Web Framework |
| Data Migration | Manual | Automatic |
| Documentation | Through Github, Laracast, treehouse, SitePoint | Documentation by symfony community |
| Speed | Faster | Also very fast |
| Libraries/Repository | Internal Laravel Repository | Internal Symfony Repository |
5. Symfony vs Laravel: Key Difference
5.1 Projects
Laravel works particularly well for smaller web based applications that require quick implementation. Web developers can use laravel's built-in authentication, quick database migration, object-relational mapping, simple configuration aid and considerably accelerate web application development.
Symfony is an excellent choice for huge, complicated web applications, as well as apps that require non-standard development with unique features, such as an enterprise app, an e-commerce store, or a music/video streaming app. Spotify, Trivago, and Dailymotion are examples of well-known organizations that use Symfony to construct complicated web apps.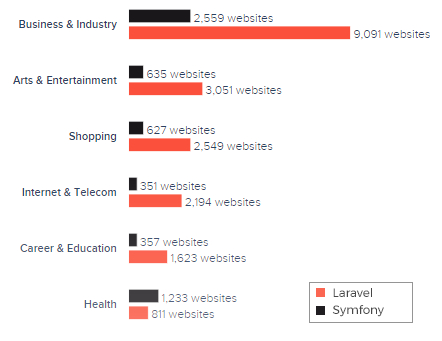 The above image is taken from a blog published on HackerNoon, which clearly shows all the major industries are using Laravel and Symphony for their web app development projects.
5.2 Performance
Performance evaluation is always a difficult task since it involves so many different elements. When it comes to application speed, most benchmarks show that Laravel has the upper hand. Laravel outperformed Symfony in prior versions.
However, as Symfony 4+ improved, Laravel's edge shrank almost to nothing. The performance gains that Laravel originally talked about may no longer exist. The below image describes performance evolution of both Laravel and Symfony.
Performance is a toss-up as long as you're running the most latest version of each PHP framework. As a result, there is no change in score.
5.3 Scaffolding
Laravel does not come with a scaffolding tool by default, however, you can integrate it with other tools. For example, Yeoman via the generator-Laravel package, InfyOm's Laravel Generator, or Scaffold for Laravel 5.x. In order to understand Scaffolding, you need experts from companies who are aware of using scaffolding in the most popular PHP framework.
While in the case of Symfony, you can do it using the SensioGeneratorBundle pack that contains all of the commands required for Scaffolding.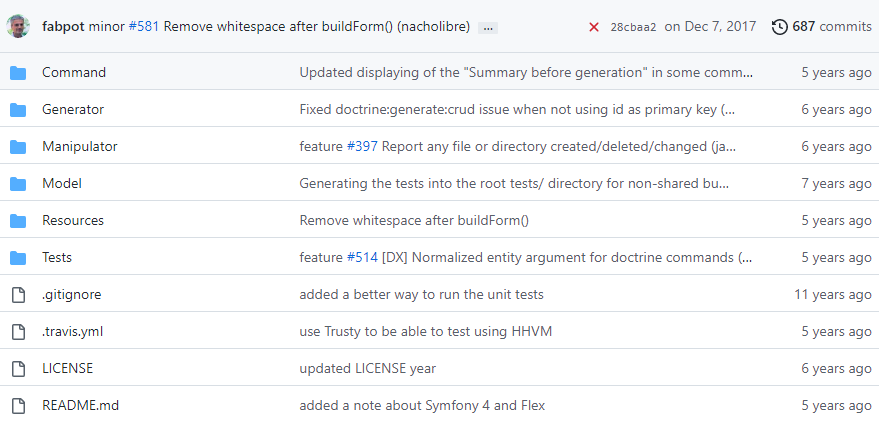 There are components such as bundles, forms, controllers, and even CRUD-based backends. If you like, you can use the generator-Symfony or generator-sf packages, which use Yeoman to create a Symfony PHP application using CSS preprocessors, webpack, browser, and service worker.
5.4 Default Templating Engine
Twig is the default template engine in Symfony, while Blade is the default template engine in Laravel, but you can use a different one if you like. You can also choose not to use one at all!
Aside from syntax, there are no significant differences between both the templating engines, however, Blade is simpler than Twig.
5.5 Database Support
Laravel and Symfony both support object-relational mapping (ORM) for data access. Doctrine handles ORM in Symfony, whereas Eloquent handles ORM in Laravel. Data manipulation in either PHP framework becomes considerably easier with ORM.
This leading database system migrates all data automatically; web developers must create repository functions to retrieve the appropriate data. Web developers must manually do database migrations when using the Eloquent system. They must employ Eloquent syntax for data access.
5.6 Security
Laravel takes a more straightforward approach when it comes to security, but in most circumstances, the fundamental features will be sufficient. You can secure your Laravel web app by following the below mentioned steps.
Symfony's security mechanism is robust, yet it can be difficult to configure. It supports many authentication methods as well as a very fine-grained authorization model.
5.7 Modularity and Scaling
Symfony includes reusable components that increase modularity. It arranges the code more cleanly, making it an excellent choice for larger and more complicated web application development projects. Because of this, many experienced PHP developers prefer Symfony to Laravel. Furthermore, Laravel's strength is in MVC-based apps. Laravel cannot assist you if you depart from the MVC paradigm.
With all the benefits of pre-built dependencies, you can use the Laravel framework to get up and run and this will leave your Symfony developers in awe. You can now scale web development projects by adding a database support system, sap Sybase SQL. If you're creating a large-scale application, however, picking and choosing your dependencies and plugins makes the program easier to enhance and extend. Symfony gets the nod for flexibility and modularity in this section.
6. Symfony vs Laravel: Which one to Choose?
Of the two PHP frameworks, choosing one is a hard choice. Laravel PHP framework or Symfony both are equally doing well for complex web projects. There is no single technology that is superior in every way. Of course, the answer is dependent on a variety of factors, but to provide a fair comparison, assume your staff has no expertise in either. It all depends on your difficulties and which tech stack is most suited to solve them. Laravel was developed keeping in mind the scenarios or benchmarks that need to be met like if you have a tight deadline, you should probably go with Laravel.
Symfony was created with long-term maintenance in mind, making it better suited for commercial environments. You as a business can try using both to determine which one works better for your web application. We have learned that both frameworks are powerful and mature technologies with all the latest functionality for professional and agile PHP development.
No matter which one you choose, if you follow your needs, you can always swap between the two without much effort. So choose the one that feels more comfortable, you have specific resources that can easily help you to start building new cutting-edge applications. Explore the features that are most important to you and make your way towards successful web applications.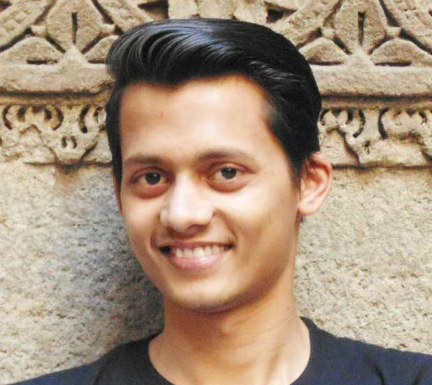 Hardik Dhanani
Hardik Dhanani has a strong technical proficiency and domain expertise which comes by managing multiple development projects of clients from different demographics. Hardik helps clients gain added-advantage over compliance and technological trends. He is one of the core members of the technical analysis team.