Next article
A lot can go wrong in the web development realm. For starters, you may find this list a bit exhaustive but at the same time...
Best React Libraries for 2020
Are you seeking around for frameworks or libraries to conduct a successful front-end development? Well, you will find many but not all of them are worth your time. React being the third-most wanted technology in the world clearly indicates that it shouldn't be taken lightly.
To give you a gentle introduction, React developed by Facebook is an open-source Javascript library mainly being used for frontend development. Now it has been strangely observed that when we talk about front end development, Angular turns out to be the default choice. Let's take a look into the Angular vs React scenario. Comparing these two technologies is somewhat similar to comparing apples and oranges.
Table of Content
At one end Angular is a full-fledged MVC framework whereas React, on the other hand, is a lightweight view library that needs to be complemented with other tools(Flux or Redux) so that you get an accomplished architecture. One of the most interesting aspects here is both can be used interchangeably within one project. However, our skilled React developers won't recommend this as it violates all the coding standards and best practices.
About React Development
The efficient, declarative, and flexible open-source JavaScript library is built by Jordan Walker and maintained by Facebook for building simple, fast, and scalable front-ends of web applications. Since its introduction, it seems to have taken the front-end development world by storm.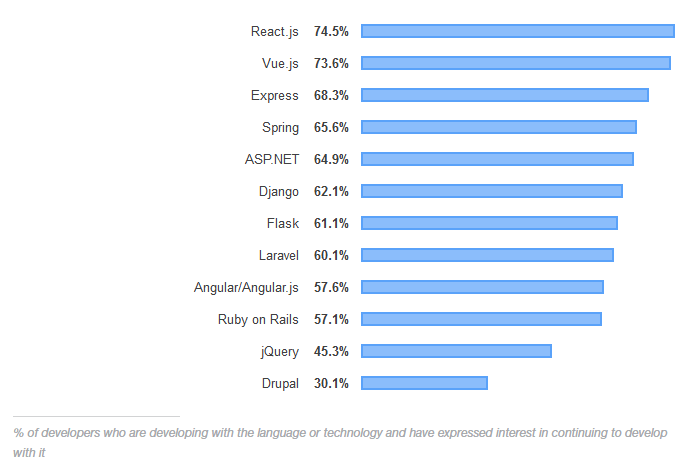 According to Stack Overflow, React seems to be the most loved web development framework leaving Angular technology way behind. By now over 220000 live websites are found using React, this incorporates famous tech giants like Apple, Netflix, PayPal, and many others. With so many companies using React, there should be a good reason for it. What made this technology so popular in no time? What React inherits that worked well? Further below I would like to mention what benefits React offers in comparison to other JavaScript.
Easy to learn
One of the prime reasons for choosing React is that it is way easier to learn. As soon as any new technology emerges, the next problem in line is learning and making the most out of it. In case, if the technology is difficult to learn you may find it difficult, to begin with. As humans, we often end up avoiding things that are hard to learn.
With a plethora of easy-to-learn tutorials available on the internet, catching up with React becomes way easier. And it turns out to be bliss if you have great JavaScript skills.
Speed
Another basic yet crucial aspect of React development is speed. Programmers can use individual parts of their application on both client-side and server-side that ultimately results in boosting the speed of the development procedure.
If simply put, all changes made won't cause any side effect to the logic of the application even when different React developers are writing individual parts. In addition, have you thought about increasing productivity by using reusable components and development tools? For instance, React Developer Tools is one such browser extension that can make your coding work a lot easier.
Rich user interfaces
The quality of the user interface plays a significant role in the success or failure of your online presence. In case, if your chosen React development company fails to design a rich user interface, chances of end-users loving the app lessen. Therefore, building rich user interfaces is sort of a necessity instead of treating it as a luxury for an application to survive and thrive. Designing rich and interactive user interfaces can be done in React with the support of Redux and Flux.
It may quite interest you to know that the technology builds such highly-quality, rich user interfaces – all because of its declarative components.
SEO-friendly
One of the biggest flaws of many JavaScript applications is that they are not accessible to the search engine. With time passing by, several improvements had been made. And React for that matter has been trying extremely hard to make it work when it comes to Search Engine Optimization. By running the tech on the server, the virtual DOM will be rendered as a regular web page to the browser, with no additional practices required.
This also leads to an overall better user experience.
Strong Community Support
For your upcoming frontend development project this is one of the strongest reasons to choose React. In fact, open-source libraries and coders across the globe are allowed to upload free React tutorial videos and write in-depth articles/blog posts.
Of course, all this is gonna help in some way or the other. In case, if you face any problems, you can simply get reliable answers by posting them on QA sites and mind you these answers are given by experts.
Best use cases of React Development include:
Single-page applications(SPAs)
Large Scale projects
Web apps requiring dynamic page updations such as chat apps, graphic sketching, data visualizations, like stocks info, or even online games
Building complex UIs
So now you know how ReactJS has some outstanding advantages that can be used to develop highly sophisticated websites that act as cool and smart solutions to businesses.
Apart from these, what else is so fascinating about technology? Any guesses? It's React Libraries that helps to smoothen the project development process.
Best React Libraries
After leaving the entire development community in awe, React development introduces a bunch of interesting libraries worth getting acquainted with. And it is high time we React developers admit the fact that these tools act as the true testament to its popularity. Let's explore the best of all!
Hook
One of the most popular minimalistic libraries that works wonders without any dependencies. The hook is the new addition to React that unlocks useful features in classless components. Gone are the days when React used lifecycle methods such as componentDidMount() to manage state. This encourages separation of concerns because components are not managing their own state. Here putting a lot of state management inside class components blows up complexity. Hooks attempt to alleviate this problem by providing key features.
Some of its basic Hooks include:
useState: For mutating state in a classless component without lifecycle methods
useEffects: Mainly for executing functions post-render, useful for firing Ajax requests
use Context: Mainly for switching component context data, even outside component props
Some of its major advantages are:
Mitigates state management complexity
Supports functional components
Encourages separation of concerns
React Bootstrap
React Bootstrap is basically developed to control and use the UI components. It has pre built components for better compatibility. With this library UI experience gets a boost with Fluid like experience.

More in addition to this, do you remember the old days of joy using a bunch of compatible bootstrap themes? Bootstrap stylesheet surely brings the phase back. As a result, developers can write code fast with the help of reusable components.
React Boilerplate
Are you looking for a developer-friendly start library that gives you the best foundation for scalable looking projects? React Boilerplate offers an offline first setup which delivers high performance. The best part here is that your application will be available from the moment your clients load the application, and here there is no network connection required. Effectively working with Chrome Redux DevTools, React Boilerplate successfully assists you in the creation and testing of components, containers, etc. from the CLI. With React Boilerplate the real-time changes that you have made can be seen immediately in CSS and JavaScript.
Ant Design
This is a React UI library which has enterprise class features along with UI design language. It may quite interest you to know that Ant Design is another most powerful design system that assists several React development service providers well in creating better user experiences of enterprise applications.
With over 56500 stars on GitHub, this library in particular is extremely good at what it does. React Ant Design has 50 high quality react components written in Typescript. This library can be best used in alignment with the help of design resources and tools.
This has got features like Rebass which supports several languages which makes it easy to localize applications.
React Virtualized
Building a frontend that's data-heavy? React virtualized is the sure-short library that you need to delve into. This includes a wide range of components leading to efficiently rendering large lists, tables, and grids. Let us know this better with the help of an example; you will find masonry, columns, autosizers, direction stories, window scroller, and way more. The best part here is you can customize the tables by simply configuring the row heights and display placeholders in the cells.
In addition, React Virtualized supports standard browsers such as recent mobile browsers for iOS and Android and has very few dependencies.
Semantic UI React
It is a UI component framework. Mainly built for theming and comprises 50 UI elements with 3000+ CSS variables, it is based on useful principles from natural language, flexbox compatibility, responsive design with 3 levels of variable inheritance.
With this React library, developers can use it very beautifully to develop websites with HTML and JavaScript.
With about 11000 stars on Github, there is no shadow of a doubt that the library is favored in the react community. In order to define bind components JSX code can be used easily. This React library has some more potential features like easy to setup CSS, Components APIs, keyboard support and well documented and tested.
React 360
React 360 library is mostly used for interactive experience. With the help of modern API like WebGL, React developers can develop applications which can be run on multiple devices.
This library is most favorable when you're developing cross-platform 360 experience.
Conclusion
Well, this is not just it! Many more tools and libraries are resulting in making React development such as valuable technology for front-end development. The list is based on the use case for most of the applications. Feel free to comment if I missed anything in the list.
In case, if you are looking for a reliable React development company here at eTatvaSoft we ensure to come up with matchmaking algorithms that are suitable for your needs. Contact us right now.