Next article
Real-time payment can be defined as an instantaneous or rapid way of money processing. This enables both the parties to perform real-time transfer between accounts...
Magento vs Woocommerce: Which Is the Best Ecommerce Platform?
In this world of online business stores, any company that wants to turn digital would require a powerful environment to create a customizable e-commerce platform. And for this, the two most popular ecommerce platforms WooCommerce and Magento are used. WooCommerce offers scalability and flexibility, while Magento gives access to the most powerful tools that can be used to create a site. Both of these platforms offer the best functionalities to business leaders and this is why it's difficult to choose between them. Our PHP and Magento developers from India shared their expertise to draft the whole article on this subject.
To know more about these two powerful platforms, let us go through this blog.
Table of Content
1. Introduction to Magento and WooCommerce
1. What is Magento?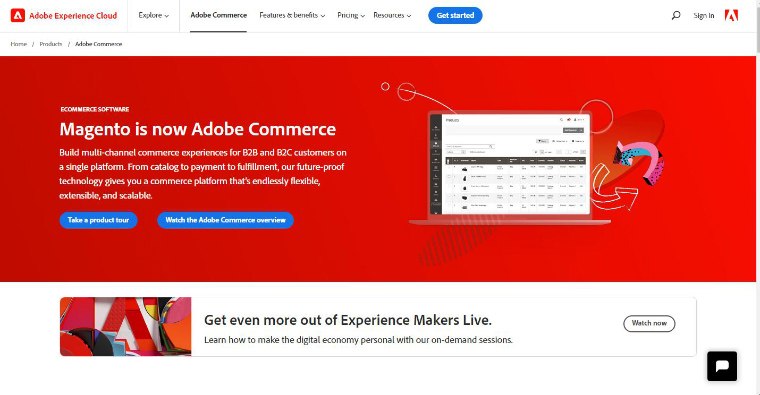 Magento is one of the most powerful and scalable ecommerce platforms. The best features of Magento is, it is fully customizable, self-hosted and open-source. Online store owners can easily integrate Magento commerce with any hosting provider. The beauty of Magento marketplace is that it provides so many themes and extensions that can be used by just one single click. According to Builtwith.co, more than 167k websites are currently running on Magento.
The latest Magento Open Source release is Magento Open Source 2.4.5.
2. Pros and Cons of Magento Commerce
Pros:
Magento is free to set up an eCommerce platform.
Offers extensive documentation.
Starting with Magento is easy if you are familiar with WordPress.
Adapting and expanding the Magento store is easy.
The back-end environment of Magento Commerce is easy.
It offers both paid and free themes.
Offers SSL support to source your certificate.
Cons:
The highly customizable feature of Magento requires a huge financial investment.
Customizing or editing the Magento website requires expertise.
Further Reading on:

Magento vs WordPress: A Full Comparison Guide
3. What is WooCommerce?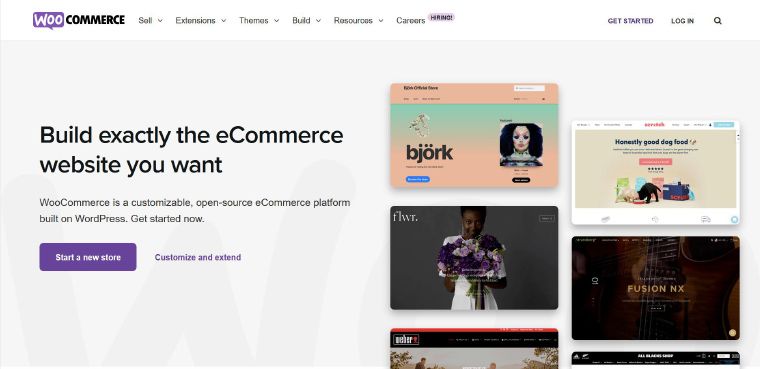 WooCommerce is a powerful, open-source wordpress plugin, which is used to create beautiful ecommerce stores and websites. As Woocommerce is easily incorporated with WordPress websites, it gains more popularity than other platforms. According to builtwith.com 6.3 M websites across the globe are hosted on Woocommerce.
WooCommerce is updating and enhancing its versions day by day and currently the latest version of WooCommerce is 6.9.3 which was released on 20th Sept, 2022.
4. Pros and Cons of WooCommerce
Pros:
WooCommerce offers high scalability and quick setup features.
It is a perfect content management system.
Offers both free and paid themes & plugins.
It is a cost-effective eCommerce platform.
Cons:
It's a WordPress-specific platform.
Lack of community support.
2. Difference Between – Magento vs WooCommerce
Let's see how both the frameworks are trending on Google Trends,
1. Magento vs WooCommerce: Performance
When it comes to an eCommerce website or any blogging site, visitors will leave the site quickly if they don't find its performance level up to date and they won't return to the site to purchase any product or service. And this is all because of the slow loading speed of the website. This can cause a great loss in the potential revenue and conversion rate of clients for the business. Therefore, speed and performance are the two most important factors when it comes to choosing an eCommerce for the online stores.
The speed and performance of the website depend upon aspects like the number of installed themes and extensions, displaying an image, and the quality of the web hosting service providers. In this case, Magento is the great solution. It enables the web developers to measure the speed and availability of space in the back-end. This helps in knowing the exact time that goes behind generating the HTML code and sending it back to the browser. Performance comparison is well tested by Cloudways with optimal server specifications. Here's what they've found for Magento.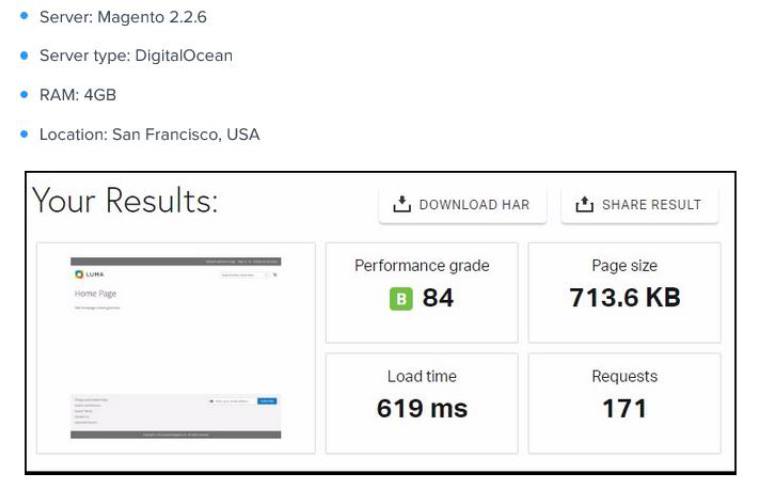 As shown in the above image, if your page size is around 700 kb then Magento could take around 600ms to load your page.
On the other hand, here's what they've found for Woocommerce.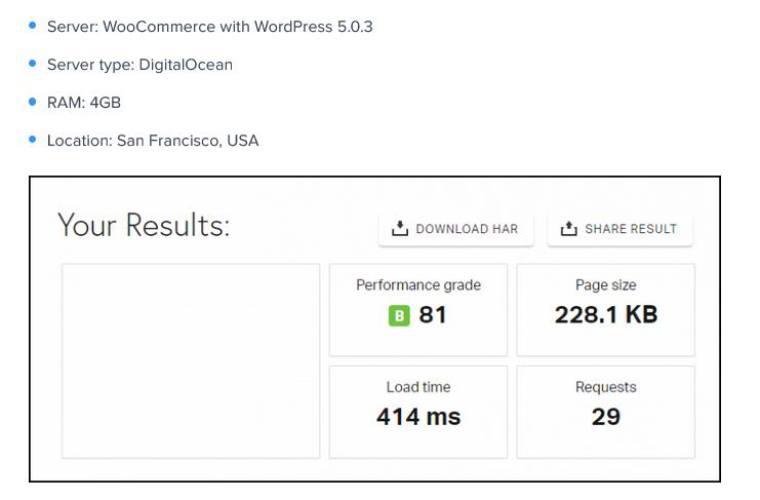 As you can see in the above image, if the size of your page is 228 KB then Woocommerce server can load your page in 414ms
2. Magento vs WooCommerce: Price Comparison Between eCommerce Platforms
While choosing the best eCommerce platform, there is always a competition between WooCommerce and Magento. And to make the right choice, future online store owners have to think about how much functionality they can get as per their needs. After understanding the types of things these two eCommerce platforms offer, they can hire the perfect web hosting provider for their project. This choice also depends upon the price of the platform.
WooCommerce is a very popular open-source wordpress plugin and this clearly means that one can download it and access it freely. But, in order to get access to the premium services and advanced features of this platform, users will have to pay extra money. While on the other hand, Magento comes with a free version that is a community edition, and to access the Magento premium features and the enterprise edition, business owners will have to talk to the professionals.
Though creating a store and running it with these two platforms at minimum cost is possible, to get some unique features to stand out in the competitive world, big or small business owners have to spend cash. And in this case, Magento comes with three different variations: Magento Community which is a free platform with some basic features, Magento Enterprise is a premium version with some rich & advanced functions, and Magento Enterprise Cloud which is a cloud version of Magento. The cost of these three versions lies between $12k to $247k. A leading Ecommerce agency Inchoo gives an estimation on the cost of developing a Magento web store in their recent tweet.
If you were wondering about the cost of a webshop on an #opensource platform, like #Magento, you probably found little or no answer at all.🤔

It's because costs differ a lot based on the client's needs. Fortunately, we might help you with general price ranges.💡You're welcome! pic.twitter.com/t68JCKzXmA

— Inchoo (@inchoo) March 14, 2022
On the other hand, WooCommerce is an open-source plugin and is free to use. But to use this add-on in creating e Commerce websites, business owners will have to pay for a domain name, SSL certificate, and web hosting. Besides, if they don't like the freely available themes, then will have to pay for a theme too.
3. Magento vs WooCommerce: Ease of Use
Any e Commerce website owner or developer would like to go with a platform that is easy to use yet offers the best features.In this case, WooCommerce and Magento both come with different approaches.
WooCommerce offers a very straightforward and easy-to-use platform. Anyone with basic coding knowledge can work with this platform. Though it is said that open-source solutions are tougher to learn and work with while creating an ecommerce store. This is because of the required technical skills to access the functionalities and features of the tool. But in this case, WooCommerce has a big community that can help. Business owners or developers who have worked with the WordPress platform can easily understand this plugin. The below image shows how the backend of WooCommerce plugin looks.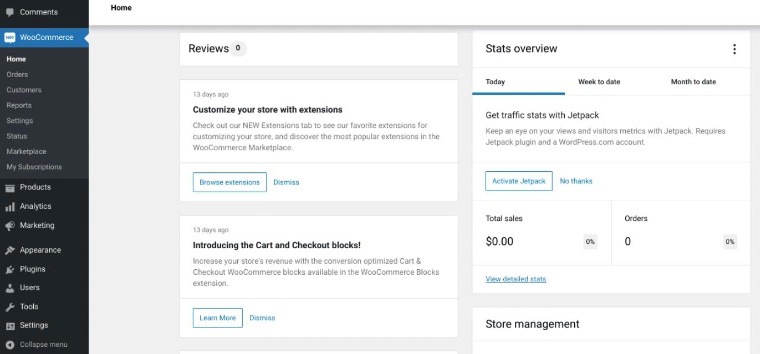 With WooCommerce, it is simple and quick for the developers to create a site and test it. They can also use themes that can make the eCommerce store look attractive.
Magento is just like WooCommerce when it comes to the user's perspective. It is an open-source platform and to use this platform, any business owner would need some technical knowledge or they will have to hire an expert. In comparison to WooCommerce, Magento is a bit tough tool to understand and use. Especially when one wants to customize the site, they won't find any built-in themes, they will have to integrate themes and magento extensions from third-party providers. One can find many free and premium options.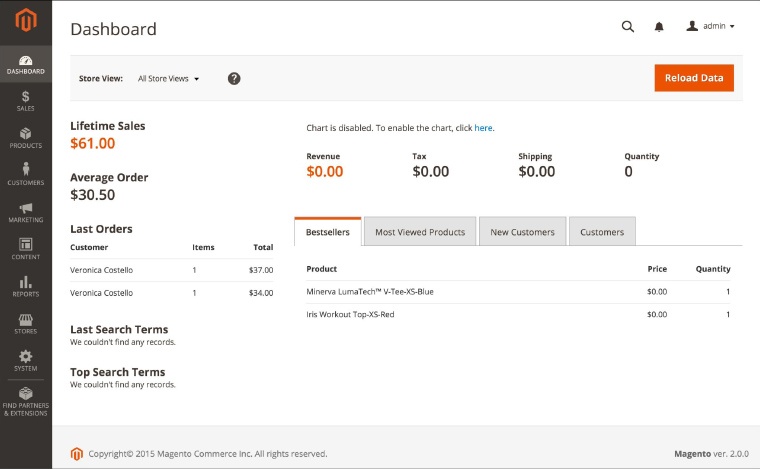 Besides, working with Magento can be easy if you are a web developer. You get drag-and-drop components to design the site and they can help you change the entire user experience of creating a site with Magento.
4. Magento vs WooCommerce: Security of an Online Store
When it comes to the security of the website, there are many things to take care of. The development team has to come up with various plans to save the site risks. And therefore, choosing the right platform between WooCommerce vs Magento is very important. This choice gives surety that how secure the site is going to be.
So in this case, Magento is a platform that enables the web developers to highly secure the functionalities of the site. And it also offers online store owners advanced security features. It also comes with many built-in advanced security measures that enable the developers to protect the installation and management process in Magento. Basically, the dedicated security patches that Magento offers for online stores help in enhancing password management, improving the prevention of clickjacking exploits and cross-site scripting attacks, and adopting a flexible file system.
5. Magento vs WooCommerce: Plugins And Extensions
When any developer plans to work on an eCommerce solution, the platform that he uses will offer some of the basic features to run the eCommerce business but sometimes they are not enough. Therefore the two most preferred eCommerce platforms are WooCommerce and Magento. They enable third-party developers to develop extensions that can fill the gaps in business expectations.
WooCommerce is a platform that comes with hundreds of WooCommerce plugins. These extensions are both free and premium. They cover all the technological, logistical, and marketing needs. This WordPress-based platform gives access to more than 55k free WordPress plugins and themes.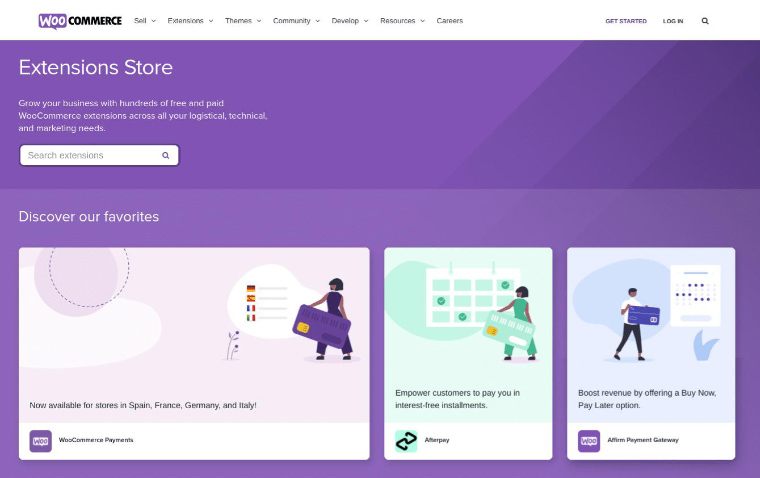 These free and premium extensions help in customizing the WooCommerce store in terms of digital marketing, product type, store management, payments, enhancement, shipping, and subscription.
On the other hand, Magento marketplace also comes with third-party free and paid extensions that help the developers, freelancers, and Magento website development agencies to create unique sites.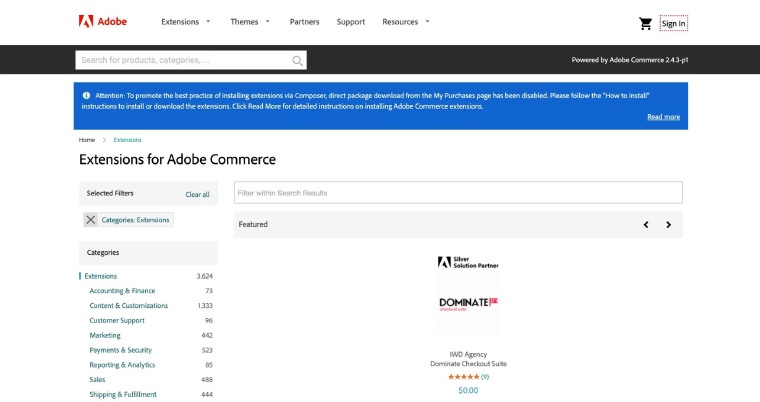 Magento offers around 4k extensions for different fields like marketing, sales, accounting & finance, payment & security, site optimization, content & customization, reporting & analytics, customer support, and more.
6. Magento vs WooCommerce: Community Support
One of the most important things to look for while choosing an e-commerce platform for creating an online business site is seeing that the preferred platform offers better customer service. In this case, there are two best options available in the market Magento and WooCommerce.
WooCommerce is a very popular platform amongst WordPress users and the main reason behind it is its robustness. Business owners choosing WooCommerce for creating their online store can benefit a lot from its amazing features and functionalities but using them might not be easy for every business. WooCommerce has 8.1k stars and 10.4k forks on GitHub as shown in image.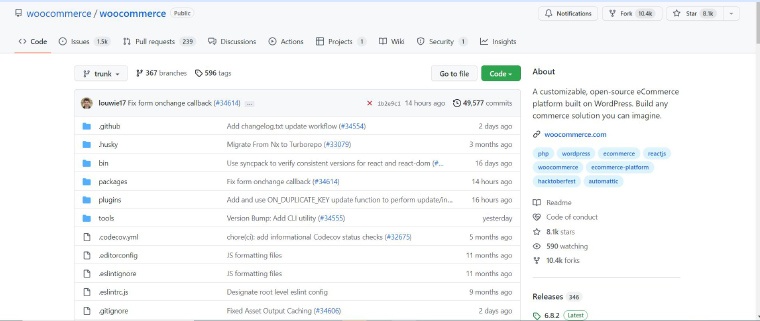 Therefore, to use it perfectly in web development, it is advisable to hire a team of WooCommerce professionals who can help. Besides, the customer service is not personalized with this platform but users do get documentation and training guides.
Magento is an open-source solution that doesn't come with any personalized customer support. But it offers training options, extensive documentation, updated information, user guides, and a forum community that enables the Magento developers and users to handle their Magento Marketplace. The below image shows GitHub community support for Magento.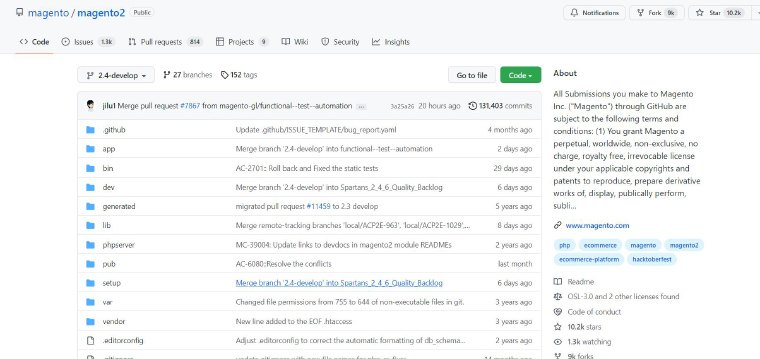 This shows that there are some Magento features that come when you download this platform and it also offers functionalities that can help meet business requirements. But utilizing all these features might not be easy and for that, the users will have to go through various documentation and user guides.
As of last week #Magento is officially @AdobeCommerce. Here's their commerce vision:

💡 "The world's best brands delivering the world's best commerce experiences."

Via Christian Hedge, Dir. Product Management @AdobeCommerce #AdobeSummit pic.twitter.com/sKoad5LRWE

— ShipperHQ (@ShipperHQ) April 27, 2021
Magento always believes in the customer first approach as the former Director of Product Management at Adobe Commerce Mr. Christian Hedge quotes "The world's best brands delivering the world's best commerce experiences."
7. Magento vs WooCommerce: Product Management
When it comes to product management features, WooCommerce enables users to create a product catalog for their online stores by adding various products and organizing them as per their tags, categories, and attributes. One can also add different images and galleries of the products, sell both digital and physical products from the stores, and even sell affiliate products. In addition to this, WooCommerce enables the users to import and export products with the use of a CSV file, and they can also sort & filter the products to make site browsing easy for the customers.
On the other side, Magento is a platform that enables the users to create a product catalog by including products, their types, categories, pricing, and attributes. With Magento, one can even track the quantity of the products and manage the inventory across stores, warehouses, and drop shippers. Basically, Magento is a tool that offers one of the finest features to configure the product settings to facilitate order shipping.
3. Magento vs WooCommerce: Comparison Table
Comparison between both WooCommerce vs Magento –
| | | |
| --- | --- | --- |
| | Magento | WooCommerce |
| Performance | The average page load time of the Magento site is 665 ms. It is faster than woocommerce | The average page load time of the WooCommerce site is 776 ms. It is a bit slower than Magento. |
| Price | It is also a free-to-use platform but the hosting prices of it may differ as per its version. | It is an open-source platform that makes it free to download & install. |
| Ease of Use | Web development professionals can use this platform. | It is useful for non-technical users. |
| Extensions & Themes | There are only 1 free & 4 paid themes and 3600 extensions in Magento. | There are around 10k free WP themes and 60k free WP plugins. |
| SEO Capabilities | It comes with limited SEO features. | It provides stronger SEO support than Magento. |
| Security | It is a highly secured platform. | It is a fairly secured platform. |
4. Magento vs WooCommerce: Which One Is Better?
When it comes to comparing the two most popular eCommerce platforms, both Magento and WooCommerce, there are many factors that play a role in it like the performance, price, usage capability, functionalities, and features of the platforms. These platforms are the best options if you are looking for a platform without a steep learning curve. And if you want to create something from the base, choosing an open-source framework is a great idea. In this case, both Magento and WooCommerce are perfect. They offer a lot of flexibility in comparison to other tools. This means that you can easily create an e-commerce business site in Magento or WordPress.
5. Conclusion
As seen in this blog of WooCommerce vs Magento, both these platforms are the best for creating an online store. WooCommerce is the most preferred platform and holds first place in market share. On the other hand, Magento holds third place after Shopify. Between these two platforms, WooCommerce is used while creating e-commerce platforms and Magento is utilized when it comes to developing large enterprise sites with extreme scalability requirements. So which to choose depends on the type of project and its needs.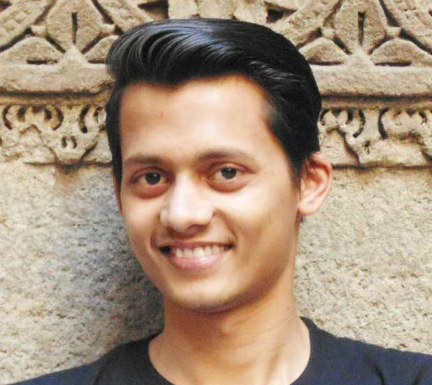 Hardik Dhanani
Hardik Dhanani has a strong technical proficiency and domain expertise which comes by managing multiple development projects of clients from different demographics. Hardik helps clients gain added-advantage over compliance and technological trends. He is one of the core members of the technical analysis team.