Next article
You might find many premium front-end tools and third-party applications to make your way to high-performing business applications. One of the most efficient platforms behind...
A Complete Guide to Magento POS Integration
Table of Content
1. Overview
The next best thing in this pandemic-inflicted world was the ability to get everything online. Yes, the eCommerce industry has simplified its survival by going digital. Online retail stores are easily created because it is backed up by Magento. Magento is a popular, easier, and most efficient way for website development. On the other hand, it is a popular choice among businesses and there are more than 250000 businesses developing their web presence using Magento as it is one of the leading ways to develop integrated and customized ecommerce solutions to meet unique business needs.
Point of Sales aka POS is a third-party system that offers reliable business solutions to businesses in the market. Due to the rapid growth of the ecommerce sector, every online business invests in developing an ecommerce store as a complement to its service based website. POS systems combined with eCommerce come with a common goal of innovating, and increasing revenue, it is nearly impossible to do so without mobile apps.
This blog is a sheer representation of Magento POS works for any eCommerce business. With the help of our India based Magento developers, We will help you with the most incredible ways to use Magento for your own business. Let us start with Magento POS, how to choose the right one for your business, the benefits, and the top ways to use POS software for your business. 
2. What is Magento POS?

To understand the jargon of Magento POS, first take a look at a simple example of how POS works and what is it as terminology. To start with, you must visit offline stores near your home. You take a few items from there and proceed to the cash register.
What the cashier does is scans all the purchased items, and the system creates a receipt based on a predetermined format. This method is called POS because it speeds up and ensures the accuracy of sales calculations.
Now as a result you would have understood that POS is a piece of software that manages the entire shop operation, from the opening of the till to the shutting of the till. Inventory management, purchase orders, daily and weekly reports, and much more are all included. In brief, Magento POS integration can handle all of the payment processes necessary to keep the Magento store running properly. Magento POS integration is capable of handling all of the procedures necessary to keep the online store running properly.
This has brought enough clarity and a sufficient grasp of Magento POS and there are many Magento merchants in the market. In summary, Magento Point of Sale makes it simple to automate all of your day-to-day procedures.
3. How to Choose the Best Magento POS System for Your Business?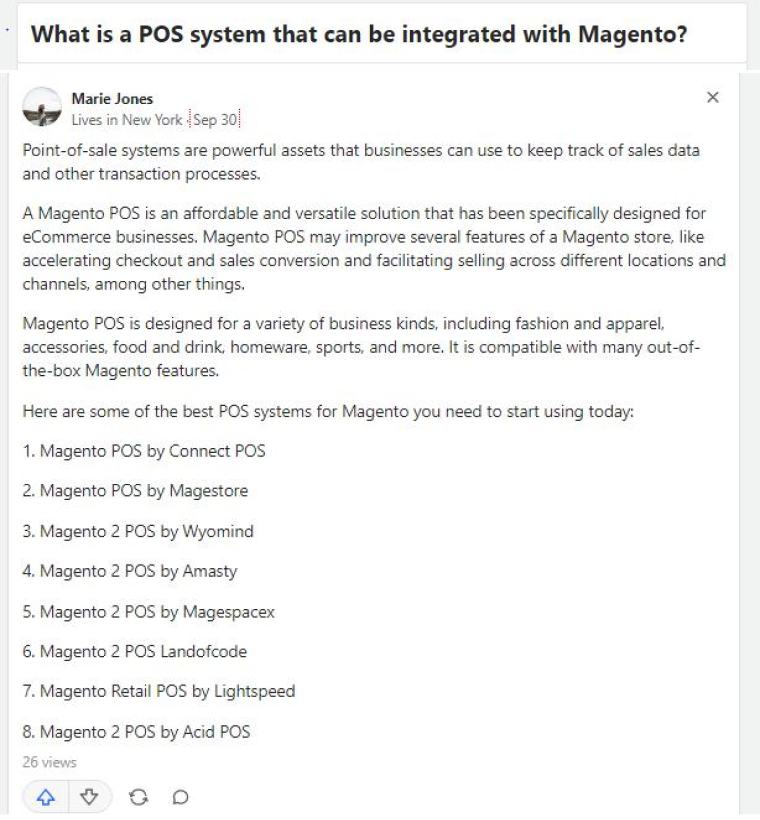 Before we go ahead, let's see what people are discussing about this issue on Quora.
Many Magento retailers in the business know the importance of POS and they also understand what changes will bring to their business. The ideal strategy is to focus on choosing a good POS system that suits your business needs rather than on which POS system that works with Magento. Check sure your selected POS system works properly with Magento technology once you've made your decision. Several POS system vendors supply Magento eCommerce platforms with customized features and other capabilities.
When the Magento system is combined with the correct point-of-sale system, it creates a strong business tool that allows owners to control the sales channel, inventory, and everyday transactions. It's critical to constantly evaluate a Magento POS system's basic capabilities while shopping for one.
4. Advantages of Integrating Magento POS into your Ecommerce Store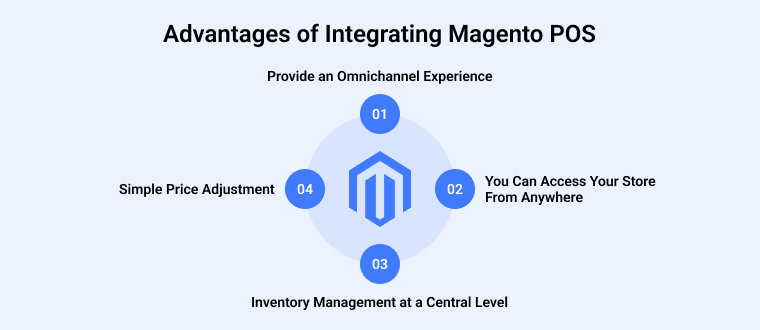 The Magento store gives retailers control over their online store's content, style, and operation, as well as a configurable shopping cart system. It also includes strong marketing, SEO, and sales management options.
Let's have a look at some of the benefits of integrating Magento with a point-of-sale system:
Provide an Omnichannel Experience
If a customer visits your retail store to purchase a certain product and learns that it is presently unavailable, your employees may quickly look for the goods in the online store and send them to the customer's home if it is available. As a result, your client satisfaction will improve.
You Can Access Your Store From Anywhere
If you've combined your Magento store with an Android-based POS system, you can access everything from all data to whole inventory and all the sales transactions both offline and online using most devices from any remote location.
Inventory Management at a Central Level
You'll be able to monitor and manage your inventory from a single window after connecting the Magento store and your POS solution. This will help you save a lot of time throughout the inventory management process.
Simple Price Adjustment
As part of their pricing strategy, most organizations adjust product pricing based on a variety of factors. You may effortlessly alter the prices of your Magento and physical stores from the admin panel.
5. How to Integrate your Magento store with POS?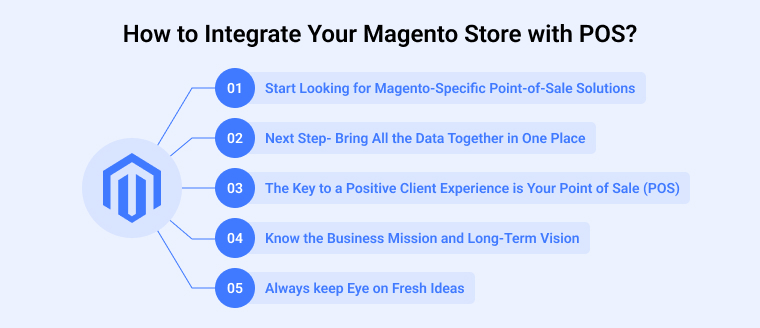 Let's get started on how to integrate your online and offline businesses and why you should. The systems you already have in place will influence your integration possibilities (i.e. your Magento store and your POS). Consider the following methods to aid in your search for the best solution:
Start looking for Magento-specific point-of-sale solutions.
Suppose if you don't have a point-of-sale system, then look into Magento-specific options. You will find many brilliant options when it comes to Magento-specific POS solutions. These companies specialize in Magento, so you'll have less difficulties and workarounds when it comes to setting up and administering your business with POS systems.
Next step- Bring all the data together in one place.
In the integration process, the primary goal of Magento POS connection should be to consolidate all data into a single location. Orders, purchases, and client information may all be accessed and updated from there. A consolidated database can save time and money.
The key to a positive client experience is your point of sale (POS).
Online shopping cannot match the in-store experience. As a result, in the digital era, shops which provide a fantastic brick-and-mortar experience will prosper. For example, quick checkout, a wide range of payment methods, integrated reward points, or a special offer.
Know the business mission and long-term vision
It's critical to select a Magento POS integration solution that will scale with your company. Consider how your firm will appear in six months, year, or in two year, or ten years. When expanding, consider all of the conceivable functions, such as product delivery.
Always keep eye on fresh ideas
You as a business owner should never be scared to experiment and switch things up. If you are a business with an existing Magento or POS which has become obsolete and isn't working for you. So, if you focus on new ideas, you might have to learn something new for it. Learning anything new might be difficult and time-consuming and will demand good efforts for building a solid system that is well worth the effort.
It is very essential for your business to know about the types of POS that you can develop or customize for your business. Here are top Magento POS systems that you can tailor as per your business needs.
6. Top 5 Magento POS Systems to Use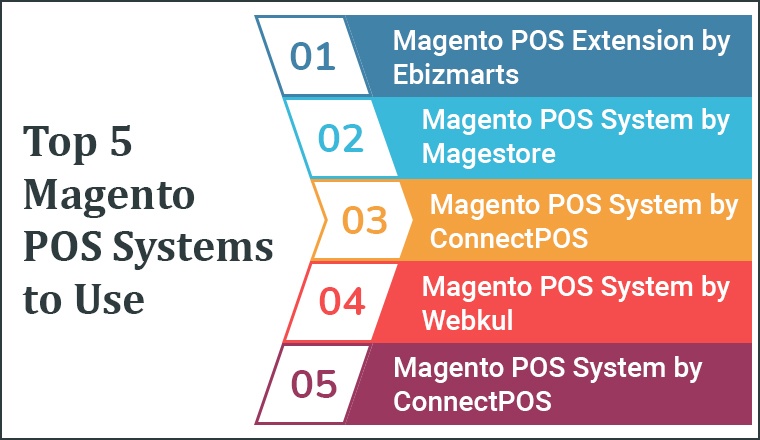 6.1 Magento POS extension by Ebizmarts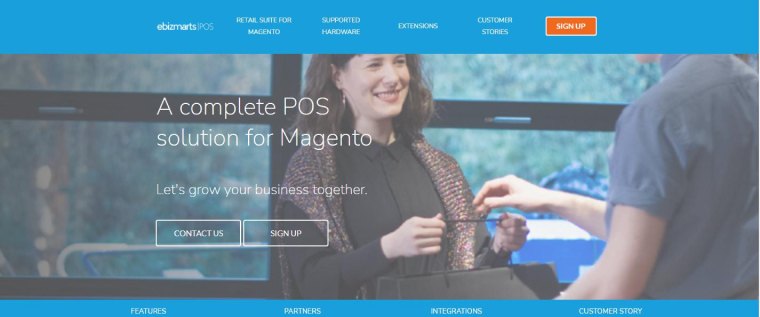 Not to any surprise, Ebizmarts is one of the pioneering companies when it comes to offering POS services. Ebizmarts is an enterprise grade POS extension that allows you to sell Magento products while enjoying a unique omnichannel experience. When you use Magento 2 POS extension, you are using it to manage integrated systems, warehouse, product, order and customer management, and several other critical details and processes. But when it comes to modifications, the POS system is capable of syncing and updating everything in real time.
If you are wondering what makes Ebizmarts different from others in the league, here are some of the notable features of Ebizmarts POS.
It enables a simpler and flexible tax configuration system.
You are free to upload as many images and detailed information or screenshots about the product.
Easily make customization on the look and feel of the store.
Customizes the look and feel of the store such as logo and color.
It can also help to create many users for your store and apply for specific roles.
The compatibility of such features can be easily sourced with Magento 1.x and magento 2.x (open source).
Pricing Details- Ebizmarts offers one type of set up which includes
Enterprise option worth $350
6.2 Magento POS system by Magestore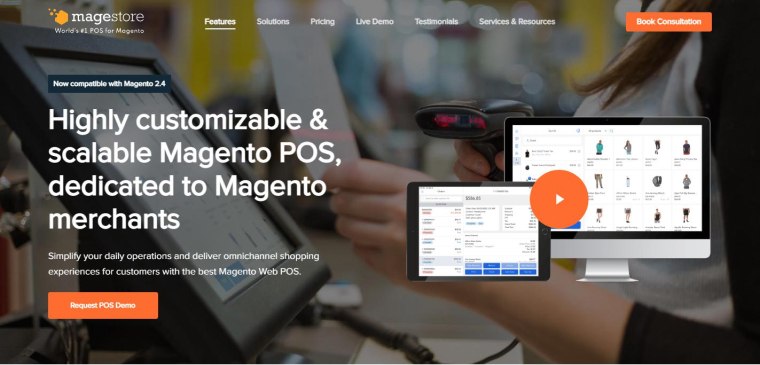 Another prominent name in Magento POS is Magestore and they have been working in favor of Magento from its inception. Magestore can be integrated with the goal of bringing the world's most powerful eCommerce platform into existence among businesses. For a decade now, Magestore has been successfully adding all of the sophisticated features to its POS. This extension allows all the dedicated magento merchants all over the world to give a seamless shopping experience in online and offline stores as well.
In addition, Magestore POS became the first-ever POS to add Progressive Web App (PWA) in their feature lists. This allows a quick and dependable user experience for all your business needs. No additional apps need to be downloaded or you don't need to install any learning app for POS. All you need is a URL and a browser. Magestore POS is undoubtedly offering high performance and user-friendly interface.
You can also refer to the above video if you find it difficult to integrate Magento POS in Magestore
Features of Magestore include
It offers a daily rundown of store activities.
It acts as a one-stop platform for all selling related activities.
You don't have to pay any extra charges for future expansions.
The shopping experience can be customized as per each business's needs.
Pricing- There is a free solution with a limited feature, then there is a one year package of 1000 USD and then 365 days money back offer.
6.3 Magento POS system by ConnectPOS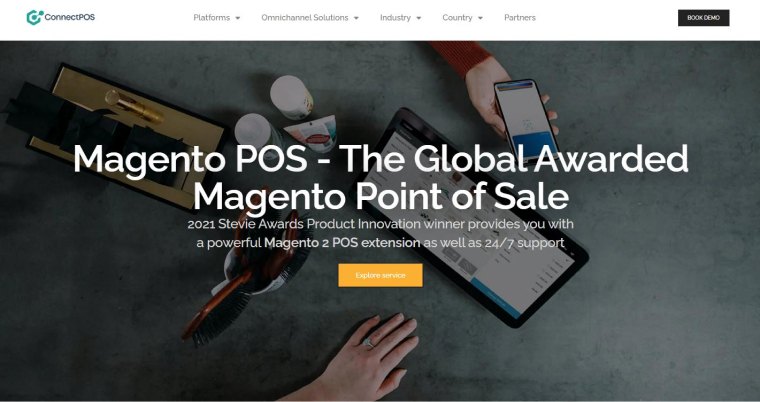 This Magento POS called ConnectPOS is unlike other POSs. What makes it different and unique from others is that this one is a cloud-based POS system that allows online businesses to manage numerous fields like location, inventory, and logistics within clicks.
ConnectPOS simplifies warehouse management as it functions to meticulously keep track of processes in a loop. This POS system is designed for omnichannel merchants and includes unique and user-friendly features. Customized payments, refunds, ultra fast checkout process and exchanges are all accepted. ConnectPOS works with all forms of Magento items when it comes to product organizing and delivery. Some of the salient features of Connect POS system are
You can easily use data from your POS system and also sync inventory in real-time.
Support barcode scanner.
You can integrate multiple payment gateways too.
Create a bespoke order and create a unique order list.
Allow users to self-checkout using the PWA Consumer App as it is an AI product suggestion based on face recognition.
Pricing- Costs ranges from $30 to $230
6.4 Magento POS system by Webkul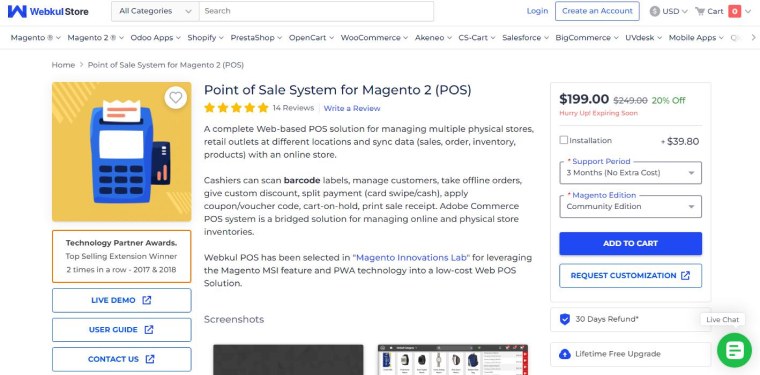 The Webkul Magento POS extension is a brilliant solution for managing many brick-and-mortar stores at the same time. This add-on allows you to manage offline and online Magento stores individually, while data from the online website and all brick and mortar stores are linked with the POS outlet, allowing store employees to easily perform numerous jobs. It automates time-consuming day-to-day tasks in a retail establishment.
Furthermore, this approach allows you to split payments across cards and cash. Customers may choose their preferred payment method and finish the transaction swiftly.
Highlights of the features are inclusive of:
It allows easy checkout which can make the process straightforward and quick.
You are free to do simpler real time data synchronization.
It also supports offline mode.
It works along with barcode scanners, receipt printers, and cash drawers.
Pricing – It comes with an offer of $199.
6.5 Magento 2 POS Solution by Acid POS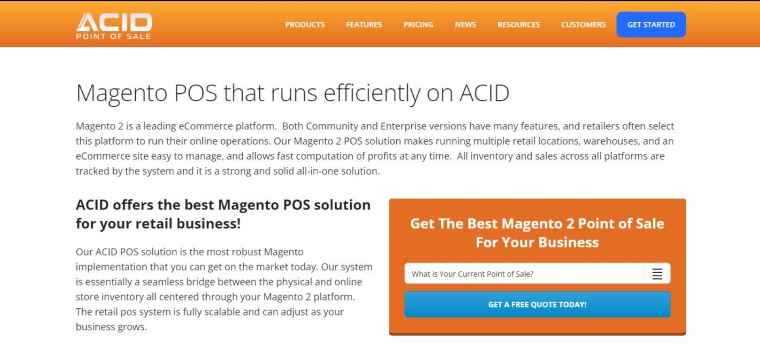 Acid POS offers features that are fully synced with your online stores and provide you with future predictions on the basis of previous sales cycles. Acid POS is used to perform certain functionalities like rapid checkouts, manage multi-store inventory which help you to save your money over time.
Acid POS assists you in migrating your existing store(s) to a Magento 2.3 or higher environment while also giving you complete control. Features of Acid POS include
Compatibility which means it works on all operating systems and/or via applications.
Lightning-quick Checkout is with no delay
Syncing items, gift cards, credits, rewards, and customers in real-time.
Custom smartcard logins and timesheets
Acid POS Hardware made to order (dual pos units, barcode scanners, cash registers, receipt printers).
Scalable with over 250K SKUs for easy management of customers
Continuous inventory, forecasting, and comprehensive custom reporting are all available.
Pricing- Pricing is determined by the number of locations. The most basic bundle is $390 per month.
7. Conclusion
Towards the end of this guide, we hope it brought maximum clarity on what Magento POS is, how it functions, and what different benefits it is capable of bringing to the table. Also, after knowing this list of best Magento POS systems, you as a business owner no longer have to brainstorm much to create a unique customer-centric experience. If you are a business grappled with lackluster store processes, this Magento POS is for you. Make a wise choice from the given options on which one would suit your business the most and you can leverage the best for your business using this high-performing and transformative POS.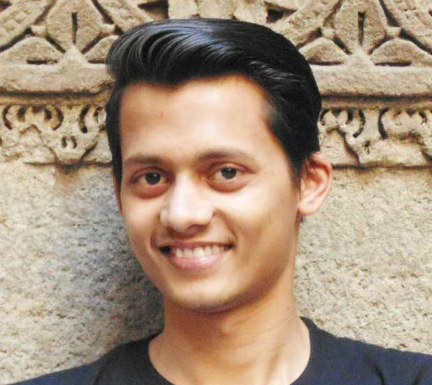 Hardik Dhanani
Hardik Dhanani has a strong technical proficiency and domain expertise which comes by managing multiple development projects of clients from different demographics. Hardik helps clients gain added-advantage over compliance and technological trends. He is one of the core members of the technical analysis team.