How Much Does It Cost To Hire a PHP Developer In India?
After 2019, I won't be able to say that PHP is the best programming language used worldwide but it definitely seems to have scored a big time over all these years. According to W3Tech, 78.1% of all the server-side websites are created by PHP programming Language. This surely means 8 out of 10 websites you probably visit on the internet have been developed by using PHP.  However, it is always advisable to take these stats with a grain of salt.
Table of Content
The following post emphasizes how relevant today PHP is and the significance of becoming a PHP developer and most importantly, how much does it cost to hire a PHP developer in India. Without further ado, let's begin!
1. The PHP Web Market In India
As per the below image, PHP has a way to go in comparison to other web development technologies. Some of the interesting names using PHP include Facebook.com, 360.cn, Wikipedia.org, WordPress, Pinterest, Zoom.us, and the list goes on. Also, the latest version of PHP turns out to be way faster and better as it stacks up favorably against all other programming languages. Beyond that, some extravagant features like combined comparison operator, null coalescing, new type hinting, anonymous classes, nullable types, iterable and void returns, multi-catch exception handling, trailing commas, etc make PHP a cut above.
1.1 Brief history about PHP versions
As we all know, the popularity of PHP is increasing day by day and is a widely used programming language since its inception. It is an open-source development platform that has HTML codes in its scripting. Since the first version of PHP was released in 1994, there have been more than 5 versions related to PHP upgradation purposes. Let's discuss all the PHP versions in detail.
PHP version 1.0
As we mentioned earlier, PHP was initially released in 1994 by Rasmus Lerdorf. He used C as a scripting language to work with web forms and databases so he extended these code specs which is called Personal Home Page and wrote several Common Gateway Interface programs as well. 
This first version of PHP already had several basic functionalities such as form-handling capabilities, Perl-like variables, and the ability to work with HTML. The syntax was also identical; however, it was simpler but not consistent.
PHP version 2.0
The first PHP version was not well-refined and consistent enough for the developer community when it was released for public usage in 1995.
But as its popularity continued to increase, a formal developer team was created to work on the inconsistencies and make it a better version. Once the inconsistencies were resolved, the updated language was released in 1997 and that was PHP version 2.
PHP version 3.0
As the popularity of PHP grew, it drew the attention of Andi Gutmans and Zeev Suraski. 
Later on, in 1997, Andi Gutmans and Zeev Suraski rewrote the internal PHP parser and 
In 1997, Zeev Suraski and Andi Gutmans rewrote the internal PHP parser and created the primary structure for PHP 3.
In 1998 the official version of PHP version 3 was released after public testing was done.
Later, both of them planned to rewrite the core PHP and from that, they created the Zend engine in 1999 which led to the foundation of Zend Technologies in Israel.
PHP version 4.0
In 2000, PHP version 4 was released by Zend Engine 1 for public usage.
This version has evolved and reached 4.4.9 but it is no longer supported for security updates.
PHP version 5.0 and 6.0
In 2004, this was released and was powered by Zend Engine 2 including new features, functionalities, and better support for OOP and PDO extension which provides a lightweight interface to software developers for accessing a database as well as many other improvements when it comes to application performance.
In December 2018 when PHP version 5.6 was scaled up, the official support for PHP security ended but Debian continued to deliver security support until 2020.
When software developers started using PHP 5 for application development, it was realized that PHP 5.0 doesn't have sufficient support for Unicode encoding. Due to this reason, the developer community had mixed opinions about it.
In 2005, Andrei Zmievski took the responsibility to overcome this issue and launch a new project to embed Unicode support throughout the PHP system. So to achieve this, he included International Components for the Unicode library.
In March 2010, PHP version 6.0 was released which came up with features like traits and closure binding and left the developer community hoping for efficient Unicode integration.
PHP version 7.0
In 2016 and 2017, PHP experienced significant transitions, and all those transitions were updated and released in PHP version 7. 
But the PHP Unicode project was not officially released, still, some books referenced it and addressed it as PHP version 6. If an actual release would have taken place as PHP version PHP, it would have completely confused the developer community so it was decided to release this update as PHP version 7.0.
This is the current PHP version based on phpng which stands for PHP Next Generation. It was an initiative by developers to make the previous PHP versions more effective. The phpng branch served as the base branch for PHP version 7.0.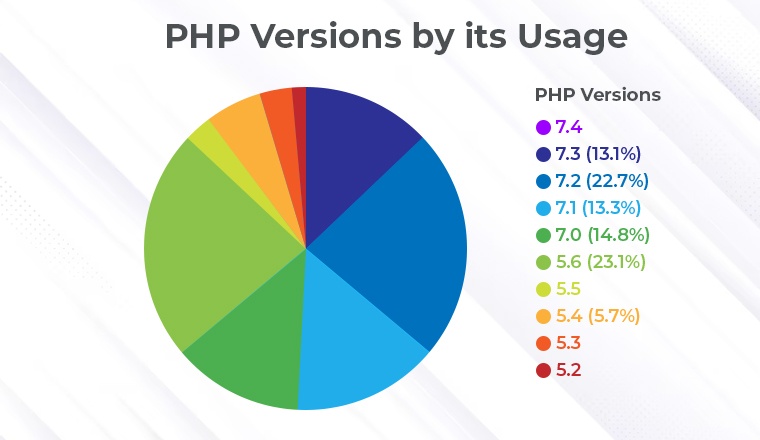 And trust me 79% of usage doesn't sound like a dead language to me at all. Moreover, it has been observed that the number of PHP developers applying for the job has increased over the last few years. This surely means people are keen enough to not just learn the language but make their careers out of it. On and all, no matter how overshadowed PHP can get by other development platforms such as Python or JavaScript, but this technology has somehow been condemned to death more than once and still managed to get back in the race stronger than before.
1.2 Benefits of PHP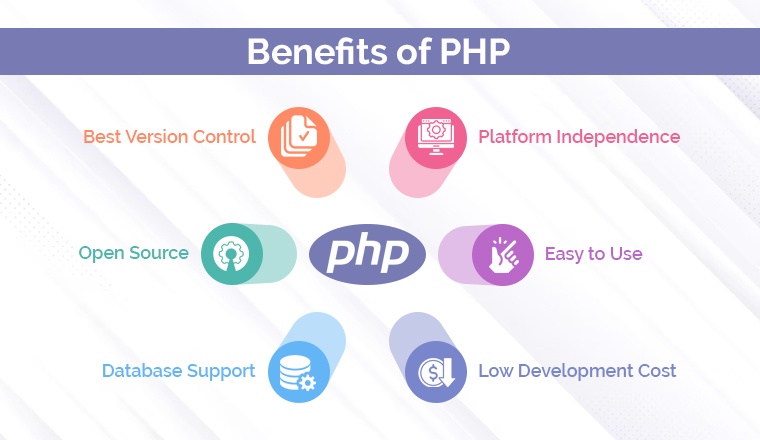 Could it be the new age demand? Most probably yes! Now since we all are well aware of the fact that if you can make it online, you have won it all! So expanding the aura of your business online means a sure-shot way to succeed but what about the cut-throat competition around? Well, whether you are designing or developing a website, both of the phases are equally important, none of these can be ignored or underestimated. PHP itself being a server side scripting language not just secures but also ends up being fast and reliable too. So, what makes it an apple of the new generation?
Easy to use. Budding developers can quickly learn.
Mainly known for its best control. I mean all you need to code is a few lines and everything is done. Whereas other programming languages require long scripts for coding.
It seems perfect for Oracle, Sybase, MySQL and so on databases.
Run-on several platforms like Linux, Windows and more.
PHP also gets along with open-source software integration like Joomla, Typo3, osCommerce, Drupal, etc.
No need to buy high-end software to run PHP as it is open source and does not put an extra burden on your pocket.
Choosing a PHP development company or PHP developers that serve you the relief from the web management headache is the only option one has. Saying that would not be wrong, there are many talented PHP developers out there, and it's you who need to make the right choice!
2. Cost of Hiring a PHP Developer as Per Their Skills
Here comes the crucial part – salary or pay. Normally, salary mainly depends on their skill set, years of experience achieved and other factors. Such as portfolio, ability to communicate effectively and accomplish deliverables right on time.
| | |
| --- | --- |
| Level of Expertise and Skill Set (%age) | Salary |
| 10 | Rs 110K |
| 25 | Rs 150K |
| 50 | Rs 240K |
| 75 | Rs 360K |
| 90 | Rs 520K |
In addition to this, what level he is at present also plays an important role and a crucial deciding factor in regards to paying. For example, the seniority level gets $80K as pay whereas a Middle-level developer gets around $60 to $70K and as a Junior-level developer, it lies around $50K.
Freelance developers: The cost of hiring developers for your project will lessen while having freelance developers. Developers who're working full-time out of your office will require a lot of resources like workspace bonuses, insurance, and so on. This is the main reason why several companies choose to hire freelance developers rather than hiring full-time developers.
Mid-level developers: Mid-level developers have skills in more PHP frameworks and have a fundamental knowledge of backend servers. They are middle-level developers who're on their way to becoming advanced-level developers.
Full-stack developers: Full-stack developers are professionally skilled in both frontend and backend development. They're experienced enough to work easily with ReactPHP, Twig, and Blade.
What is the Average Hourly Rate of a Developer?
An average hourly rate for a junior-level PHP developer would be $20 whereas for middle-level it is $30. And for a senior-level developer, it is $40 to $50 per project. Also, if the programmer is skilled in Drupal then his average rate might increase by 10% whereas for Magento, ASP, Angular, Symphony, .Net, ajax, DHTML, it is somewhere around 3% for a project.
The cost of services provided by PHP developers is based on their skill set, previous projects, and years of experience. Other factors include portfolio, communication ability, and the ability to complete deliverables before reaching deadlines.
Have a look at a rough estimate of PHP developers in India based on their expertise and skills:
| | |
| --- | --- |
| Level of expertise and skill set (%age) | Salary (approximately) |
| 10 | Rs. 110k |
| 25 | Rs. 150k |
| 50 | Rs. 240k |
| 75 | Rs. 360k |
| 90 | Rs. 520k |
The range of payscale for PHP developers in India also depends on the level of seniority.
| | |
| --- | --- |
| Seniority level | Annual salary |
| Junior-level PHP developer | $50k |
| Middle-level PHP developer | $60 to $70k |
| Senior-level PHP developer | $80k |
Here are the hourly rates for PHP developers:
| | |
| --- | --- |
| Seniority level | Average hourly rates |
| Junior-level PHP developer | $20 |
| Middle-level PHP developer | $30 |
| Senior-level PHP developer | $40 to $50 |
Apart from developers' seniority level, years of experience, and skillset, it is also determined keeping in view the additional skills they possess. These skills commonly include skills in HTML, PHP, JavaScript, MySQL, jQuery, etc. The additional skills include the following:
| | |
| --- | --- |
| Skills | Percentage increase in salary |
| Drupal | 10% |
| DHTML | 3% |
| Magento | 3% |
| ASP | 3% |
| .NET | 3% |
| Angular JS | 3% |
| Symphony | 3% |
| Ajax | 3% |
| ColdFusion | 3% |
3. Is It Good to Outsource PHP Development Solutions?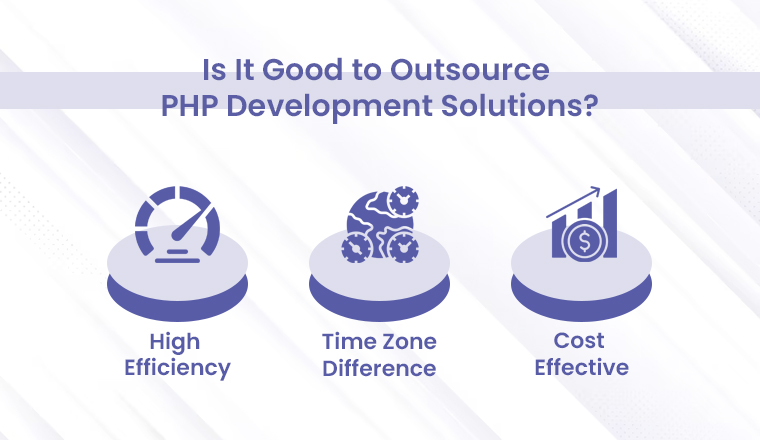 Outsourcing PHP development services to countries like India is not a new concept though. It has been done for decades. The only difference is that earlier people used to migrate from one end to another to provide relevant development services but not anymore. Services from countries like India, Vietnam, Philippines seem to be outsourced on a grand scale. And without a shadow of a doubt, PHP development services hold a major share in it. Further below I would like to mention a few advantages of hiring a PHP development company or a developer from India.
3.1 High-Efficiency
First and foremost reason is high efficiency. Whether you choose a company or a freelance PHP developer, you will find them confident and highly efficient in what they do. Also, they will be reliable in terms of workmanship. Though India is a developing country but has proved itself to have highly skilled professionals and polished with greater dedication towards end solutions.
3.2 Cost-effective
Of course, Price is another major concern and here a PHP developer tends to offer services at pretty much lower prices and thus there can be a lot of cost-cutting in the project. However, lower prices in no way mean lower quality of work. Instead, they provide highly efficient solutions at a lower price as compared to any other country in the world.
3.3 Time-Zone Difference
Now you must be wondering how hiring a PHP developer who has a different time zone can be beneficial? Well, businesses that have time zones different to India do their part of work in their working hours and the hired Indian companies do their part on their own. This allows the app development project to be running 24×7 and thus get completed in less time.
4. How to Hire a Good PHP Developer for Your Upcoming Project in India?
Hiring a PHP developer in developing countries is no big scam but it can be one if not done in the right manner. The most common way of hiring development solutions is by choosing a company as a whole. By doing this, you will receive several app development profiles at a time. Moreover, you can shortlist different CVs and call relevant development candidates for an interview.
Apart from this, you can even seek assistance from relevant development portals, especially the ones which connect job seekers and recruiters both at once. These development portals end up creating a win-win situation as the job seekers are able to post detailed portfolios and references so that the recruiting agents can go through their profiles. One can narrow down the search result by using filters. This helps a lot when you hire a PHP developer professional.
Some of the best portals to consider include TimesJobs.com, Monster.com, and Naukri.com. Other famous platforms with a large pool of impressive professionals include Upwork, Toptal, LinkedIn, StackOverflow, etc. These platforms offer you individual developers as well as agencies so that the required website is developed.
Now choosing a web developer can be a difficult thing to do since you might get overwhelmed after looking at so many web development options around. So what can be done is a few requirements can be scanned before you hire a PHP developer for your project such as:
Requirements to Check Before Hiring PHP Developers
He must have a comprehensive and in-depth knowledge of Core PHP.
The Programmer must have hands-on experience of working on popular frameworks such as CakePHP, Laravel, and Symfony.
He must possess great front-end skills in HTML and CSS.
The PHP developer must be able to work on SQL/MySQL databases and have a good understanding of JavaScript concepts to deliver outstanding web app development solutions.
He must be good with deadlines and milestones.
Apart from delivering on-time solutions, he must possess strong communication skills.
5. Conclusion
So this is it for now! In case you are looking for a reputable PHP development company, feel free to get in touch. Here we ensure to provide the best possible solutions from our doorsteps.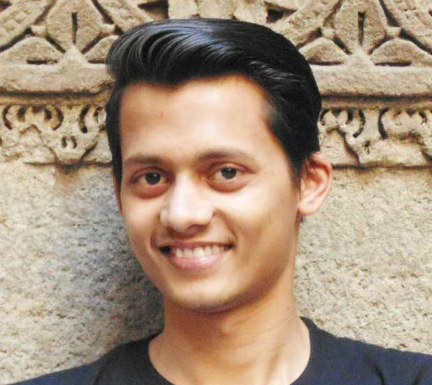 Hardik Dhanani
Hardik Dhanani has a strong technical proficiency and domain expertise which comes by managing multiple development projects of clients from different demographics. Hardik helps clients gain added-advantage over compliance and technological trends. He is one of the core members of the technical analysis team.