How to Estimate Web Development Cost?
Table of Content
Have you ever thought of the fact that the ratio of your online success or failure could be determined within 5 seconds of a visitor landing on your business website? Maybe that's the reason why it has become so important to build a website. And not just any website, a platform where users could easily navigate and don't switch to other websites.
The following post focuses on tips to keep in mind when building a new website and how much it costs. Fortunately, there are several PHP developers in India that strive hard to offer the best possible services from their space but before you choose one it is advisable to do some homework regarding the same prior.
1. Factors Affecting The Website Development Costs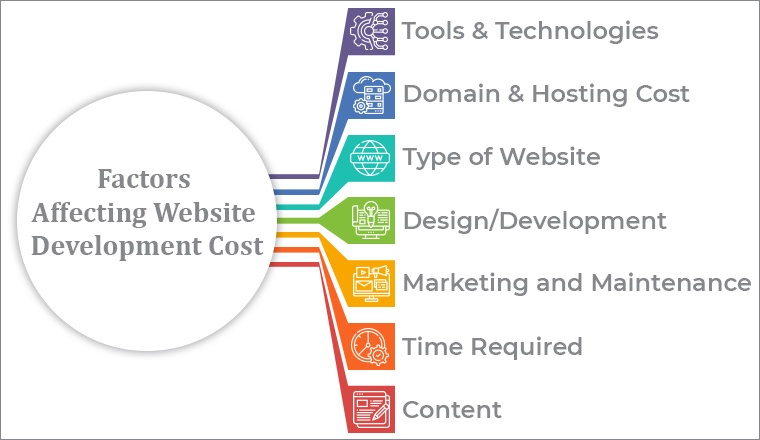 Some of the major factors that affect the cost of developing own website are –
1.1 Tools & Technologies
Technologies like databases, CMS, programming languages, and more play a very important role in the cost to build a website. As per the selection of web development languages, the website cost may vary. In addition to this, the average website development cost also depends on the usage of external resources like tools, apps, plugins, and platforms.
1.2 Domain & Hosting Cost
Another factor that affects the website development cost is the domain and hosting platform. A domain is the address of your online business website and Web Hosting is the place that allows one to host the site on the internet. These two are the most crucial aspects and because of that, they must not be neglected while counting the website cost.
1.3 Type of Website
As per the type of website, its planning is done. And as per the planning, the website building starts and the website cost varies as per that. When the website content is simple or static, the cost to build a website will be less. But when it comes to creating a complex eCommerce website, the cost of development is much more.
1.4 Design/Development
The main process in web development is to design and develop the website by keeping all the user requirements in mind. So basically, if the business firm decides to get a business website created within the organization or hires a professional web developer for it, the costs involved will be high for both.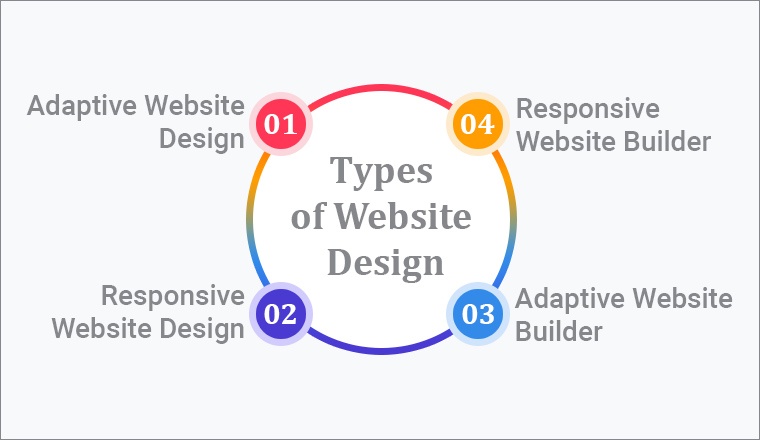 1.5 Marketing And Maintenance
Maintenance is something that is very crucial for any website to work smoothly. And for that, the web development team has to offer constant support for routine website maintenance. This can cost a lot as the team members will handle the system and regularly update it if needed. Besides this, digital marketing is something that is also very important to make the website popular amongst the users. Website marketing costs can vary based on various factors.
1.6 Time Required
There are many different types of business applications that are created for various purposes. This means that each new website that is developed by the web development company has its own aim. For instance, there are business websites, informatic sites, eCommerce websites, and more. To create such sites, a proper selection of graphics, fonts, content, and digital linkups is required. And to place all these things is a difficult task which definitely requires a lot of time.
There are many landing pages, slides, and many more things that require a proper plan for execution. All these things can take a lot of time. Therefore, the time requirement is known as the major factor that influences the entire cost of website development.
1.7 Content
The last thing that affects the cost of the website is the content. Every professional website has to have proper content that can explain the business and its services clearly to the users. This is why professional web development companies also offer some amazing marketing services. The content completely determines the website. But to specify everything and market the product in the right manner, businesses will have to spend a lot of money.
2. How much does it cost to build a website?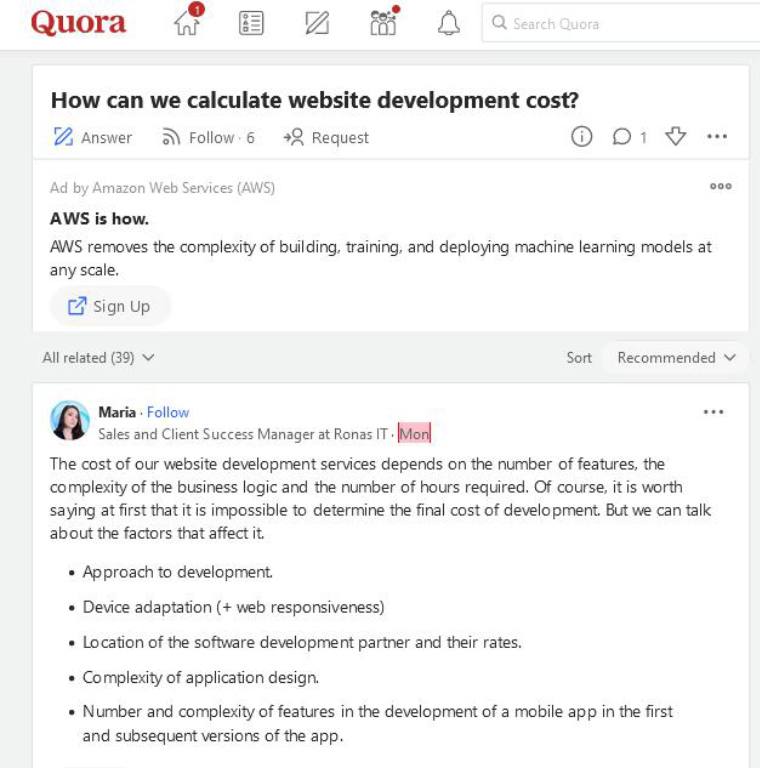 Well, there is no easy solution here. Because not all requirements are the same then how could one aspect of all solutions be the same? Still, we have tried to come up with some basic understanding of determining how much it costs to build a website or an online store. Also, there is no one kind of website where you can create a blogging site or a small business site, an eCommerce website, a custom website development for large enterprises – each with different functions. Without any further ado, let's delve into the details!
As per survey from webhostingsecretrevealed.net, estimated cost of website development is as shown in below chart.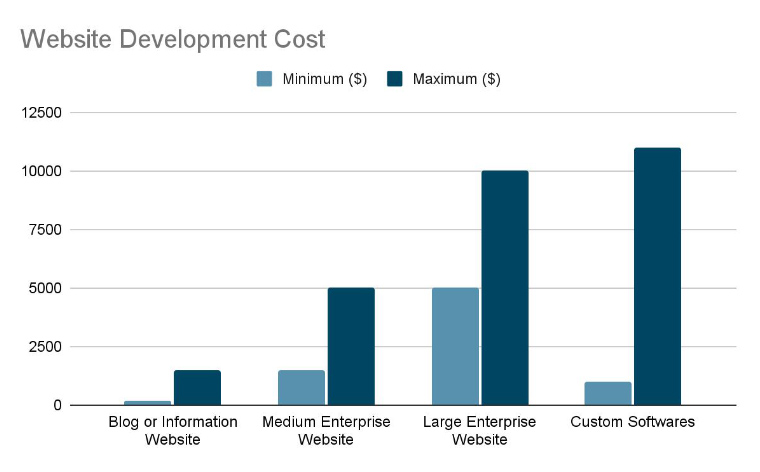 2.1 Website Design Cost for a Blog
Unlike building a custom website, a blog turns out to be one of the easiest types of website to develop. Here you get various types of website builders for creating one, they might be either free or paid. The final cost depends on which option you go with.
There is no specific range for blog creation. It can be developed for even $80 as well as $5,000. Wondering why? Well, there are numerous factors that assist in determining the development cost to build a blogging site. All mentioned-below.
If you go for WordPress – It's an open-source Content Management System that is mainly used to create informational sites. The platform is pretty easy to use and offers a wide range of themes and plugins for your assistance.
Structure of a Blog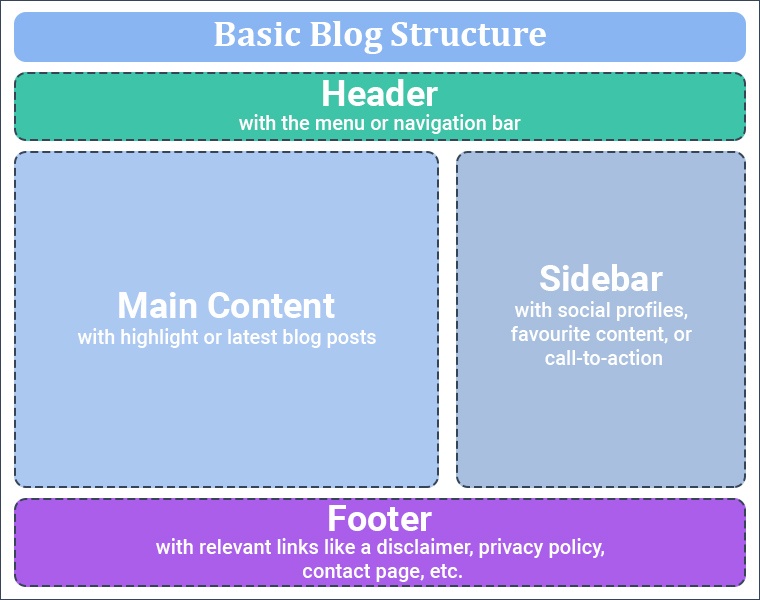 Determining website development costs here –
Domain Name – $15 per year (approx)
Website Software: $0 (using WordPress Open Source)
Hosting: From $10 per monthTheme Setup: $160-$200 one time (depending on if you choose a free or premium theme)
Total: $200-$300 (or more) one time.
2.2 Small Business Website Development Cost
The next web development option is to build a website for your small business. If you are a startup or a small business, you will need something like 5-7 web pages featuring your services, contact us as well as blogs. You can choose PHP for web development if you want to build a cost-effective website or application for startup businesses. One startup entrepreneur named Sherry created a very interesting thread on her twitter handle which gives clear ideas for every small business owner to evaluate website development cost.
Before you start a new business keep in mind the startup costs.
Consider things like:
Business registration fees
Branding costs
Website hosting + development costs
Specialized tools or equipment
Product research, investment etc.

— Sherry—The Biz Starter 🚀 (@ThinkDesign_Ed) May 26, 2022
So in a nutshell, you might fall into the range of $500-$10,000. The precise rate cannot be determined especially when you aren't sure of your design, features/functionalities, and other technical aspects. Also, here you need to seek support and website maintenance as well which might cost you $180-$1,000 yearly.
It is always advisable to seek assistance from a reputable web design agency or a freelance web designer/developer that is trustworthy and transparent in its procedures. Apart from that, if you are tech-savvy and know concepts like web design or web development then you can build it yourself with the help of a website builder.
All you have to do is:
Get a hosting plan
Buy a Domain Name
Download and install WordPress.org
Choose and customize a website theme
Add plugins
Write the content
Hit publish!
Upfront website development costs:
Domain: $15 per year
Host: $120 per year
Website development and Design: $0-$1000
Functionality: $720-$1800+
Total: $900-$3000 (or more)
Apart from this, it may quite interest you to know that a website builder can provide out-of-the-box functionality for building a website without any coding.
2.3 eCommerce website costs
Selling things online has become the new norm and nothing works wonders than having an eCommerce store. It's more like your external identification. Every Ecommerce website has a particular structure that they might follow to get more leads. Below image shows how a structure of an eCommerce website should look.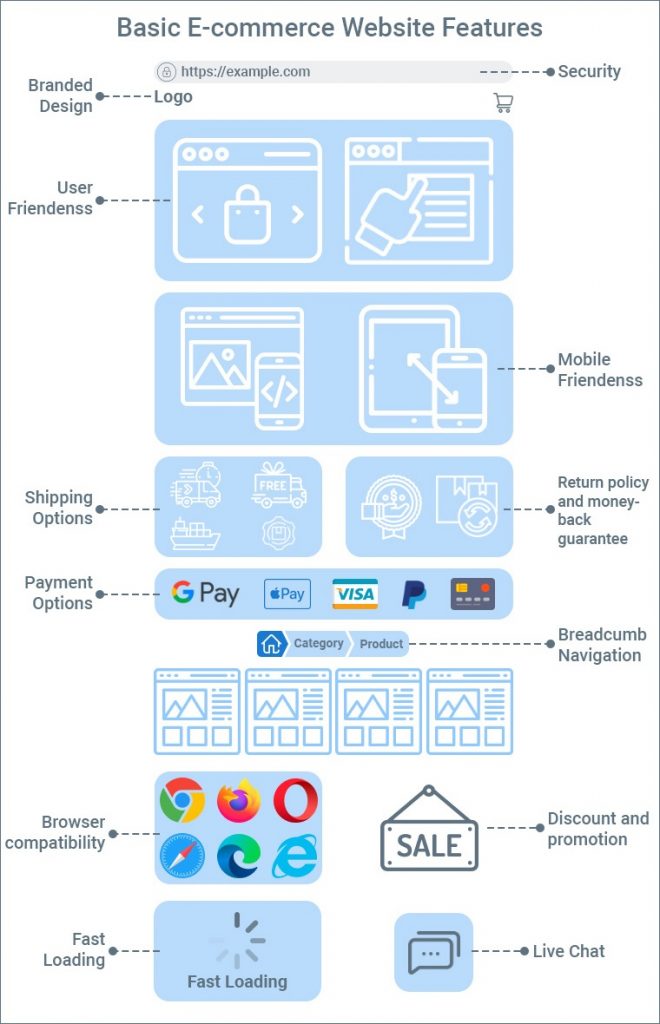 All you have to do is choose a secure eCommerce platform. How much will it cost, you may ask? Well, it solely depends on how you plan to scale your website and what functionalities would you like to add to it. Those are certain factors that affect the cost of Ecommerce websites which are mentioned in the tweet below from @avalara.
Here are 6 major costs to consider when starting your #ecommerce business:
– Website development
– Multichannel #marketing
– #Salestax compliance costs
– Ecommerce #software
– Customer service
– Customer research & surveys
Learn how to budget for them: https://t.co/rQtYfYsAuQ pic.twitter.com/tXiSsqgsab

— Avalara (@avalara) September 19, 2022
If you choose Shopify, then it goes approx $400/year to build and run an eCommerce store. Whereas if you consider Amazon, eBay, – their annual cost can reach six to eight digits.
2.4 Custom Web Development costs for Enterprises
Enterprise web solutions are full-fledged, feature-rich, and have the potential to integrate well with other business systems. As per Quora user Andrew Osipov, cost of custom development projects can very on various parameters and tech stacks. Take a look at what he says:

An enterprise web solution can cost $90,000-$180,000 to develop. Of course, here the maintenance and search engine optimization costs are excluded.
2.5 Hidden Costs of Website Development
When it comes to creating a website, there are many hidden costs attached to it and these are the costs that every web design agency & business owner has to handle. These costs are –
Maintenance Cost
Marketing Cost
For instance, a simple website can cost around $15,000, its maintenance can cost x2 of the initial price. And when the marketing is done, the cost of the website actually turns about to be $30,000-$40,000 annually. To understand it clearly, let's go through some details –
The Maintenance costs
Maintenance cost includes the speed, protection, and uptime of the website. And the complexity of the site increases the cost. Let's have a look at the maintenance costs of the website –
Website hosting
SSL
Domain
3rd party integrations
Cloud maintenance
Infrastructure costs
Storage costs
Servers
The Marketing Costs
Marketing is a very important concept in the web app development process as it enables businesses to reach a larger amount of audience. And to do it right, there are founders who create landing pages, Instagram accounts, Facebook pages, and more. Marketing of a web app comes with various aspects like link building, content marketing, and SEO.
Search engine optimization (SEO) is a concept that means preparing a site as per proper regulations and norms that are decided by the search engines. They help a site to rank better on Google.
3. Why is it Difficult to Estimate the Website Development Cost?
When any business owner hires a web app development company or freelance web developer, the main goal is to get a perfect website within a pre-decided budget. Therefore, they come up with a ballpark figure and give an idea about it to the development team.
But the issue with website or application development is that the cause of the website is intricate. The reason behind it is that website development cost differs as per factors like website type, size, usage levels, complexity, technologies used, and more.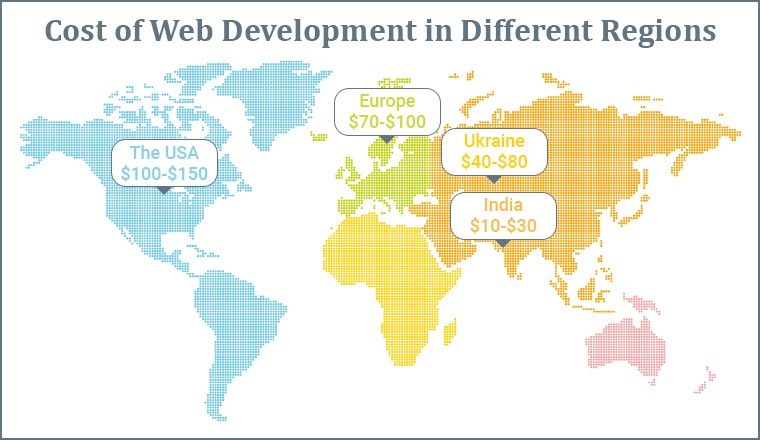 And even if both the parties, the business organization, and the development team discuss these factors, there are things that will come at the end time and the team will have to work on them. This makes it difficult to estimate the actual cost of the website development process.
4. Conclusion
You see, with the help of websites, you won't be missing out on any digital opportunities. And running any business without a website is almost like running all over without wearing any clothes. So what are you waiting for? It's time to get started!
5. FAQs
1. How Much Does a Basic Website Cost?
Web app development services like frontend and backend are very costly and they vary from $10,000-$15,000. Besides this, it also includes a rate of $40/hour that is for UI/UX designing or QA. Besides, the most basic website development charge starts from $60,000.
2. What is the Price of a Custom Website Design?
The cost of website designing can range from $3,000 up to $20,000. And the web design price varies on different factors like the level of web app's interactivity, the number & complexity of web pages, and responsiveness.
3. What is the Difference Between Local IT Firms, Offshore IT Agencies, and Freelancers For Web App Development?
These are the three most popular vendor options from which any business owner can choose for website development. The price of each option differs. The cost of freelance web development ranges from $3,000 to $6,000. They are responsible for the entire website. Besides this, a professional IT company or offshore offers high service quality and its costs start from $18,000.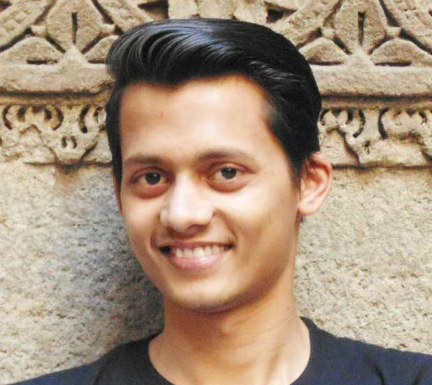 Hardik Dhanani
Hardik Dhanani has a strong technical proficiency and domain expertise which comes by managing multiple development projects of clients from different demographics. Hardik helps clients gain added-advantage over compliance and technological trends. He is one of the core members of the technical analysis team.