Next article
With the dawn of 2020 & COVID-19, Work From Home is no longer a luxury or exception; it has become the way of living especially...
Top 10 Front End Development Tools to Keep an Eye on
Call it exciting, in-demand and a high-paying career – Front-end Development is here to stay! Now imagine yourself walking across the street and you find amazing looking shop fronts, shining and beckoning, grabbing your attention for a while. As a result, you end up walking inside.
Table of Content
Similarly, while surfing the internet when you happen to come across an intimidating website; you open it then and there. The question is how the magic happens? Simple, the moment when you are able to figure out what's inside and how these important elements interact with you; that's it! And this is only possible when you excel at front-end development procedure.
1. Introducing Front-end Development
Have you come across Angular development, Reactjs development for a responsive design website, Vue.js, Flutter and Ionic or cross-platform, Bootstrap, these all are one of the leading front end technologies mainly responsible for how the design actually gets implemented on the web. By using the browser, one can easily see as well as interact using the browser. Not creating an unsightly appearance might drive away businesses. 
Often known as client-side programming, it plays a very crucial role in the success of web development incorporating all the visual aspects of the website that a user can see and experience. The Three Foundation Pillars of the front-end web development process are:
HTML – Probably works as an organizer stating how well-organized your site is. 
CSS – Cascading Style Sheets (CSS) can be considered as your very own stylist which keeps on evolving. In a snap of a finger, it is possible to create a website by using CSS front-end frameworks like Foundation or Bootstrap.
JavaScript – When utilized as an advantageous instrument for making site pages more intuitive is presently the most omnipresent client-side technology. 
In the ever-changing advanced world, end clients are seen looking for simple-to-utilize applications with current,robust, intimidating highlights. By joining the dots, i.e. development, UI, and research & analytics, associations can make a seamless experience from the customer's fulfillment viewpoint. Further below we would like to mention certain factors/reasons emphasizing on the significance of front-end development from a business perspective.
2. Importance Of Front-End Development For Business Success
First Impression
A business web page is often considered as the first impression creator and if done right, it can work wonders. Do you think that for creating a better first impression, attractiveness is enough? Probably not!Other than a beautiful allure, it must act as the mirror image to the business' profile, the way a first meeting conveys a character, making it a significant first appearance.
Convey the Purpose
It may quite interest you to know that creating a user-friendly, welcoming web experience and creating an aesthetically pleasing website that conveys the businesses true purpose are two different things to do. Many of you get baffled while understanding the purpose as the design and graphics of a website does not justify it. 
Drive Performance
Slow pages and applications disappoint guests, especially the ones who are into looking for choices. However, pages with quicker loading speed bring about guest commitment intensification, retention, and further, boosting deals. Immediate site reaction prompts higher conversion rates. In this way, optimized performance is one of the business advantages of front-end web development.
Of course, those who haven't worked directly with concepts like web development, front-end/ back-end might find this trickier to wrap your head around whereas for others it's a no biggie! And this post is for the latter category; i.e. Angular developers, Vue, ReactJS developers – all those who are well-versed with front-end technologies.
3. Top Front-end Web Development Tools to Consider
With web development technologies moving fast; it can be extremely overwhelming to pick the right one – this is true in every case for businesses and Angular developers. New ones keep popping up and old ones become obsolete. Does anybody remember the eclipse or the visual studio code? Yes, front-end development has been gaining momentum like never before.
Being a reputable Angular Development company, we do understand the need for enhancing graphical user interaction, site efficiency, interactivity and look & feel to gain the competitive edge. Here we have shortlisted top front-end development tools used by us to succeed.
(Insider Info: Most of our picks are completely free so you can step up without settling up!)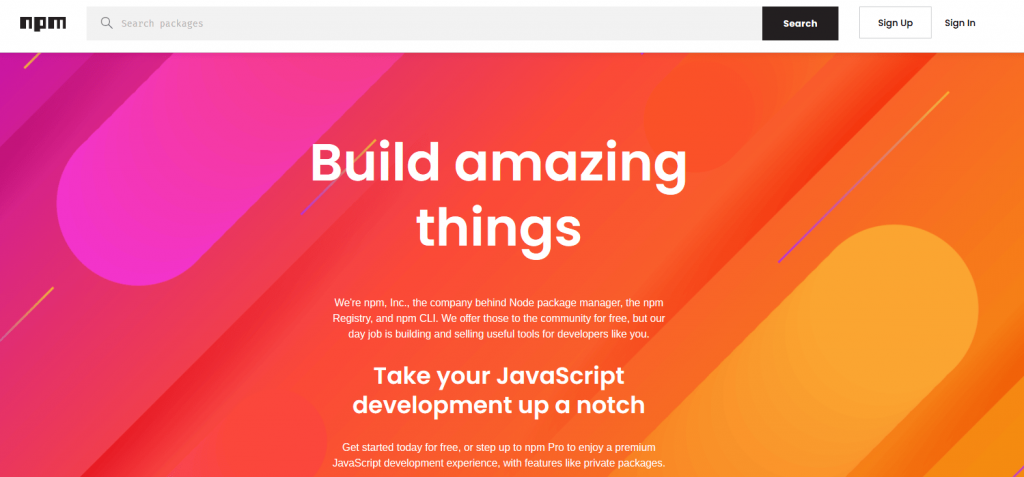 Being primarily considered for JavaScript code, the Node Package Manager helps engineers to find various bundles of reusable code and combine them in incredible new manners. The front-end web development tool is enthusiastically suggested as a command line utility for communicating with a said archive that guides in the bundle. Directly from finding and utilizing more than 470000 free code bundles in the vault to empowering code discovery and reuse with groups, distributing and controlling access to the namespace and oversee public and private code utilizing a similar work process are a portion of the significant advantages of utilizing NPM. Pretty interesting, right? 
Irrespective of the size of your business (large or small), Chrome Developer tools are available for all at absolutely free of cost. As the name suggests, it offers a set of front end development tools which are built into Google chrome for Angular developers.
Whether you want to perform debugging of JavaScript library, Apply styles to HTML elements and optimize website speed, Chrome Dev Tool is the right choice to make. The only drawback is this one can be used with one browser only.
Some of its interesting features include:
Inspect Network Activity 
Optimizing speed, analyzing runtime performance and diagnosing forced synchronous layouts become viable due to performance panel functionalities. 
With security being a major concern these days, Chrome Dev Tools feature Security panels where the tool itself is responsible for understanding Security Issues. 
Memory panel, Elements panel, Sources panel, Network panel, Console panel, and the Device mode are other features worth considering.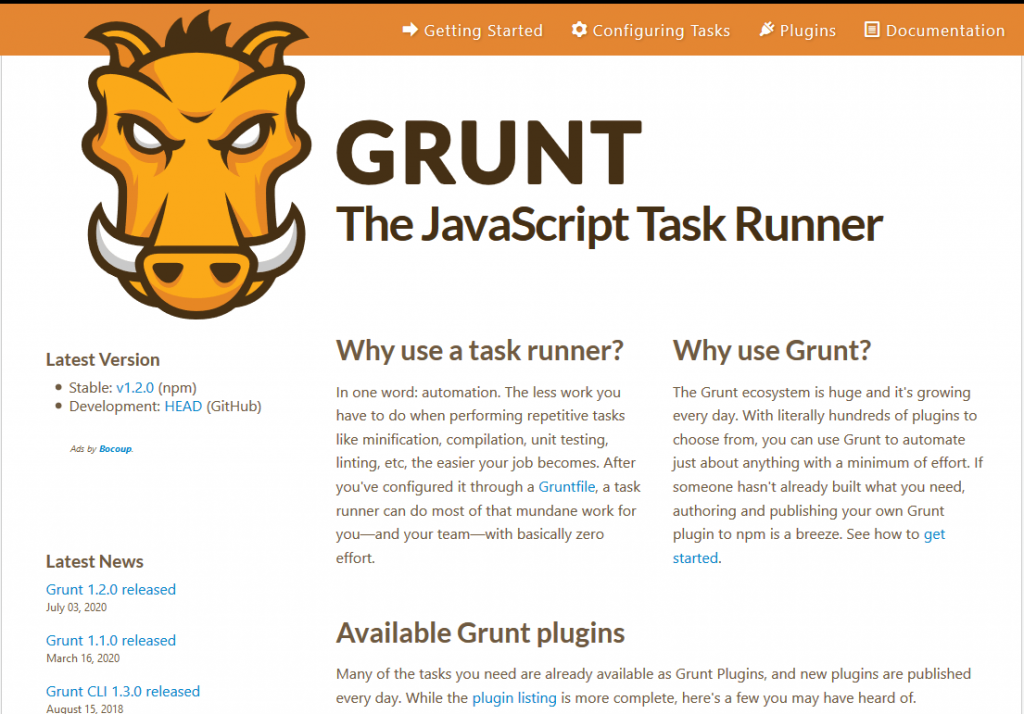 Are you looking for a JavaScript task runner that is used to automate routine tasks especially the ones included in the web development process? Grunt is the name to take into account. Why this tool, you may ask? Well, it allows front end developers to carry out tasks such as minification, unit testing, and compiling in an automated manner – all due to its large number of plugins (the pre-configured ones). We can configure this with the package.jason along with Grunt config files and using NPM
Web development is a complicated process and time-saving front end development tools like SaSS are your best friend here. As you ventured into the universe of CSS preprocessor, you will begin composing viable and durable code while decreasing the amount of CSS you have to compose.
Here enters SaSS, often known as the kind of modern CSS preprocessors implemented eight years ago. Albeit hard to comprehend from the start, the mix of Sass factors, settling and mixins will make CSS straightforward during accumulation, which implies your style sheets will be more decipherable and (particularly) DRY.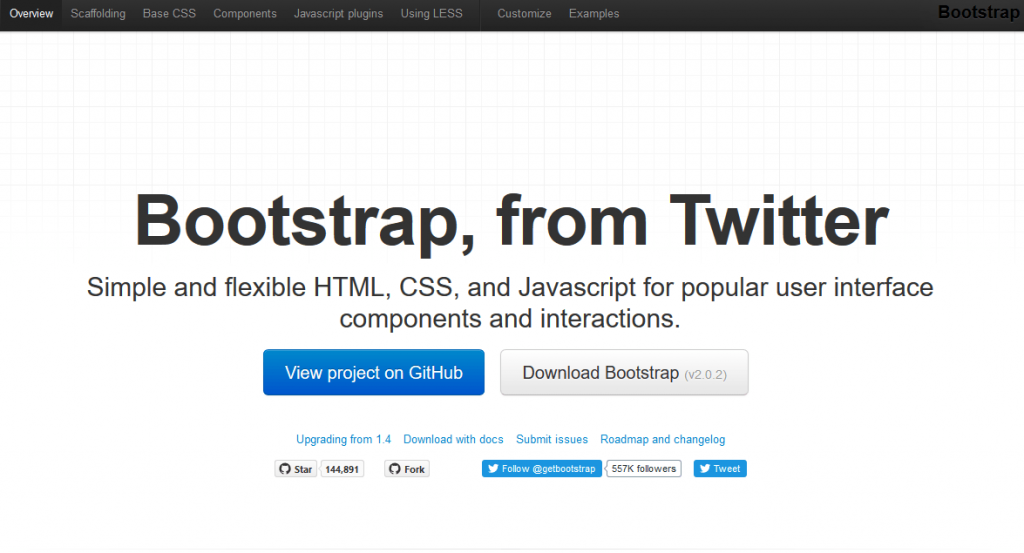 That is it! We are finished with composing in that equivalent styling for a holder and managing a catch that keeps springing up. These signs and symptoms or patterns you will start noticing as soon as you start building front-end web applications regularly. 
The rise of UI structures was the uncommon endeavor to tackle these issues by abstracting basic components into reusable modules-which implies Angular developers can platform the components of new web apps with a lot of speed and in an hassle-free manner.
Bootstrap is a comprehensive UI package created by the group at Twitter with several built in features.

CodeKit is a very interesting front-end development tool that automatically compiles the languages you must have already covered in the tutorials. In addition, it revives just as it synchronizes programs during your work. It does this over different gadgets without modules and no arrangement. 
Its highlights include:
Assembles Sass, Stylus, Less, CSS, CoffeeScript and many other
The tool decisions are open in a clean UI with no hacking fabricate contents 
Empowers Autoprefixer for seller prefixes, Babel for cutting edge JavaScript framework and Libsass for Sass arranging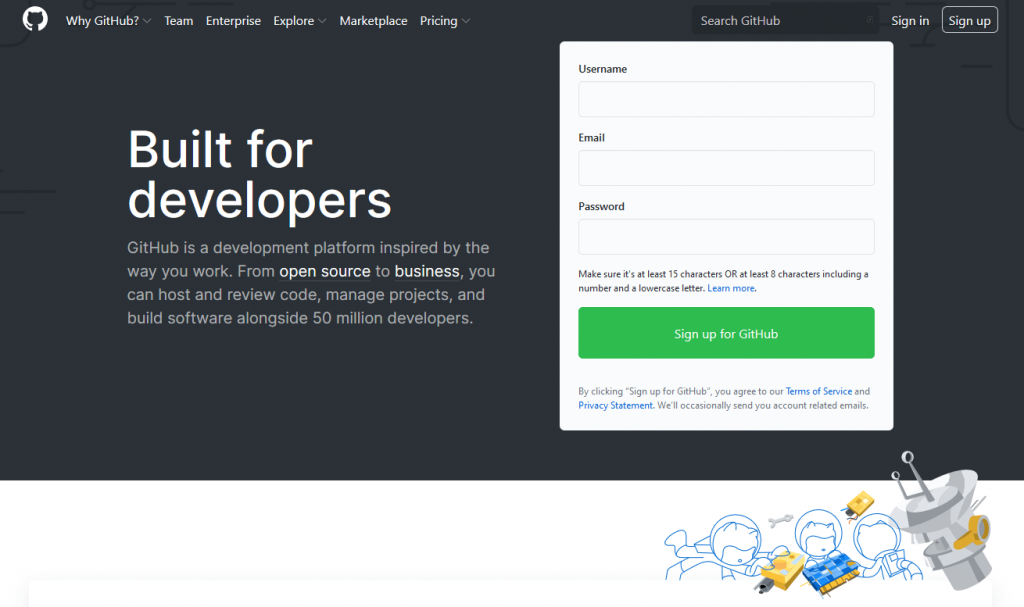 Have you ever thought about managing your source code by working  with a version control system? As the name implies, version control makes managing code across peers a cakewalk journey. Over a decade, we all have witnessed the ascent of distributed and popular version control systems, naming Git and Mercurial.
Mainly responsible to manage all the Git repositories, GitHub Desktop also offers full-fledged support for only Windows and Mac operating systems.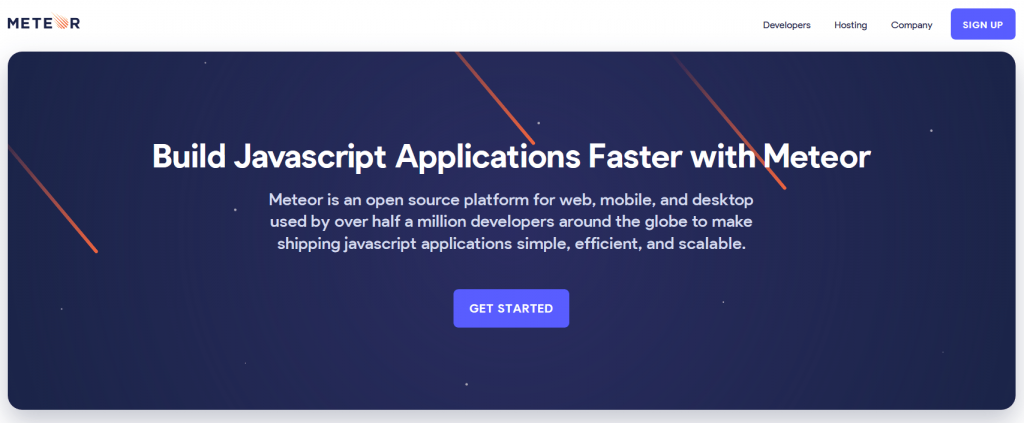 Since its inception in 2011, Meteor has been known as a full-stack JavaScript Framework that makes the most of Node.js to empower prototyping and produces cross-stage (web, Android and iOS) code. Speaking further about the tool, it contains a huge assortment of javascript libraries. As a result, almost all Angular developers tend to remain stress free when it comes to building sites and applications.  Some of Its best highlights include:
Quite obvious one is; built-in features.
Development time and energy has reduced
MongoDB database 
As soon as the user data is being modified, automatic updates are generated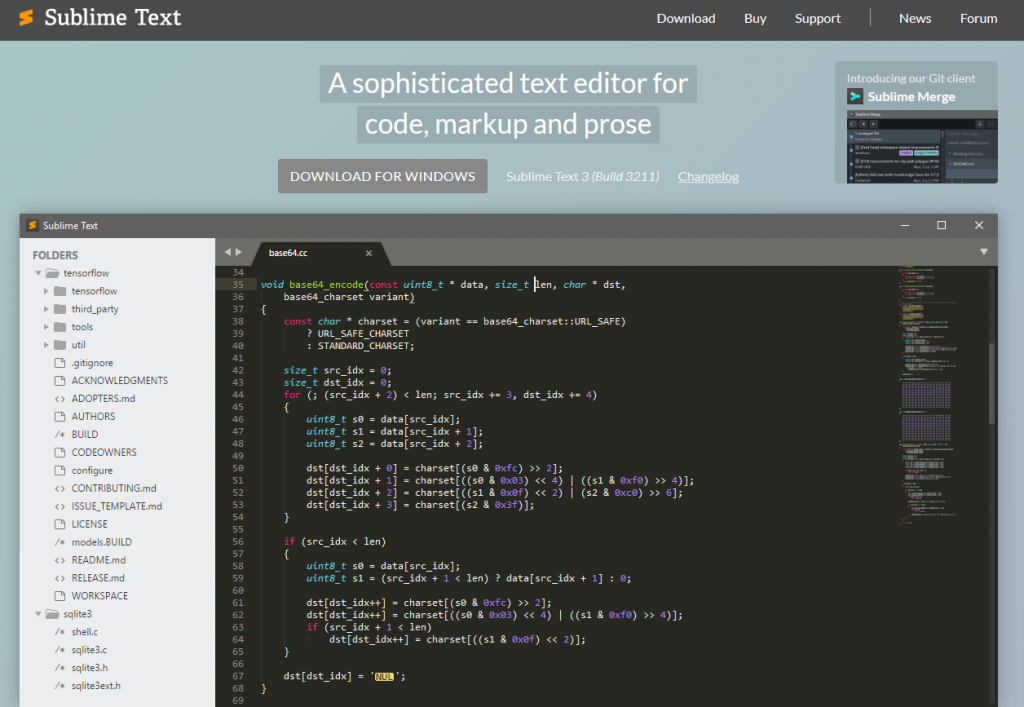 This is the most used tool among web developers because it supports many programming languages. Everything necessary is a couple of snaps you can look through what you need without recalling dark key bindings. Likewise, it is profoundly equipped for catching full content    of the workspace whether it is an adjusted or unsaved file—the main device through which you can roll out ten improvements simultaneously quicker than at any other time.
Key features include:
Custom parts of sublime text improve the exhibition of utilizations. 
It can modify anything and offers you with split altering. 
It is cross-stage with a momentary venture switch. 
Sublime text is staggeringly quick and solid. 
It successfully handles all the records and organizers.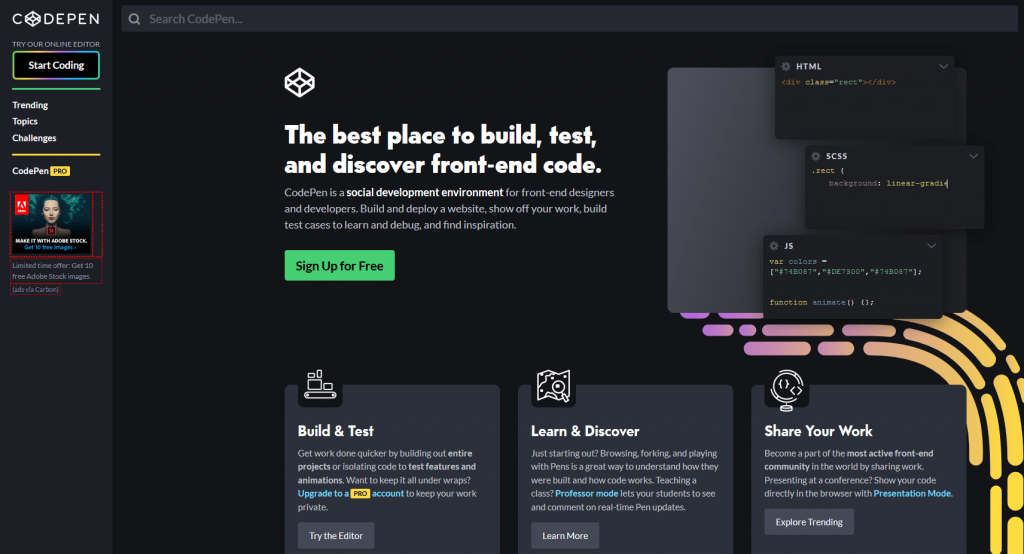 Basically used to make and test modules while teaming up with other front-end developers simultaneously, CodePen permits Angular developers to plan little pens (sets of HTML, CSS, and JavaScript codes) and offer them on their profiles.
Committed interface to rapidly compose CSS codes 
Similarly there are "private pens" which you can use to safely impart your code bits to explicit individuals. 
Safely create and store resources in the Pro-variant of the tool. 
This is not it! Other web developers can share feedback on these pens so that everyone can learn in the real-time web development environment. In addition, new kids on the block can undoubtedly get motivated from other impressive "Pens" and use them to plan interactive User Interfaces for their own site. 
4. The End
Thus, here we are! The must-have front-end web development tools. Hopefully, the post is all that you are looking for in case if there is anything which has not been covered till now let us know in the comment section below.
More Related Post:
10 Best React Development Tools 2020