Next article
Tugs-of-war between front-end PHP frameworks have been happening for ages. With the increasing community support, people evangelizing their favorite one cannot stop discussing; arguing to...
Why Startups should prefer PHP for Web Development
Being an intuitive server-side scripting language, PHP has been in talks since its establishment in 1944. With the time passing by and due to regular enhancement in PHP development, the creation of web pages and data management returned from a browser featuring a wide range of extensions to connect with the database.
Table of Content
Hating or Ignoring PHP is not possible and Our PHP experts can give you plenty of reasons for the same with this blog. So, before beginning, let us see what really PHP can do to take programming improvement practices to the new level. By offering plenty of possibilities such as the creation of dynamic websites has become a lot easier especially high-class websites. In terms of popularity many internet giants like MailChimps, Facebook and many more are using PHP.
Presently, on the grounds that this is because the technology has been widely used, the risk that it might by one way or another become out of date is incredibly restricted. In basic words, choosing a new technology that might or might not survive the competition is a significant risk for a startup. It is extremely hard to even think of maintaining a framework which has been abandoned by its creators and not used by anyone anymore means it can be a genuine delay in your startup's advancement. By hiring one PHP Development company you reduce this risk.
PHP Advantages for Startups
Step by step JavaScript is getting increasingly famous. The innovation takes into consideration the creation of really sick UIs that works incredible on work areas and cell phones. The best part here is you will be able to build fascinating front-end applications with the PWA standard JavaScript.
Now, this is a fact, each front-end application needs a back-end to store an adequate amount of data. If your application needs a very flexible front-end UI, picking a JavaScript system may be the most ideal decision. All things considered, however, We would suggest utilizing PHP development for the back-end of the app because of all the reasons mentioned below.
The Architecture is Open-source
Who doesn't like saving money? We all do right and PHP technology does exactly the same. One of the most fascinating things that helps PHP developers just as IT decision-makers or leaders is creating dedication for PHP because it is an open source which implies it is totally accessible for nothing (not requiring any license fees). This sets aside a lot of cash and results in a much dynamic just as larger international communities.
Added to evident budget savings, the open-source language also ensures its relevance by being in sync with all the latest bunch of technological trends. The large developer's community and active users ensure that language is commonly known and acts as a friendly plane right from scratch to execution. In other words, don't be surprised to find continual enhancements in regards to functionality and its impressive pool of resources and facilities.
Huge Standard Library
Running a successful online business is not an easy venture to think of. Providing a well designed and interactive website requires true determination and potential. With PHP, running a website turns out to be the best decision for you. With a huge user base and their potential PHP community keeps updating their standard library and different parsing, fetching functionalities.
Features like code sharing and reuse will help a lot to Start-ups and will also increase efficiency in the long run.
Numerous Frameworks available
PHP offers a diverse range of frameworks as it is a vastly used language ranging from Symfony, Laravel, Yii 2, Zend and CakePHP and so more. PHP developers can pick any of these structures as their assistance and wind up making the content simple and likable Moreover, it becomes way easier for programmers to complete the task without taking much time.
Another interesting aspect worth talking about the PHP development realm is all CMSs are based on the tech featuring PHP and already available solutions. Take a look at the below pie chart that shows WordPress CMS market share and is developed in PHP.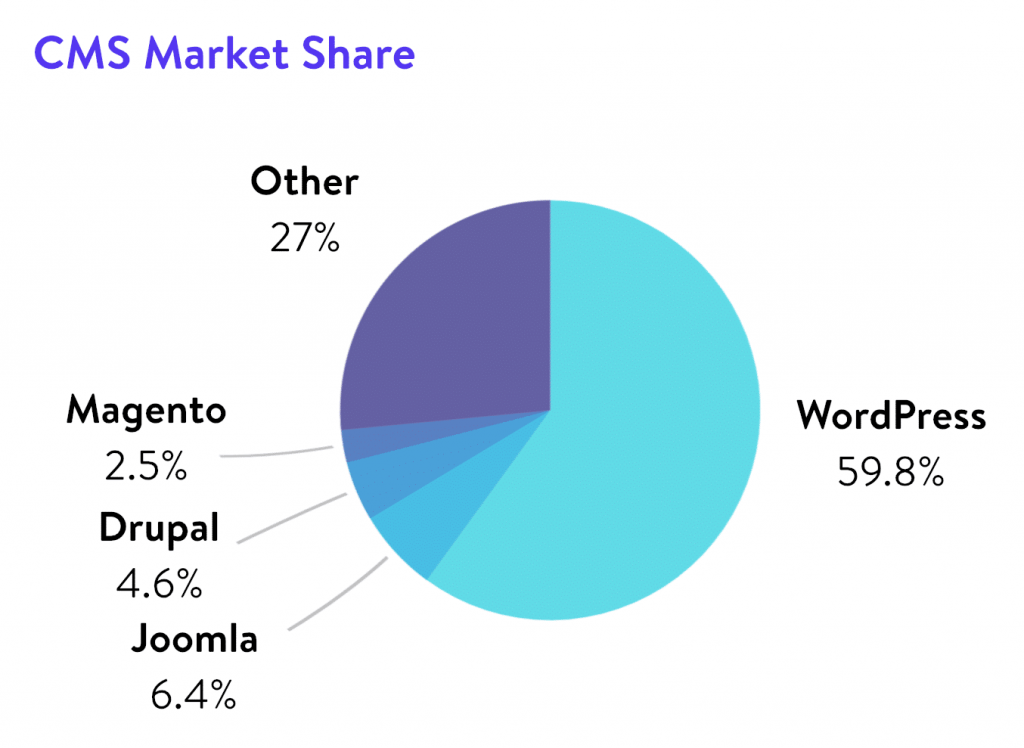 Over these years, PHP seems to have achieved excellent maturity like never before. Unlike others, it no longer depends on a single founder or star developer for its significant development and growth – all thanks to its ever-increasing seasoned community of developers.
Secured
Who says PHP doesn't have any security problems? Of course, it does such as SQL injection, Cross-site scripting, Remote file location, Session Hijacking, and so many but once these problems are addressed. Nothing feels more secure than PHP as a language. Due to its open-source, it has been quite favorable for White-hat hackers for testing their limits.
Ask your PHP developer to ensure that there are no breach of opportunities. And it is best to outsource payments to a dedicated provider to avoid endangering your customers' accounts. In PHP-based websites, this is possible through integration. Maybe that's why professionals are asked to understand that code which leads to making the application vulnerable and not the language.
Scalability and Flexibility
Last but certainly not the least benefit of using PHP as technology is that it provides you integrity and flexibility of using it on multiple platforms ranging from UNIX, Linux, and Windows to macOS. Supported by more than 20 databases in order to handle operations and servers makes its most flexible. This makes PHP a widely used framework and continues to rule the development community for cross stage application development. 
Why Startups should prefer PHP
Now from the business point of view, let us figure out how businesses are beneficial by using PHP development in the earlier stages of their business.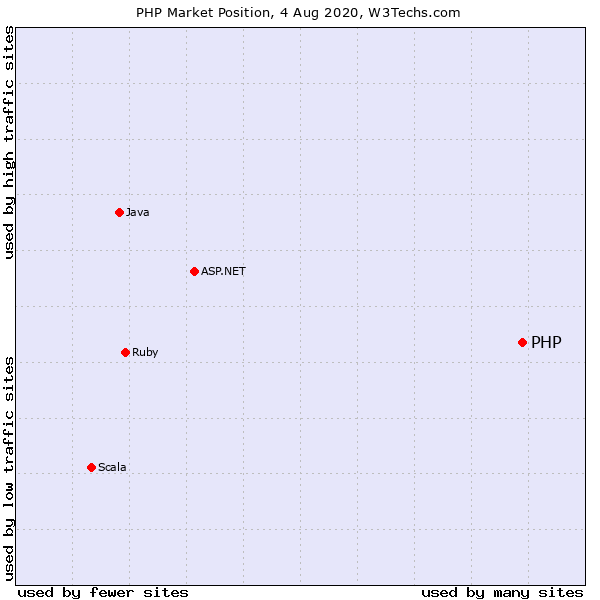 The aforementioned image emphasizes on the market position of PHP based on popularity and traffic in comparison to some of the most popular server-side programming languages such as Scala, ASP.Net, Ruby, Java affirming that the technology is going nowhere.
PHP Development Community
It's been 2 decades around and the tech has been creating a monopoly in the backend field. As a result, people are striving hard to grow as highly skilled programmers so that they can work in renowned PHP development companies such as eTatvaSoft. Right from juniors to senior architects, you will find a wide range of professionals at your service making the hiring procedure easier and hassle-free. You no longer require lowering your standards or compromise on anything – all thanks to the ever-increasing probabilities of PHP developers around.
Now one of the major issues in any business is attrition (due to software). For example, for businesses who have just established themselves require professionals at their service but aren't able to find the perfect match. This sort of profile is consistently important, and a legitimate maintenance strategy should set up. On the contrary, with more people, available hiring becomes way faster.
Fast Deployment and Cost efficiency
Speed is already one of the top attributes of PHP development, it can be quite beneficial for businesses (new as well as established ones). Once you have your product out there, it becomes very important to test your business model or capture users, perform additional iterations, etc.
Fortunately, we have a wide range of PHP development solutions or tried and tested methods in regard to the initial costs of recruitment, building up your application and so more. Look at the odds, sooner or later people might argue which might compel you to regret the initial decision. Such affirmations are not needed at all. You should look at the bigger picture, tech giants like Facebook are relying on PHP for building their platforms. PHP covers almost all the development requirements and any kinds of Business specific solutions.
Lower risk higher return
The availability of PHP developers and solutions is limitless; both the pointers lead us to the third one, i.e reduction in the pure technological risk. Being a consolidated programming language, there is a vast community at your service. Right from searching for solutions to taking advantage of the community and apply them to your problems. More or less, you are saving time, money, and growing faster.
Moreover, you can outsource PHP development services from here especially when you are looking for any additional resources for particular moments or a quick push.
Web Giants using PHP
Facebook – Primarily developed by using PHP, Facebook is used by more than 22 billion times per month. With other technologies like React, GraphQL, and Memcached, PHP lies at its core.  
Yahoo – Another leading search engine is run by PHP with other technologies like Apache and JavaScript. One of the interesting aspects of Yahoo is it was released the same year PHP was released. Now we have Yahoo Mail, Yahoo News, etc at our service. 
Wikipedia – One of the free and finest encyclopedia brilliantly runs on PHP. 
Spotify – A renowned music streaming service company loved by millions and billions of its uses run on a PHP framework. 
MailChimp – Meant to automate the whole process of sending bulk emails, the website sends around a billion letters on a daily basis. Yes, the top-rated email marketing app is powered by PHP. 
iStock – Established in 2000, the largest stock exchange website of graphics, photos, has now 500+ thousand new files uploaded to the website every month. By using PHP development, the website remains highly responsive and keeps the project's UX at the top.
Slack – Mainly used for corporate purposes, Slack makes collaboration way easier and trouble-free and PHP helps to achieve it. 
Conclusion
We hope you enjoyed reading the post! However, you will find ample information on PHP development out of which some will prove useful at a beginner and some will prove useful for advanced stages. No matter what, it is advisable to put some research into it. You can even feel free to get in touch with experienced professionals who ensure a beautiful tech-journey featuring a massively rewarding feeling at the end.