PHP Outsourcing: All You Need to Know About
Outsourcing has become the new norm, especially after the COVID massive hit. Businesses from all over the world are looking to hire PHP developers from India for their projects. Initially, outsourcing or offshore software development companies were only preferred when a business was under a budget crunch or they wanted to save additional costs. Well, but not anymore!
Table of Content
1. Learn More About PHP Outsourcing
In fact, the term outsourcing was earlier considered a bad omen. The kind of cost-cutting move that could dilute a brand if done wrong. But fortunately, times have changed.
With the sudden rise in the development of software, PHP development, mobile apps, cloud computing, and automation, offshore or outsourcing development services have become the top priority for the savviest businesses.
Now I am sure you must be wondering what innovation offshore vendors can provide. Well, we still do not have a cookie-cutter answer as the market is still looking for possibilities. But most of the core advantages of outsourcing PHP Developers include:
Able to focus on your business
Lower costs
Improve quality
Promote unconditional growth
Maintain operational control
Offer Staffing flexibility
Provide continuity and manage risks
From sole proprietors to large corporations, businesses of every size can use outsourcing to help their company grow and expand while keeping expenses as low as possible.
1.1 Some stats related to PHP outsourcing
There can be no better proof than facts and figures, isn't it? So we've tried to collect some stats on outsourcing that shows the high demand for IT outsourcing and why it is so:
More than 40% of US-based companies outsource to near- or offshore companies because it is cost-effective;
In 2018, the Global IT outsourcing market revenue amounted to $62 billion which is a great hike;
Around 85% of business owners stated that communication was the key to successful cooperation if they hire an outsourcing partner.
More than 50% of middle-size business owners across the world consider service reliability to be the decisive factor when hiring an outsourcing partner.
2. What's So Special about PHP?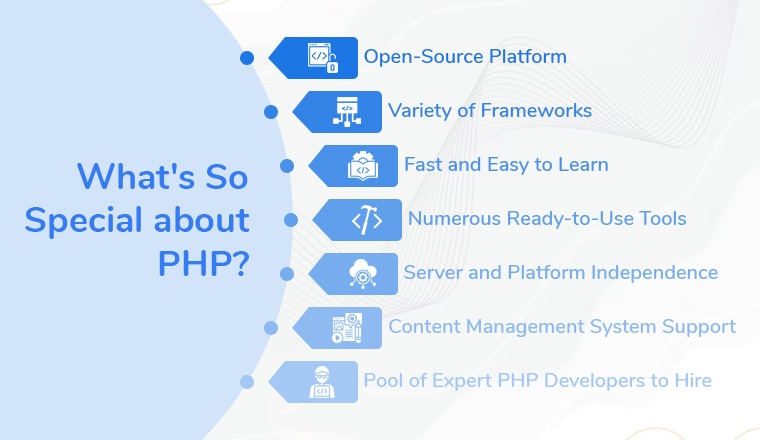 2.1 Variety of frameworks
One of the best things about PHP development is its powerful frameworks. They offer a variety of frameworks to developers for developing complex applications with revised workflows and lightweight coding. They also help to speed up the process of PHP application development by providing extensive libraries, features, and templates for making out-of-the-box solutions. Here are a few names that you might have heard:
Laravel
Symphony
Codeigniter
Zend
CakePHP
2.2 Numerous ready-to-use tools
PHP is one of the best development platforms as it is rich in tools and resources that allow developers to integrate custom functionality into the software you're developing. These include frameworks, in-depth documentation, editors, dependency managers, and more. And you'll be surprised to know that all the resources are available online so that developers can study the language and discover several ways to create products based on it hassle-free.
2.3 Server and platform independence
PHP is a versatile scripting language widely used by developers across the world which is compatible with various platforms such as macOS, Windows, Unix, or Linux for your PHP development projects. All types of scripts will run on them without any problem which makes PHP a great choice for developing cross-platform web applications.
Apart from this, PHP is also compatible with all major web servers that are being used currently such as Nginx, Apache, and IIS which means you're not required to worry about compatibility issues.
2.4 Pool of expert PHP developers to hire
As we all know, the popularity of PHP is increasing day by day which gradually boasts a large community of developers. This shows that one can easily find professional and experienced PHP developers for hiring and outsourcing. However, make sure to choose your outsourcing partner wisely.
Since PHP is powerful, it makes it easy for developers to write functional applications. Even if you're a newbie PHP developer having little experience, you can still develop a large-scale project easily. But in this case, it may take longer than usual to launch. Hiring junior PHP developers is suitable for companies who want to save money. But if speed and the quality of the project are your priority, then you should hire experienced developers that have solid PHP expertise.
2.5 Open-source platform
This is one of the most commonly known PHP characteristics that it can be installed easily and used at zero cost. It is an open-source application development platform which means anyone can have access to its core functionality without investing a penny. Despite this, all development tools and services, including editors, frameworks, and documentation, are also open-source.
2.6 Content management system support
Do you know that the most popular and widely used content management systems are written in PHP? Yes, you heard it right! WordPress, Drupal, and Joomla are the three leading CMS used by companies, and all three are written in PHP which means the language is used in the core of these services. With such a powerful feature, it becomes easy to extend the functionality of PHP and make the software development process simple and more efficient.
2.7 Fast and easy to learn
If you're a beginner in this field having little experience, you can still build amazing feature-rich applications using the capabilities of PHP. The learning curve of PHP is gentle which makes it one of the most widely used and popular languages.
3. What PHP Developers Can Build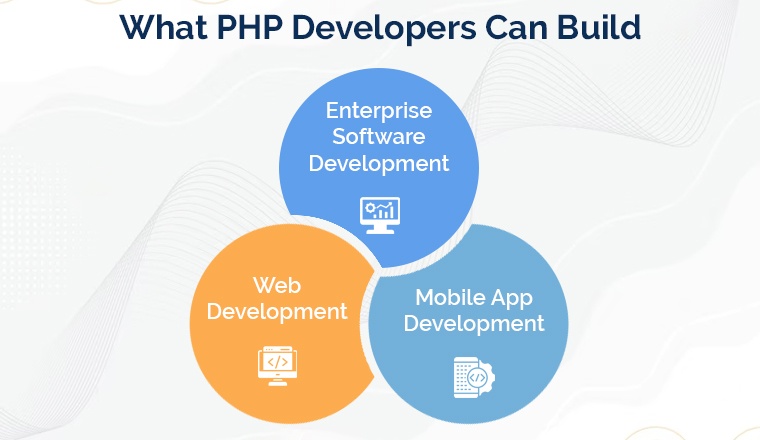 Dedicated PHP developers have the ability to build out-of-the-box software solutions such as scalable web applications, responsive websites, desktop, and mobile solutions, and much more. All thanks to PHP frameworks and libraries as they allow developers to build more complicated large-scale software without any hassle. Let us discuss the three types of PHP development services they have in store.
Web development
The aim of PHP is web development and so here are the most familiar use cases for it that you might have heard:
Server-side back-end code;
Real-time web apps;
Plugins and themes for WordPress;
REST and web services;
Website cybersecurity;
Cloud integration;
Database integration.
Mobile app development
PHP has excellent development capabilities to develop back-end functionality for progressive mobile applications. This specific software part is responsible for gathering data from mobile devices, analyzing user behavior patterns, saving user settings, etc.
IT experts use development frameworks to create the application's server side. PHP experts who have years of experience once suggested that Laravel and Symfony are the two most powerful and suitable options for mobile app development.
Enterprise software development
PHP is a reliable and robust programming language used to scale the requirements of large organizations. Using such requirements, a PHP development company can develop high-quality and feature-rich enterprise-level applications that have the ability to handle the most demanding workloads including content management, customer relationship management, enterprise resources planning systems, and others. While building such products, developers can take two paths: to adopt an off-the-shelf PHP-based solution and customize it to the company's requirements. In both cases, the key to success is choosing the right framework.
4. PHP outsourcing financial benefits
Rates are half
Outsourcing is all about saving money without compromising on the software quality followed by closing tech gaps. The US and the UK own their positions as the outsourcers being the most technologically advanced areas. But the problem is that a labor shortage still influences the world economy. But as we know that PHP is the most in-demand language, the cost is starting to soar. In 2023 and beyond, there will be a huge demand for technology which will make it harder to retain professional and experienced IT staff on your own.
No taxes per employee
Every country has its tax anomalies, such as social security costs, payroll tax, medical tax, individual income tax for employees, VAT, Employer's liability insurance, corporation tax, and much more. All this is wage-based or federal, state, and local income taxes. A UK or US employer has to pay minimum taxes starting from 10% approximately per employee.
No utilities and workstation pending
By outsourcing your project to competent experts from technology hubs, you're already reaping the benefits of eliminating the burden of managing the workplace for the employee. For instance, the yearly spending of a worker is estimated at $10 000, which equals two months' earnings of a Senior PHP developer who is based in Ukraine provided the hire under the outsourcing cooperation.
5. Four steps guide on PHP development outsourcing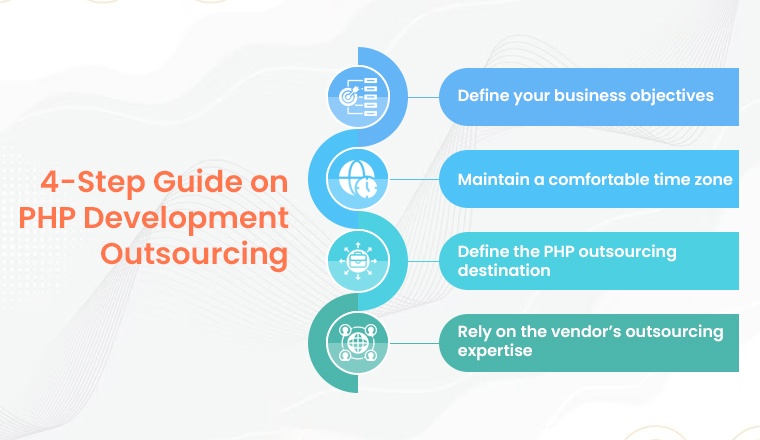 Step 1: Define your business objectives
Defining your business goals and objectives is one of the most important phases of PHP development outsourcing. If you're not aware of the objectives and goals that you're willing to achieve, there is no point in building a project and outsourcing it. So make sure to identify your needs, split your objectives, and discuss them with the various departments in your business. A vendor will most likely ask you:
– What are your business requirements?
– What goals do you want to achieve?
– What is your budget, deadlines, and tech shortage?
So after identifying the ideal PHP outsourcing company, make sure to determine which duties you want to delegate.
Step 2: Maintain a comfortable time zone
As you are outsourcing your project, you must choose a comfortable time zone to work with your partner. Do you find the two-hour gap to be useless? If not, you're one of many business executives in Europe who're willing to hire Ukrainian developers because of their proximity to you. The delay for synchronizing and sustaining rhythms is two hours.
Step 3: Define the PHP outsourcing destination
For more than 15+ years, an Eastern European tech supply has permitted Sweden, Western European nations, Switzerland, the UK, Estonia, the Netherlands, and Finland to fulfill their technology requirements. These regions have a history of being technologically advanced with an increased rate of scaling which leads to a continual scarcity of skills. However, it is important to determine which country has the most experienced and skilled developers who will uphold its standards for goods and services.
Step 4: Rely on the vendor's outsourcing expertise
Hiring a dedicated development team to complete the puzzle is a competence that companies from Eastern European tech hubs, especially Ukraine, have mastered. For over 20 years, it is one of the most demanded outsourcing destinations that vendors choose to start the development project from scratch. However, outsourcers benefit from even higher income to complete the project with a full-fledged dedicated development team.
6. Choosing the Right PHP Outsourcing Partner
Looking at today's dynamic markets, outsourcing or choosing an offshore development company has turned out to be a pure blessing. Countries like the Philippines, India, and Vietnam have become pure outsourcing hubs. However, before making a choice or reaping out most of the benefits, one does need to go through some factors. Factors, if overlooked, can result in failures, time loss, and additional costs.
6.1 Get Clarity in Regards to the Scope of Your Work
Even before you start reaching out to a potential offshore software development company, write a clear scope of work document. It's your responsibility to decide business goals, what is it that your business needs, and what could be the best possible solution to achieve your desired outcomes.
Being a non-techie, writing such a scope of work document is too technical for you at the beginning, then you can also start by answering some simple questions like:
What is your exact need?
What could be the best potential solution for that?
Answering these questions can help you identify the core problem you have been solving. So before you make a choice or even start looking for one, prepare a clear roadmap for solving that particular problem and identify your overall business goals.
Remember outsourcing or offshore software development isn't a plug-and-play proposition but an approach used for a specific effect. After all, nobody knows your business better than you.
6.2 Critical Criterion
Once you are done jotting down your work scope, reach out to new prospective outsourcing software development service providers. Now it's time to evaluate potential vendors, consider the ones who have:
Passion for the project
Technical expertise
Experience in resolving complicated issues
Access to the latest technologies, and best frameworks like PHP
6.3 Communicate Effectively
Of course, no business would like to compromise on quality. But you know what's more important, no business can also afford to work with a partner who always misses deadlines or is not polite to work with.
So do not forget to check the market reputation of your potential outsourcing partner. Also, seek platforms like Clutch and Good firms, for example, where you can check out their past client's reviews.
In case, still, there are any doubts, there is always an option of connecting with the past clients of the offshore development company. In fact, many popular global companies like Github, Skype, and Slack have done it before. The only question is are you ready to follow their lead?
Well, I am not done yet! Further below I would like to mention certain mistakes or pitfalls to avoid when hiring a PHP outsourcing company.
7. Conclusion
So this is it! Keep watching the space to know more about the PHP development realm.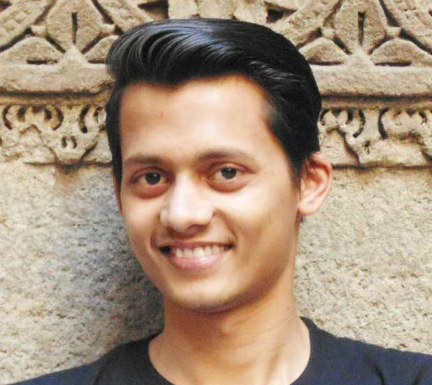 Hardik Dhanani
Hardik Dhanani has a strong technical proficiency and domain expertise which comes by managing multiple development projects of clients from different demographics. Hardik helps clients gain added-advantage over compliance and technological trends. He is one of the core members of the technical analysis team.