Next article
Node.js has established itself as a leading framework for developing applications. Node.js Security solutions should be considered at every stage of the software development life...
Top 10 Best IDE for Node js Application Development
Every enterprise wants a control over the codes and that becomes a necessity for businesses to hire Node js developers in India. With Node.js as a web application development framework, this control becomes simpler. The tools can help you debug and derive expected outcomes with code optimization, efficiency and speed. With the help of Node.js, business owners can expect fast, scalable, lightweight apps, which is absolutely apt for backend technology. The IDEs come into picture when businesses want a clean, crisp and efficient code. IDEs do it all. This blog has its complete focus on types of Node js IDEs which will help you decide on which one to select for your business. So, without any ado, let us start with the list of best IDE for Node js.
Table of Content
1. What is IDE?
An IDE is a software application that combines a source code editor, a code debugger, code completion, a build automation tool, a compiler, and other features into a single package. Modern IDEs employ a single programme with a graphical user interface to author, compile, deploy, and debug software code. There are several options available when it comes to IDEs for Node.js. To choose one from many would definitely be a daunting task. 
The internet is flooded with the definition of IDEs, but what IDE actually means is the integrated development environment created to help programmes to make the process of creation and optimization of programmes easier. One of the most important features of an IDE, is that it combines all programming tasks into a single application, is that it gives a central interface of tools as per the requirements of the developer.
When you use Integrated development environments (IDEs), you are helping Node.js developers to work more efficiently. These IDEs boost productivity by speeding up development tasks, maintaining developers informed about the latest best standards and challenges, and standardizing the web app development process so that everyone can follow along.
2. Best IDEs for Node js App Development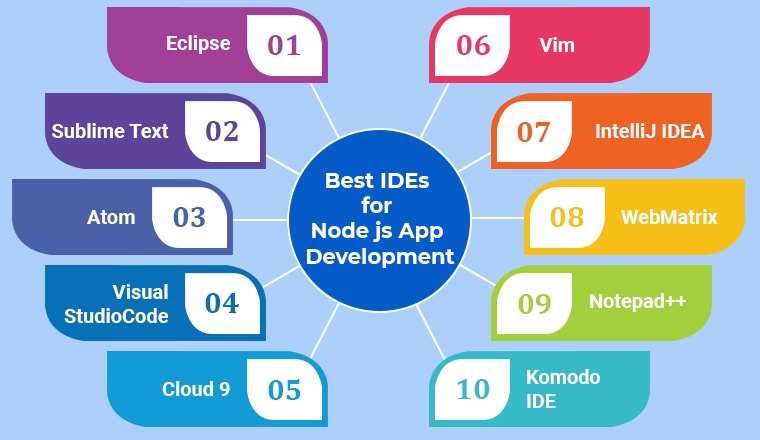 2.1 Eclipse
The first one in our list is Eclipse. Needless to say, it is one of the most popular names in IDEs. It's a cloud-based JavaScript IDE and developer workspace server, or as they put it, "really next-generation." For large projects involving several organizations and people working on and monitoring the code, Eclipse is the best Node.js IDE. Eclipse can be used as a browser-based IDE as well as applications. Eclipse Che IDE's Best Features.
The Eclipse Che workspace includes runtimes, a RESTful API server, and IDEs. There is Software development kit (SDK) that allows for the creation of plugins and assemblies. One of the few features such as Refactoring, and key binding make it an excellent choice for NodeJS developers. Eclipse is popular because it can readily be used as a tech stack for all pre-installed debugger modules and make the development of your Node.js app just so easy.
Some of the functionalities that this IDE offer are
Language Servers.
Maven Integration
Intelligent Commands.
Intellisense and Refactoring.
Debuggers
Access Terminal.
Code recommenders tools
Sidecar containers for the tooling.
2.2 Sublime Text
The second one in this list is Sublime Text. This NodeJS source code editor and IDE. It has a slew of complex and advanced features, like quick project switching, split editing, and more. Additionally if we see Sublime Text, it offers multiple choices to handle files more quickly, providing you the best performance and the ability to alter almost everything with simple JSON files.
The best thing about this IDE is that it's made with proprietary components that deliver unrivaled responsiveness. This IDE or we can say powerful online code editor that's quick, powerful, and extendable. For a fast visual demonstration, look at some of the demonstrations on the site.
It has numerous advantages like
Assistance for any project.
Support the theme of development
It's compatible with Mac, Linux and Windows platforms.
During a gclient sync, there is no need to close and reopen.
Many of the excellent editing tools available in major IDEs such as Visual Studio, Eclipse, and SlickEdit are supported.
While you're typing, don't go out to eat.
The user interface and keyboard keys are quite typical and easy to use
It's low-cost, and you can test it out.
2.3 Atom
The third one in this list is Atom which of course is a text editor with cutting-edge code completion capabilities.It is one of the leading names as compared to other competitors. There are almost four types of User Interface and eight types of syntax-based themes which are pre-installed and can be easily customized. To let you know, it is still an open-source application that integrates almost all types of major programming languages from HTML, CSS, JavaScript, and Node.js. Its inception is dependent on the Electron framework, which helps web developers to create cross-platform programmes utilizing common web technologies.
There are many features that make Atom IDE's different from others. Some of the essential and smart code assistance features of this IDE for Node JS programming include that:
It provides a tool for finding and replacing items.
It's a multi-platform app
It has Intelligent automatic code completion feature
There are several panes in it
2.4 Visual Studio Code
The superleader's Microsoft developed Visual Studio Code is one of the greatest Node.js IDEs available. It is not so big but a reliable source code editor that can be downloaded as it is free to use. We can understand the good part of this is that it comes with built-in support for JavaScript and NodeJS. You can run almost all the major operating systems, including MacOS, Windows, and Linux on Visual code.
Additionally, to support other programming languages including Java, Python, C++, PHP, and others, Microsoft has built a comprehensive ecosystem of plugins and extensions. High-End Features of Visual Studio Code:
Simpler snippets of Code available
Zen Mode & Split View Integrated Terminals
Workspaces that have many roots
The use of Git
You may also utilize Visual Studio Code with a variety of JavaScript extensions and tools. This Node IDE also supports project development in JavaScript and Typescript.
2.5 Cloud 9
You don't have to dig deep when it comes to Cloud9. It goes by its name. It is a cloud-based IDE that helps developers create applications utilizing popular JavaScript frameworks like NodeJS, Meteor, and others. This is a free Node JS IDE that is cloud-based, similar to the previous IDE on our list.
In terms of coding, Cloud9 is one of the most capable online code editors and debuggers, with a number of useful features. It includes a key-binding editor, a function that allows for a live preview of the application, and an image editor, among other features that make it a formidable IDE.
Cloud9 Node Js IDE's best features include:
Debugger built-in
Server-less development
Edition with all features
In-built terminal
2.6 IntelliJ IDEA
IntelliJ IDEA was introduced as a new IDE by JetBrains with the help of Java and Kotlin.
This excellent editor supports Node.js, Angular.js, HTML, CSS, JavaScript, Java, React, and many other modern programming languages. This is the most pioneering NodeJS IDEs within the community.
It is not like other IDEs, IntelliJ IDEA enables you to compile, execute, and debug code directly from the IDE. Furthermore, we also know that there is a facility of predictive technology which anticipates the intent of the developer to type and get the task completed automatically. These features offer assistance in coding, intelligent code completion, syntax highlighting, and many other features needed for your next NodeJS project. All you need to do is just instill a NodeJS plugin with IntelliJ IDEA.
This will definitely improve the efficiency of web developers and their performance in coding with the improved experience that they possess. Some of the best features of IntelliJ IDEA's are
Moden code completion features
Booster of productivity
Controlling the versions
Framework-based support with an inline debugger
Database tools can be used for terminals as well
2.7 Komodo IDE
Komodo IDE is a complete package for app development platform for businesses and startups. It's a cross-platform IDE that lets programmers create powerful apps using a variety of programming languages like Ruby, Node JS, Perl, and others.
NodeJS developers are freely using Komodo IDE to create apps with unique configurations, run regular commands easily, track changes, and apply changes across numerous selected segments. Some of the most sought-after features of Komodo IDE is
Bespoke UI
Syntax Highlighting
Inbuilt browser facility and Version Management
Profiling and coding in Python and PHP
Markdown DOM manager
Coding and editing in multi screen window
Easier code collaboration
Re-factoring
Many available add ons
You can create unique setups, use its intelligent code completion features, add shortcuts, look at language icons, and experiment with multiple options.
2.8 WebMatrix
WebMatrix is one of the premier and advanced IDEs for developing NodeJS apps. It is a Microsoft-developed cloud-based IDE. WebMatrix is a free and lightweight IDE for Node.js programming. For application experts, this cloud-connected web development tool provides for quick and effective Node.js development.
Despite the fact that the tool is available only for Windows developers and only supports online development. The fact is also that it enables developers to create strong web applications in an effective and timely manner utilizing Node.js which is another Microsoft IDE. However, there are a few compelling reasons for including this one in our list. By reasons we meant the super features that WebMatrix IDE's are capable to offer like
Nodejs templates that come pre-installed
Smart Code completion
Publishing on cloud
2.9 Notepad++
Again, Notepad++ is not an IDE, its text editor. Notepad++ is a code editor that is both free and open-source. It's compatible with Windows. It is a text editor that empowers you to use multiple languages for your coding. The feature of bracket matching and autocomplete is available. It comes with built-in syntax highlighting for a variety of interpreted programming languages. GPL License authorizes its use and it runs in the MS Windows environment. There are multiple features of Notepad++ which makes it no less than IDE. The features are
It allows you with Syntax Highlighting and Code Folding
PCRE Perl Compatible Regular Expression with an option to Search/Replace
2.10 Vim
Ideally, we cannot consider Vim as an Integrated Development Environment but it's a text editor. Vim is based on Unix and it's a text editor that comes pre-installed on Linux, BSD, and macOS systems. Because it's a simple application that can run in a terminal, it's known for being quick and efficient. Because it is short for visual editor, Users refer Vim as Vi. Its efficiency in terms of both design and function is also difficult to overlook. Menus, sophisticated peripherals, or even "additional" keys like Ctrl and Alt aren't used in Vim's native terminal-based interface. Vim mostly employs those keys that are universally accepted to every language, layout, or device.
Further Reading On:

15 Best PHP Editors for Web Developers (Free and Paid)
3. Conclusion
After this compelling list of feature- rich IDEs, we think it would be more difficult to make a choice from these super useful tools. Node.js IDEs from this list are the ones which has maximum stars on github and are used by many developers. This list is well-researched and created by considering the developers view and their expertise in using each one. Each one in the list has unique characteristics and has the ability to bring change in the development process for your app.
In combination with IDEs and Node.js as a framework, it will be simpler to handle data-heavy workloads and applications from different web environments and ecosystems.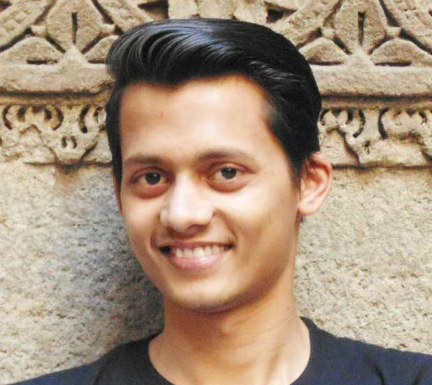 Hardik Dhanani
Hardik Dhanani has a strong technical proficiency and domain expertise which comes by managing multiple development projects of clients from different demographics. Hardik helps clients gain added-advantage over compliance and technological trends. He is one of the core members of the technical analysis team.