Next article
A stack solution is something that came up especially to resolve issues of the enterprise app development. A collection of open source applications along with...
How to build an online store with WooCommerce & WordPress?
WooCommerce is widely used and very effective e-commerce plugin which allows you to set your online store in minutes only. Much beneficial compared to the brick mortar store and even no need to stock up the goods. Apart by, it let the broader crowd reach and even stays cost effective. It gives both store owners and developers complete control with the flexibility it provides.

Choose A Hosting
All your marketing and development plans to build a high revenue generating eCommerce store can go haywire if you go with a mediocre web hosting. Having a professional web hosting company helps with the availability of the WooCommerce store 24×7 without any downtime along with including additional features like faster page loading, bulletproof security, WordPress management, and much more. Bottom line, it is recommended to go with a managed WordPress hosting.
Choose a Theme
There are many free themes available that support WooCommerce Development. As WooCommerce is developed for e-commerce requirements it is always advisable to pick a theme wisely that can support plugin requirements and business objectives. Storefront provides best themes for this e-commerce platform as they are specially built and optimized for WooCommerce. It has been recommended by the developers because of its lean and extensible codebase.
WooCommerce Features
Sell Products:
It allows you to sell both digital and physical goods with numerous configurations, offer product variations. With premium extensions, one can have facilities for booking, subscription, and memberships.
Tax:
There is a separate section of tax available for the store owner. Here he can manage different taxes on products or for the particular region.
Orders:
When a customer completes the checkout process order is created and store owner has the ability to check each order. Orders have following statuses:
Pending payments, Failed, Processing, Completed, On-Hold, Cancelled, Refunded
You can view order section in WooCommerce -> Orders. With each order, you can see the customer, shipping and other details related to that order.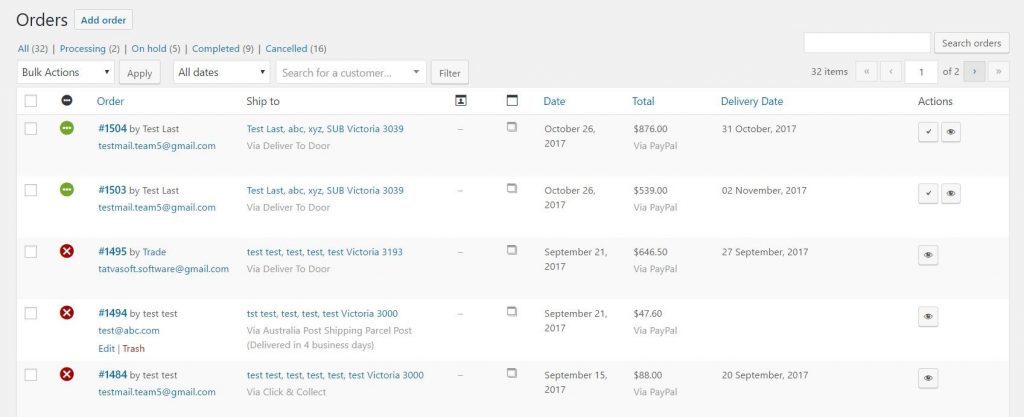 Payment options:
You will have benefits of multiple payment options. These are:
Check Payments, Cash on Delivery, BACS, PayPal Standard.
PayPal standard payment supports numerous online stores around the world. Shop owner needs to have the business account with PayPal to accept payments.
Other three options are offline and need to manage payment process manually.
There are many other extensions available for WooCommerce store.
Shipping: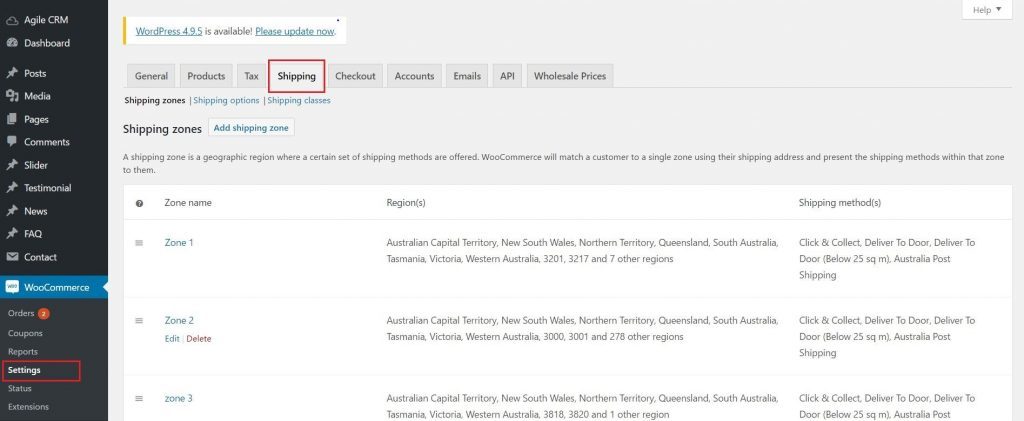 If you are operating an online store selling physical products then you must need to get into the world of shipping. WooCommerce provides Flat rate shipping method as a default option. With other premium extensions store, the owner can have more options like UPS, FedEx etc. It also offers to create custom shipping zones which are specific geographical location where you want to ship your products to. For each of the shipping zones that you create you can set different shipping methods.
Email Notifications:
It is mandatory to acknowledge customer and site owner when the order has been placed or product has been delivered. Again this facility is inbuilt with this e-commerce solution. Email notification feature comes with ready-made templates and easy to customize content and subject of emails.