Next article
Over a couple of years, technologies have been mushrooming like never before; starting from upgrading the way of website development procedures across the globe to...
Top IDE And Visual Editors for ReactJS Development to Try
Have you ever wondered why venturing the first website project seems a daunting task rather than fun? Well, it's because most of the non-techie businesspersons end up selecting technology without giving it proper due diligence. And of course, the long-lasting ramifications are the add-ons. So what to do? Time to play safe, choose ReactJS Developers in India.
Table of Content
1. Overview
Mainly used to build an interactive user interface (UI), the JavaScript library is used by numerous tech giants like Apple, PayPal, Netflix, etc. Moreover, the tech brings a wide range of compelling features and benefits to your project such as:
Facilitating the overall process of writing. In fact, for writing React.createElement you can use these set of shortcuts featuring some rules. This does assist you in making your source  code faster, cleaner and simpler. 
Building high-volume apps or custom react components, migrating from HTML mockups to ReactElement trees, all such tasks become way easier for ReactJS developers. 
Due to complex logic, many times updates turn into a headache. Well, that's not the case with React technology; all thanks to reusing system components. What's more! You get a consistent react app look and of course, long-term growth and maintenance.
Are you planning to build a high-load application? For that, one must consider the structure because that is something that probably is going to impact the overall application performance. Also, no matter how precisely you use the latest platforms and methodologies, the absence of bottlenecks is inevitable. Fortunately, ReactJS project development technology features a magic wand known as Virtual DOM where all the changes can be applied first and the real html DOM tree is updated accordingly, ensuring minimum time consumed. It also kills two birds with one arrow – awesome UI interface, and higher app performance. 
Last but not least is the SEO friendliness; i.e. search engine failures are pretty common especially while reading JavaScript code-heavy apps. The tech has the ability to deal with all this.
We hope these pointers are persuasive enough to get you started with looking for a reputable ReactJS development company in India.
2. What is No Code?
The CEO at GitHub rightly said that "The Future of Coding is no Coding at all."
If simply put, the number of coders we have and we might encounter in the future altogether might not be able to cope up with the ever-increasing demand for software across the globe. Here' the term "No Code Development" comes to the rescue.
As the name implies, they are a set of aberrant tools used to build software applications without any coding required. In contrast to the traditional long codedevelopment; this turns out to be pure bliss for the non-techies. Besides, if you are a small business and cannot afford to hire a ReactJS development company, making the most of these easy to use no-code platforms is the wise decision to make. With the help of these React development tools, nothing can stop you from meeting the demands of faster application delivery, building business, web, and mobile applications on their own.
Take data entry, for instance, one of the most problematic yet crucial aspects for any business. We, humans, are prone to make errors and fiddly-complicated programs like excel can act as an added disadvantage. No coding technology can assist you in the creation of a cloud-based application to store and use data without writing semantic code. Perhaps it's an excellent way to combat human and legacy system errors.
3. Is it Worth Investing?
Gone are the days when we had all-time in the world to go through arduous hours of training within departments and others. Some of the most interesting benefits of using no code in ReactJS development include:
Agility is at par – The time taken while developing an app has lessened to a great extent. It's because everything is done via the drag-and-drop interface, built visually with pre-built modules. Automated testing cuts down further.
Enhanced Productivity – There is no point in all this investment of time, money, and energy if you aren't getting any work done. And since the app can be built in a faster manner; what used to take weeks/months can be now delivered in days or maybe a couple of hours.
Cost Matters – Hiring a trustworthy ReactJS developer India or an entire team of these can be an expensive venture. Choosing No Code platforms enables you to bypass that phase entirely. Also, it becomes cheaper in the long run.
4. No code/ Low code – A Big Confusion
Many of you believe in the misconception that No code and low code are interchangeable terms or might carry the same meaning. Wake up; they are not!
No Code platforms are the ones beneficial for those who have no idea about coding. With the help of declarative programming, all they have to do is tell the system what they want and it will be done!
Low Code platforms are those which can also be used by non-techie people but sooner or later will require a reliable ReactJS developer to finish things off in a seamless manner. Moreover, these tools carry pre-built functionality enabling users to build their application to a certain point, before calling the developers to intellisense code completion or customize the remainder of code.
It is easy to see why many business owners are drawn to the appealing advantages of no-code and low code development platforms, but that doesn't mean one should ignore the hidden drawbacks and risks. For example, security – you do not have any control over the data you have stored leading to unwanted complexities and breaches. Another issue is you might also face vendor lock-in especially when they try to trap you with high prices. In simple words, you are neither here nor there. You will neither be able to move to another service provider nor continue with the same due to their hefty price on code and technology. Fret Not, further below we would like to shed some spotlight on the best IDE And Visual Editors which can assist you in creating React mobile applications.
5. Recommended IDE And Visual Editors for ReactJS Development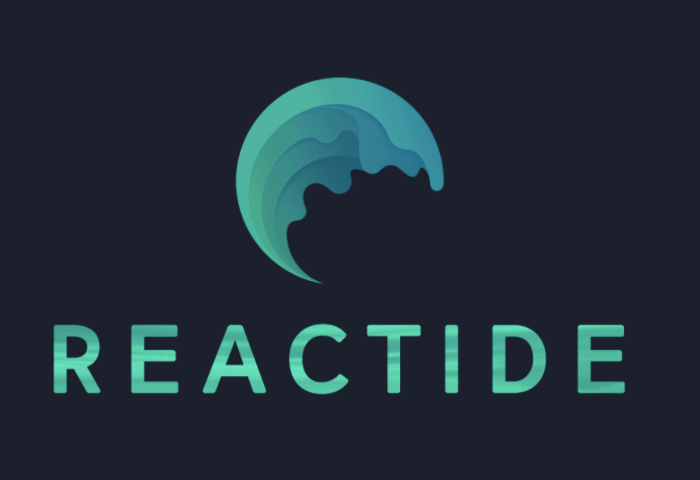 The first IDE that must be considered for React web application development is Reacticide. Being a cross-platform desktop, it offers an integrated Node Server and custom simulator which means no need for creating unnecessary built-tool and server configurations. By simply clicking a button or by opening a single file, ReactJS developers can render the open source project in the browser instantly.
The technology still being in the active process compels programmers to keep a hawk-eye on what's available and upcoming? It may also interest you to know that all projects developed here are built-tool agnostic. Moreover, you will go through several straightforward GUI controls that make it easier to get immediate feedback in the browser simulation.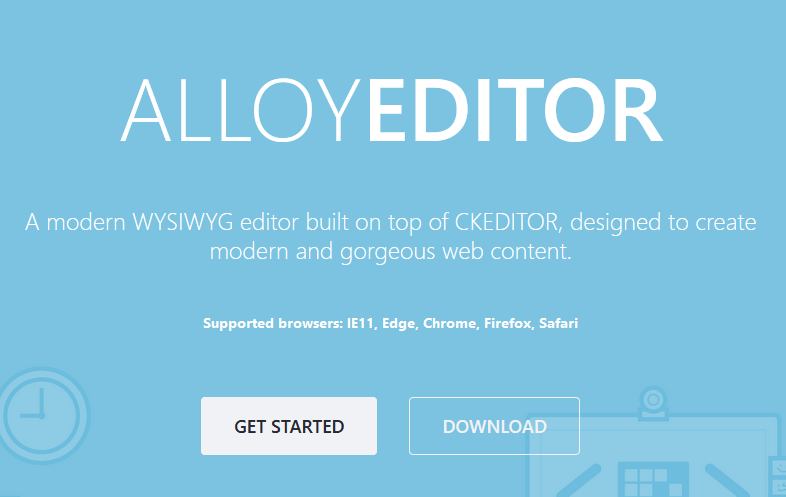 Our second tool is a rich text editor which can be used as a core component to numerous applications such as blogs, administrative tools of eCommerce, and the list goes on. Alloy text Editor comprises smart toolbars that appear right near the selected text and depending on the context offer different functionality. The best part here is one can easily add their buttons or paste relevant images from the clipboard or Drag & Drop from another application, and due to its amazing architecture, you can paste rich text from any web page and preserve its formatting. And do not worry about the core as it is fully separated from the UI.   
Are you looking for a lightweight, powerful, modern text editor that seamlessly blends visual tools? If so, the bracket is an option worth considering. There are times when these efficient tools get in the way of creative processes but that's not the case here. This tool in particular offers the right amount of help without delving into the creative procedures. More importantly, ReactJS developers often end up enjoying writing code here. Supported by an active and continuously developing community, the tool acts as an open-source project featuring modern text editors making things way easier to design in the browser. It's specially crafted from the ground up for web designers and front-end developers.

Developed by Facebook, the text editor works wonders for both ReactJS and  other programming languages. Unfortunately, Facebook no longer offers any associated updates but we have huge community support in case if you get stuck somewhere in between.
As far as JavaScript development is concerned, there is no denying the fact that Nuclide is the best IDE to React development realm. Cross-platform support, build in debugging capabilities, autocomplete, Inline indentation, code diagnosing capabilities that ultimately saves additional efforts for a ReactJS developer.
Another interesting and widely used IDE by most of the ReactJS development companies in India is Atom. Much like the scientific ones – extremely important structures that make up all of the materials on earth; this IDE comprises a variety of features giving an amazing experience to developers as well as the end-users. Apart from that, it is open-source and easy to use.
Developers can hack every part of Atom as per their convenience and without even touching any configuration file, they can end up developing a wide range of applications. Windows, Linux, and Mac offer so much support such as a live edit feature. Also, its built-in package manager keeps on updating packages so you don't need to do much and search for one in particular and start creating it as well. Auto-completion of syntax highlighter and inline indentation, mini-map are some of its best features that might save the day for you.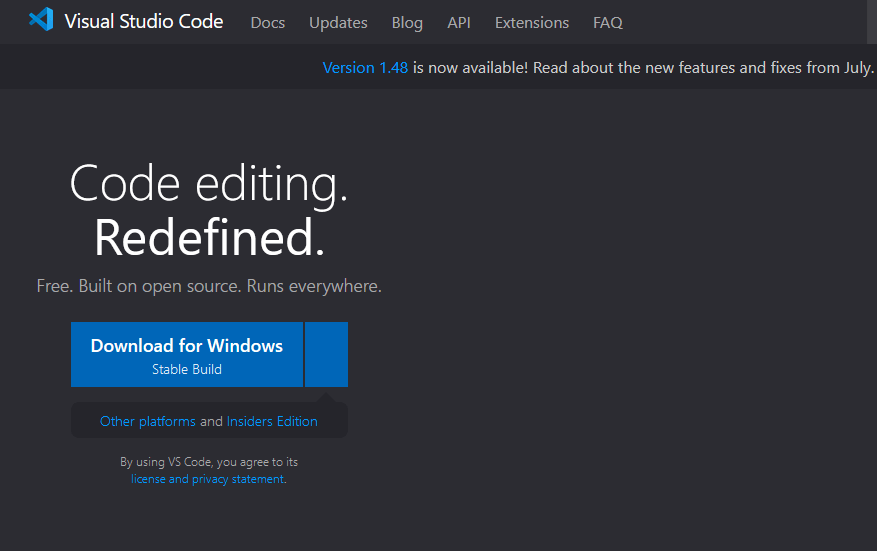 Supports a wide range of different languages, in-built Git commands, Quick Debugging, easy customization of particular component are some of the most interesting features Microsoft's Visual Studio Code for Windows, OS X, and Linux. Typescript, including debugging, intelligent code completion based on different types, functions, and imported modules are some of the best aspects supported by the Source code editor. In case, if you are working on something that needs the support of a lot of programming languages VScode is a great IDE to start up your work. Class definition, function and variables created easily in visual studio code editor due to its cross platform nature.
It provides various features, such as snippets and code refactoring, syntax highlighting, and autocomplete with IntelliSense  code completion.
This ideal React IDE for Enterprises is paid but arguably the most popular as well as a feature-rich tool to develop applications across the whole JavaScript realm. Yes, this means it includes ReactJS, Vue.js, Angular, Electron, Meteor, Ionic, Cordova, React Native, Node.js, and everything that comes under the hood of CSS, TypeScript, and the list goes on.
Being the product of a company that has been developing tools for more than a decade named JetBrains, the track record seems to be good till now. In fact, due to its regular product upgrades and support, Webstorm is being used by many large organizations. Webstrom hasa some good useful features and build tools.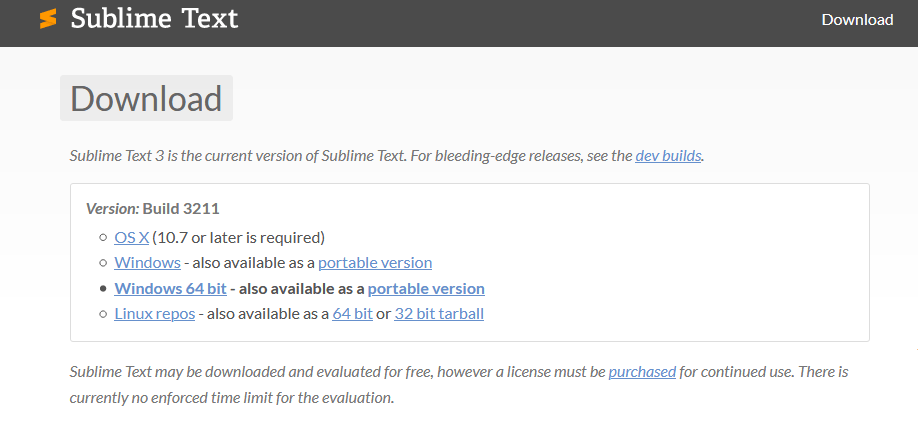 If you aren't satisfied with these aforementioned companies, then Sublime Text is right for you featuring a powerful integrated development environment. The tool is workable and a great option, ReactJS developers don't need to keep scratching in their heads to find anything else.
And since React is a part of the whole JavaScript ecosystem; turning sublime into a feature-rich React ide won't be a big deal at all. Also, these can be used to enhance development experience with the technology For example, ColorSublime, react ES6 snippet, Babel, Pretty JSON, SublimeREPL, ColorPicker.BabelSnippets etc. These are an absolute productivity booster.
6. React Prerequisites
Being a JavaScript library, learning React without JavaScript is next to impossible. Outsource ReactJS development service from that company who knows all the ins and outs of JavaScript, HTML, CSS. However, we at eTatvaSoft tend to acquire far beyond what's needed to build basic applications with ReactJS for example: Functions, bind(), apply(), and call(), scopes and closures, Object Methods, Array Methods, Prototypical Inheritance, Callbacks and promises, event loop, Event building, Regular expressions, error handling, JavaScript ES6 and beyond, Hoisting, memorization, Declarative vs imperative programming, Functional vs object-oriented programming.
7. Low-Code App Development
There has been a lot of traction gained over these years in regards to low code application development. Several studies have concluded that the market is about to increase from $3.8 billion (2017) to $21.2 billion by 2022. All thanks to tech giants such as Microsoft, ServiceNow, and Salesforce.
8. Conclusion
There are so numerous visual text editors springing up. What is essential to recall is that every one of these visual editors has a lot of extraordinary highlights that are significant in different circumstances.
Other crucial aspects to take into account include the compatibility for the platforms you require, support for the operating system you use, the features and integrations that you require, and essentially the flexibility to move out anytime you want to.
More Blogs on React
React design patterns and structures of Redux and Flux
ReactJS for Web Development – Why & Where To Use?